What We Do In The Shadows: Teaser Trailers Drop For FX Series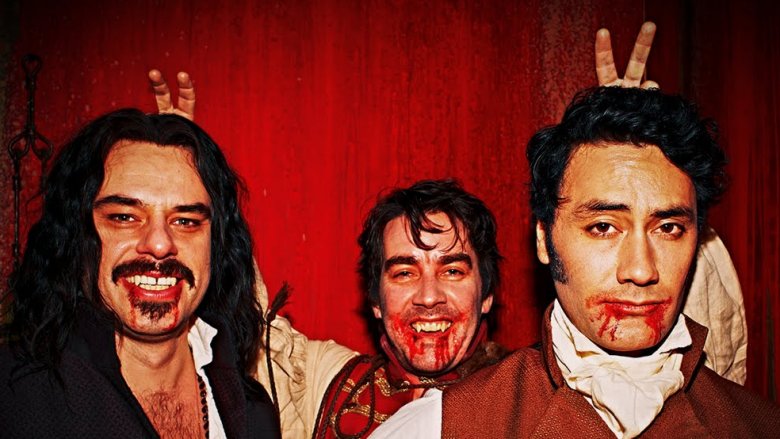 Vampires are coming to take a bite out of the Big Apple.
In January, we reported that FX network ordered a pilot for a television adaptation/reboot of Taika Waititi's 2014 mockumentary What We Do in the Shadows. Then, in May, fans were elated when the network ordered a full ten-episode season. Today, we finally get our first look in the form of two very brief teaser trailers which dropped on the network's YouTube channel. Both feature Kayvan Novak as Nandor, one of a group of vampires who have been rooming together in Staten Island for hundreds of years.
The first clip features Nandor impatiently awaiting the arrival of some virgins, then having a predictable reaction when his human companion demonstrates that he's keeping his fingers crossed that they'll show up soon. The second depicts a humorous exchange between Nandor and a convenience store clerk, who obviously doesn't know who (or what) he's come into conflict with.
Although the television adaptation features a different cast of characters and setting (moving the action from Wellington, New Zealand to New York), the teasers promise a comic sensibility right in line with the original film. The cult classic starred and was co-written by Waititi (who landed the director's chair on Thor: Ragnarok in part because of his work on the film) and Jemaine Clement, half of musical comedy duo Flight of the Conchords. 
During a New York Comic Con panel in October during which fans were treated to the first episode of the series, writer and producer Paul Simms appeared along with Waititi and Clement (who are also producing) to sketch out the series' premise for fans. "We wanted the idea that the vampires had been — maybe 200 years ago — sent to conquer America, but had sort of lost their way and forgotten," he said. "They'd gotten to New York, and that's where the boat dropped them off, and they never went any further and before they knew it, a lot of time had passed."
One of the plot points driving the first season will involve a communication received from the Baron, an ancient vampire from the old country, who intends to pay them a visit to see how their conquest of the States is coming along. Presumably, the older bloodsucker will be none too happy with their progress.
Responding to a fan's query during the NYCC panel, Clement refused to rule out the possibility that Vladislav, his character from the What We Do in the Shadows film, would make an appearance. "Only if something really disastrous happens," he said. "It has to be of incredible import." 
However, this statement implied — and Waititi confirmed — that the series does take place in the same world as their film. "We're creating a universe to rival that of Marvel," the director said, with typical self-deprecating wit.
FX is expected to roll out What We Do in the Shadows sometime in Spring 2019, but in the meantime, you can check out the teasers below.