The Walking Dead: Ratings Hit New Series Low After Second Episode Of Season 9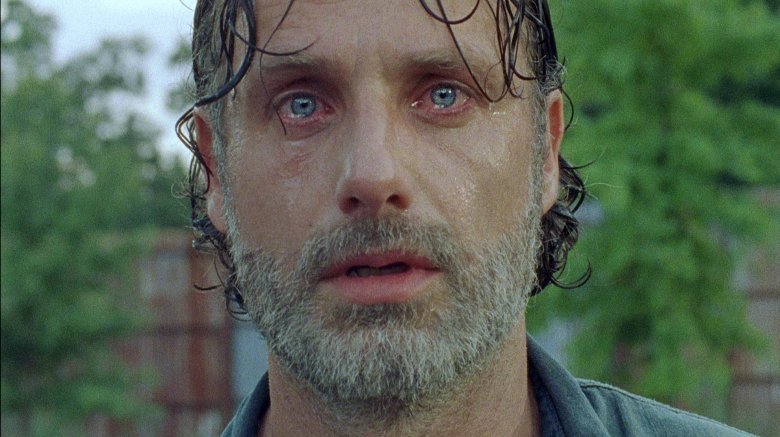 The Walking Dead is still alive on AMC, having premiered its ninth season at the start of October, but that doesn't mean it's doing well. 
The post-apocalyptic zombie horror series hit a new series ratings low with its Sunday, October 14 episode. Titled "The Bridge," the second episode of season 9 pulled in a 2.0 Nielsen rating in the adults aged 18 to 49 demographic, and drew in just 4.9 million viewers according to the live-plus-same-day stats (via Variety). 
The key demographic rating for Sunday night's episode is quite a bit lower than the series' previous low — a 2.4 rating that The Walking Dead sunk to during its first season in 2010. As for the viewership statistic, The Walking Dead has fared worse, plummeting to 4.7 million in its freshman outing, but it's still not a great sign given that the margin is so narrow. 
As Variety noted, The Walking Dead has crushed it season after season in key demo ratings and in viewership, but things have taken a downward turn in the last few years and especially so in season 9. The premiere episode of season 9, "A New Beginning," debuted to pretty abysmal numbers, drawing a 2.5 rating in the adults aged 18 to 49 demographic and attracting just 6.1 million viewers. At that time, before "The Bridge" aired on Sunday, "A New Beginning" was the second lowest-rated overall and the lowest-rated premiere episode in the series' history.
It's difficult to tell exactly why The Walking Dead's ratings are dropping, considering there are various reasons why people have stopped watching the series. From juggling romances and placing more emphasis on human villains rather than the literal walking dead for which it's named to unfairly toying with audiences and falling into repetitive storytelling, The Walking Dead isn't what it used to be in the eyes of many fans. 
Unfortunately, things may not pick up for The Walking Dead as time goes on. Season 9 will see the departure of its lead actor Andrew Lincoln, who will hang up his hat as Rick Grimes about mid-way through the current installment. Though it's possible that the episode in which Lincoln will say his goodbyes will draw in more viewers than normal, there's no telling what the ratings will look like after he's gone. For the sake of the show and its fans, we hope The Walking Dead can make a comeback — and fast. 
The Walking Dead will air the third episode of season 9, "Warning Signs," this Sunday, October 21 on AMC.