HBO's Watchmen Begins Production, Reveals First-Look Photo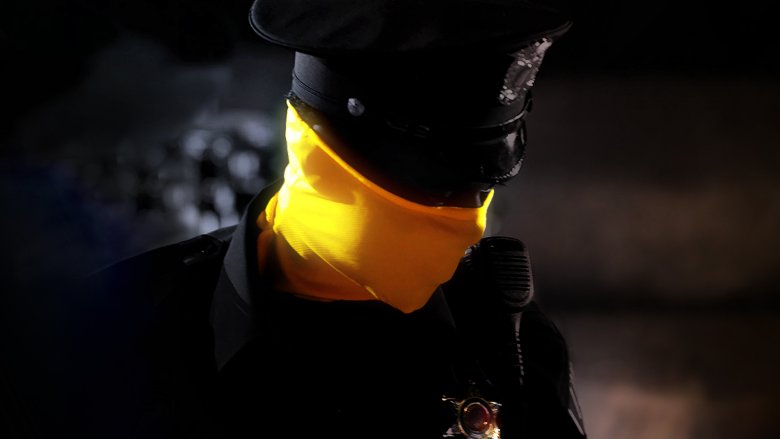 HBO
Not watching every move HBO makes in developing Watchmen? Well, you'd better start now. 
The official Twitter account for Watchmen announced on Monday, October 14 that the series had entered production, directing fans to follow the series' Instagram account for additional updates. There, a video was posted, giving fans the first look at the upcoming HBO series. 
Clocking in at just a few seconds in length, the video is actually just footage of an image — one of a modern cop wearing a yellow mask over the bottom half of their face, a black police cap on their head, and a walkie talkie on their shoulder. 
While this figure doesn't appear to be a member of the Watchmen team, it should be noted that Hollis Mason, the first iteration of Nite Owl who died facing off against gang members in the 2009 Watchmen movie, was originally a police officer. Additionally, the Minutemen, the Watchmen's superhero precursor group that operated from 1939 to 1949, was founded with an aim to put a stop to the crooks and criminals that law enforcement usually couldn't. 
So, even though there isn't much information to glean from this photo-video or its caption (which simply reads, "Who watches the Watchmen?"), the fact that it shows a police officer is more important than one might initially assume. 
Produced by Lost co-creator Damon Lindelof, the upcoming Watchmen series features an all-star cast that includes the likes of Regina King, Don Johnson, Andrew Howard, Jeremy Irons, Tim Blake Nelson, Louis Gossett Jr., Adelaide Clemons, and Yahya Abdul-Mateen II. Like the DC Comics limited series created by writer Alan Moore, artist Dave Gibbons, and colorist John Higgins, Watchmen takes place in an alternate history in which superheroes are viewed as outlaws. The series is said to embrace "the nostalgia of the original groundbreaking graphic novel while attempting to break new ground of its own," and Lindelof himself once described his take on Watchmen as being a "remixed" version of the source material.
Watchmen co-creator Gibbons recently praised the Lindelof-produced project, stating during New York Comic-Con earlier this month (via Deadline), "As far as this new one, TV clearly is the medium of the moment. It's where the preeminent and most exciting areas for telling stories of the moment. The fact that Damon Lindleof has found a way to bring Watchmen into that area and do it with something I consider exciting, entertaining, and absolutely worthwhile on the subject matter? I think that's great."
As it stands and with the little that's known about the show, Watchmen could be every bit as fantastic as Gibbons says it is. On the other hand, however, the series might wind up being a letdown, with Lindelof's creative liberties and deviation from the original comics proving destructive rather than daring and worthwhile. There's still so much to learn about Watchmen, so it's difficult to predict how the series will perform when it premieres on HBO next year.
For now, though, everyone seems excited (and a little perplexed) by this first glimpse at Watchmen. And at the end of the day, that's the perfect state for a fan to be in.