Amazon Prime: Everything Coming In October 2018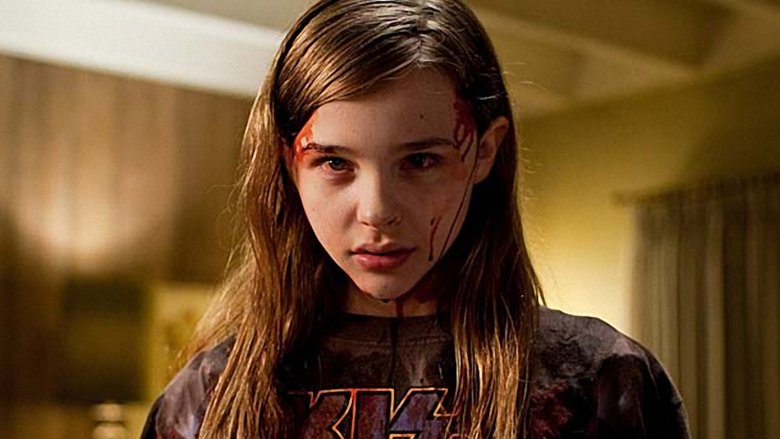 We may receive a commission on purchases made from links.
There's no better month of the year than October to dig into the horror genre. Whether you're into seriously scary movies, slightly spooky flicks, campy-but-still-creepy pics, or television series that toy with your emotions and build a thick sense of dread, Amazon Prime has something for everyone to watch in October 2018.
In the movie department, Amazon Prime is bringing Carrie, Child's Play, Rec 4: Apocalypse, Curse of Chucky, Donnie Darko, and The Strangers: Prey at Night to stream next month. Also available to watch are Let Me In, the 2010 American-British remake of Tomas Alfredson's romantic horror Let the Right One In; Poltergeist lll; The Amityville Horror; Texas Chainsaw Massacre II; Jeepers Creepers 2; Nightbreed; and The Number 23. 
After satisfying your appetite for horror, dive into some action films like all three Robocop movies, Full Metal Jacket, Mullholland Drive, and Raging Bull. Then, load up the third season of the Prime Original series The Man in the High Castle, the second season of Lore, both seasons of the short-lived show Pushing Daisies, or the debut season of Mad Men creator Matthew Weiner's newest drama The Romanoffs. 
Of course, Amazon Prime has all the parents and their little tots covered in October 2018 as well. The Daniel Tiger Movie: Won't You Be Our Neighbor? is set to arrive on the streamer on October 17; two days later, Amazon's original children's series Tumbleleaf will debut its "Halloween Special." 
Below, check out the complete list of movies and television shows headed to Amazon Prime in October 2018. 
Available October 1
Growing Pains, Seasons 1-7
Happily Never After, Season 1
Paradox, Season 1
Pushing Daisies, Seasons 1-2
Ravenswood, Season 1
Scorned: Love Kills, Season 1
Silent Witness, Seasons 1-21
Spaced, Seasons 1-2
The Thick of It, Seasons 1-4
Trust, Season 1
V., Seasons 1-2
88 (2015)
Rec 4: Apocalypse (2014)
5up 2down (Getting High) (2006)
A Boy Called Hate (1995)
Adventure Scouts (2008)
Almost Mercy (2015)
America: Imagine The World Without Her (2014)
American Meltdown (2004)
Among Thieves (2009)
An Affirmative Act (2010)
An American Werewolf in Paris (1997)
An Eye for an Eye (1966)
Appetite (1998)
Assassins' Code (2011)
Bad Karma (2002)
Being Canadian (2015)
Beta Test (2016)
Betrayal (Lady Jayne: Killer) (2003)
Bitter Moon (1992)
Blue Ridge Fall (End of Innocence) (1999)
Blue Steel (1989)
Boricua (2004)
Break a Leg (2005)
Bulletproof Monk (2003)
Call Me (1988)
Candyman: Farewell to the Flesh (1995)
Caroline? (1989)
Carrie (1976)
Casting Couch (2013)
Child's Play (1988)
Cold Deck (2015)
Comic Book Villains (2002)
A Connecticut Yankee in King Arthur's Court (1989)
Counter Measures (1998)
Creator (1985)
Curse of Chucky (2013)
Dark Blue (2003)
Deadly Blessing (1981)
Deadly Closure (Armed and Deadly) (2010)
Death Wish 2 (1982)
Deceptions (1985)
Diabolique (1996)
Dirty Work (Bad City) (2005)
Driving Force (1988)
Duress (2009)
Election (1999)
Extreme Justice (1993)
Flatliners (1990)
Flyboys (2006)
Foreign Fields (2000)
Frank and Jesse (1994)
Frankie & Johnny (1991)
Frauds (1993)
Full Metal Jacket (1987)
Funny Money (2006)
Game Changers (2017)
Get Smart (2008)
Go Against the Flow (2016)
Gods and Monsters (1998)
Gone Dark (2003)
Good Enough (2017)
Handsome Harry (2009)
Happy Event (2011)
Henry's Crime (2010)
Homage (1995)
Honeymoon (1997)
Hot Tub Time Machine (2010)
I Am Dina (2003)
Il Sogno Nel Casello (2005)
Imagine a School... Summerhill (2008)
Imagine I'm Beautiful (2014)
In Her Defense (1998)
Intimate Affairs (2001)
It Ain't Pretty (2017)
Jackboots on Whitehall (2010)
Jeepers Creepers 2 (2003)
Jigsaw Man (1983)
Jim Norton: Please Be Offended (2012)
Joe the King (1999)
Judgement in Berlin (1988)
Kalamity (2010)
Kalle and the Angels (1994)
Kettle of Fish (2006)
Kicking and Screaming (1995)
La Mission (2009)
Leading Man (1996)
Leave Me Behind (2008)
Legend (1985)
Let Me In (2010)
Life of Significant Soil (2017)
Love & Rage (2000)
Marine Life (2001)
Meeting Spencer (2010)

Men Without Jobs (Planet Brooklyn) (2004)
More than a Game (2008)
Mulholland Drive (2001)
My Heroes Have Always Been Cowboys (1991)
My Name Is Water (2017)
Nightbreed (1990)
No Vacancy (2004)
Nora (2000)
Once Bitten (1985)
Once Upon a Scoundrel (1974)
Orange County (2002)
Oxenfree (2017)
Pieces of April (2003)
Poltergeist lll (1988)
Ponchao (2013)
Prancer (1989)
Prince Brat and the Whipping Boy (1993)
Psychoanalysis (2015)
Raging Bull (1980)
Rap Sheet: Hip Hop and the Cops (2006)
Reasonable Doubt (2014)
Recipe For Love (A Mi Me Gusta) (2008)
Regresa (2009)
Resurrecting the Champ (2007)
Return of the Living Dead (1985)
Road from Erebus (2000)
Robocop (1987)
Robocop 2 (1990)
Robocop 3 (1992)
Sample People (2000)
Satan's Little Helper (2004)
Saving Banksy (2017)
Second to Die (2001)
September Morning (2017)
Sexting (2011)
Silver Hawk (2004)
Six Weeks (1982)
Something to Cheer About (2002)
Somewhere Slow (2013)
Spin (2003)
Split Image (1982)
Stage Beauty (2004)
Stand Up Guys (2012)
Starship Troopers (1997)
Strange Bedfellows (2004)
Sugar Mountain (2016)
Texas Chainsaw Massacre II (1986)
The Amityville Horror (2005)
The Arrival (1996)
The Black Knight Returns (2008)
The Breakup Artist (2003)
The Cell (2000)
The Eyes of Laura Mars (1978)
The Face of an Angel (2015)
The Fog (2005)
The General (1998)
The Guilty (1999)
The Hard Ride (2011)
The Hustle (2008)
The Illusionist (2006)
The Long Riders (1980)
The Myth of the Male Orgasm (1994)
The Number 23 (2007)
The Peacemaker (1997)
The Perfect You (Crazy Little Thing) (2002)
The President's Mistress (1978)
The Presidio (1988)
The Rage: Carrie 2 (1999)
The Raven (1963)
The Rescue of Jessica McClure (1989)
The Second Arrival (1998)
The Secret Life of Archie's Wife (Runaway Heart) (1990)
The Serpent's Kiss (1997)
The Skeleton Key (2005)
The Strangers (2008)
The Uninvited (2009)
The Way of the Gun (2000)
Threshold (1981)
Throttle (2005)
Tim Tebow: On a Mission (2012)
Train Driver's Diary (2015)
Trees Lounge (1996)
Wild Bill (1995)
Winter Break (2002)
Winter Passing (2005)
Year of the Gun (1991)
Zombies of Mass Destruction (2010)
Available October 2
Extrano Enemigo (Prime Original series), Season 1
Barbelle, Season 1
Birth Stories, Season 1
Mighty Good: The Beatles (1977)
Never Goin' Back (2018)
Available October 5
The Man in the High Castle (Prime Original series), Season 3 
Available October 6
A Prayer Before Dawn (2017)
Night of the Living Deb (2016)
Available October 11
Mr. Robot, Season 3 
Monster's Ball (2001)
The Strangers: Prey at Night (2018) 
Available October 12
The Romanoffs (Prime Original series), Season 1 
Available October 13
Available October 14
Available October 16
Devil (2010)
Manieggs: Revenge of the Hard Egg (2014) 
Available October 17
Donnie Darko (2001)
The Daniel Tiger Movie: Won't You Be Our Neighbor? (2012) 
Available October 18
Available October 19
Lore (Prime Original series), Season 2
Tumble Leaf Halloween Special (Prime Original series), Special 
Available October 20
Available October 25
Available October 26 
Bad Samaritan (2018) 
You Were Never Really Here (Prime Original movie) (2017)
Available October 31