Whatever Happened To Gilbert Gottfried?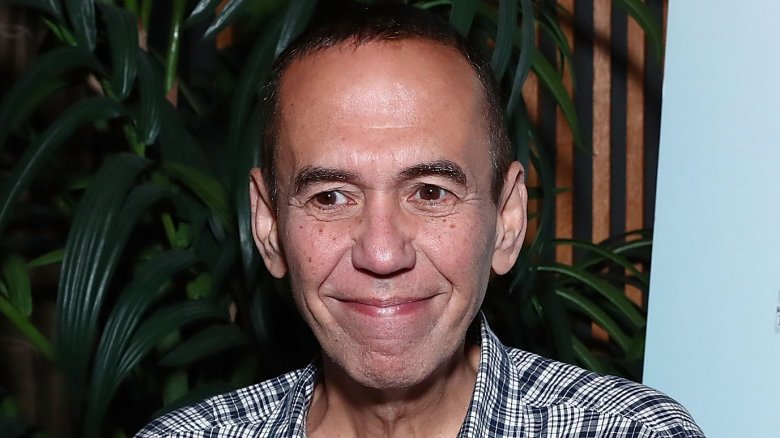 Getty Images
Gilbert Gottfried just might be one of the most famous character actors of all time — and he was certainly the owner of one of the most recognizable voices in Hollywood history. With his roles as Iago in "Aladdin," Sidney Bernstein in "Beverly Hills Cop II," Mr. Peabody in the quite popular "Problem Child" trilogy, and dozens of memorable cameo roles in countless movies and TV shows, Gottfried's persona of an annoyed (and annoying) guy with half-closed eyes screaming through his lines in a shrill, exaggerated New York accent made him a constant screen presence through the '80s and '90s. More than just that voice, Gottfried was a versatile performer, getting his first major exposure on "Saturday Night Live" in the early 1980s, which set his career off and running.
His last few years were certainly lower profile than, say, the early '90s, but that doesn't mean Gottfried wasn't kept busy until his death in 2022. Here's what the man behind the voice did in his last few years.
They made a movie about him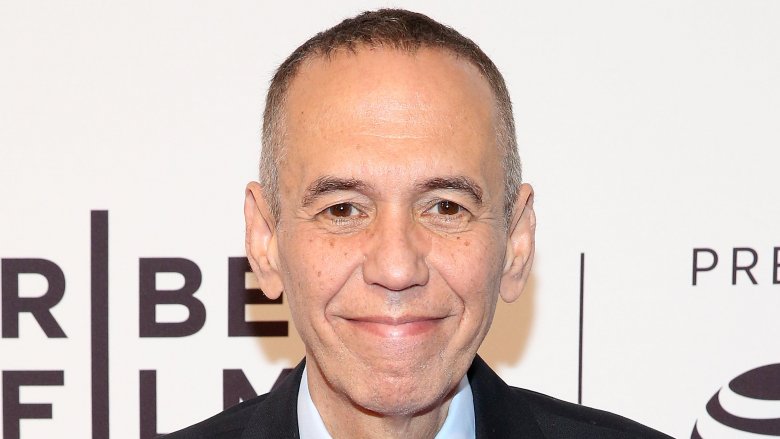 Getty Images
Was Gilbert Gottfried really a constantly screaming, scowling, and intensified version of a classic Catskills comedian? Not at all — that "Gilbert Gottfried" is a persona honed and perfected over the years, sort of like Andy Kaufman's "Foreign Man" or Paul Reubens' "Pee-Wee Herman." Gottfried allowed his real self — and offstage life — to be profiled in filmmaker Neil Berkeley's 2017 documentary "Gilbert."
The actual Gottfried was a quiet, happily married guy who lives in a well-appointed apartment in New York City with his two young kids (who claim their dad isn't particularly funny on a day-to-day basis). Gottfried was also apparently very close friends with, of all people, TV legend Dick Van Dyke, as well as a tightwad who hordes hotel-size shampoo bottles and bars of soap. Despite being a fairly regular guy and a doting dad, the documentary's many interviews with abrasive comedians like Bill Burr, Lewis Black, and Dave Attell paints a picture of a man beloved by his contemporaries for his irony and edgy comedy act. They enjoy Gilbert, and critics enjoyed "Gilbert": it amassed a 95 percent rating on Rotten Tomatoes.
He's a stand-up guy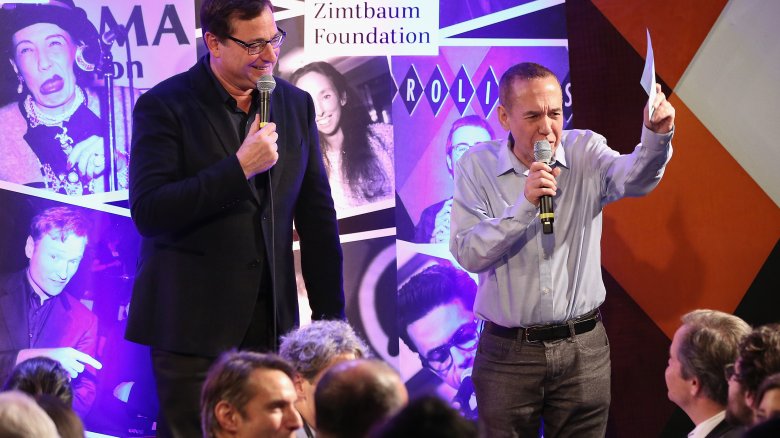 Getty Images
Gottfried started out performing comedy at open mics at the age of 15 and moved up to performing in major New York City clubs such as Caroline's throughout the '70s and '80s, and continued after he broke through as an actor. Once a regular fixture among the bevy of comedians on "The Howard Stern Show," Gottfried hit the road for a few weeks out of each month, performing at clubs, bars, malls, and any place that will have him (even the occasional gun show) until the very end.
In 2005, Gottfried experienced a rebirth in his comedy career, thanks to his appearance in the cult-classic documentary film "The Aristocrats." The movie consists almost entirely of stand-ups telling their own version of the most famously gross and filthy joke of all time, of which the punchline is, "The Aristocrats!" According to the Gottfried documentary "Gilbert," he'd always worked extremely clean. But people so loved seeing the guy from "Problem Child" and "Aladdin" spout profanity that he started to work "blue." That opened him up to all kinds of new comic avenues, and with it, a re-dedication to performing live.
He's a pod person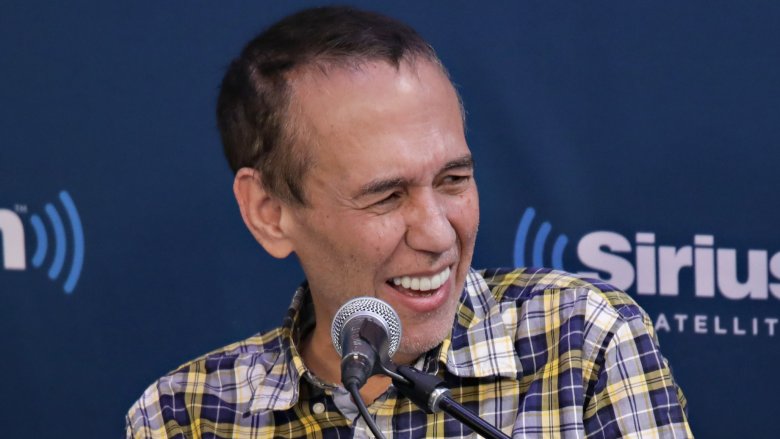 Getty Images
It should come as no surprise that Gilbert Gottfried hosted a podcast. After all, he possessed all the things a person has to have if they want to be a prominent creator in that medium: a recognizable voice, a background in comedy, and an intense curiosity about a specific subject. According to its website, "Gilbert Gottfried's Amazing Colossal Podcast" "takes an affectionate look back at 100+ years of Hollywood history." With co-host Frank Santopadre, Gottfried interviewed actors, musicians, filmmakers, and comedians who witnessed classic showbiz firsthand. As of September 2018, Gottfried hosted more than 200 episodes and interviewed people like "Animal House" star Tim Matheson, "The Jerk" and "Jaws" writer Carl Gottlieb, and "Weird Al" Yankovic.
Gottfried wasn't exactly recording in a closet and sending the results out into the void. "Gilbert Gottfried's Amazing Colossal Podcast" is produced and distributed by Earwolf, the major podcast conglomerate responsible for such popular and pioneering programs as "Never Not Funny," "Comedy Bang Bang," "Kevin Pollak's Chat Show," and "How Did This Get Made?"
He puts that voice to use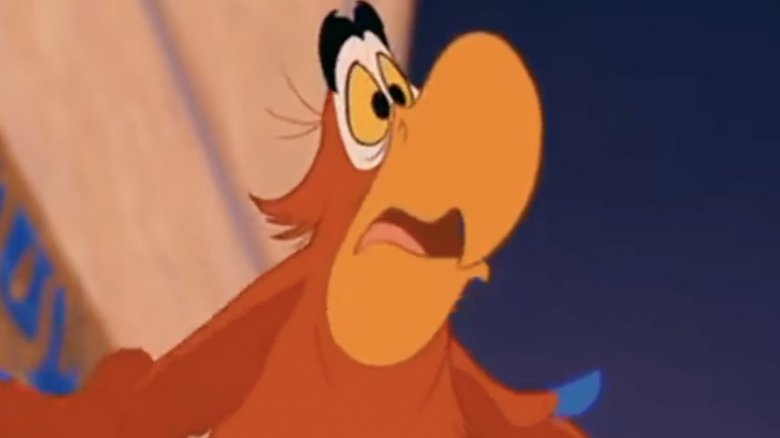 Disney
Both during and after the days where Gilbert Gottfried landed a lot of on-screen work, he was fortunate enough to have a side career going based entirely on his voice, or rather his persona's voice. His shrill, exaggerated tone lent itself well to portraying wild, over-the-top, cartoonish characters ... such as wild, over-the-top cartoon characters. Gottfried's unique voice worked to characterize everything from dimbulb henchmen to bad guys to oddballs, and he gave voice to all of them in dozens of animated products for both kids and adults.
He most famously played Iago in Disney's "Aladdin," but his credits also included the slimy businessman Art De Salvo on "Duckman," a bird named Digit on the PBS educational show "Cyberchase," classic Superman villain Mr. Mxyzptlk in multiple D.C. properties, evil dentist Dr. Bender on "The Fairly Odd Parents," and Kraang on the 2012 iteration of "Teenage Mutant Ninja Turtles." In 2000, Gottfried stepped out of wheelhouse just a bit to portray both Jerry Seinfeld and Patrick Swayze on "Clerks: The Animated Series."
He can play himself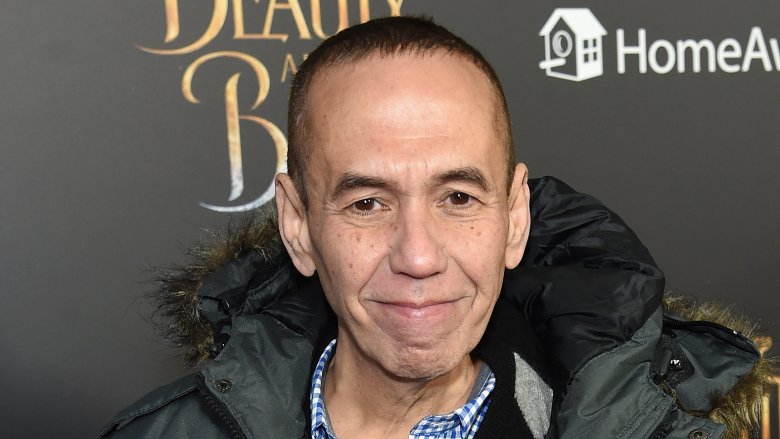 Getty Images
Thanks to that voice, and perhaps the easily memorable alliterative name as well, Gottfried was both a household name and a person perceived as a grizzled entertainment industry veteran. He often popped up on a variety of TV shows in that capacity, playing comedians, entertainers, versions of himself, or guys who were not too far off from himself.
He guest-starred on the world-of-comedy HBO series "Crashing" in 2018 as himself, not too long after he played an especially annoying "Gilbert Gottfried" on Showtime's showbiz satire "Episodes" and a "Strip Club MC" introducing acts on Amazon's "The Marvelous Mrs. Maisel." Before that he played himself on a couple episodes of comedian Jim Gaffigan's loosely autobiographical sitcom "The Jim Gaffigan Show," and was one of many comedians to notch a cameo in "The Comedian," a movie about an aging comic (Robert De Niro). So yeah, he was really good at playing comedians who may or may not be named Gilbert Gottfried.
He got real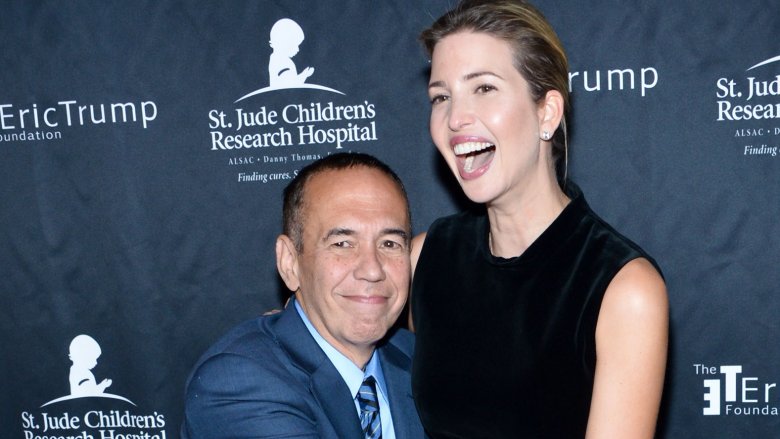 Getty Images
Gottfried was always a "gig" guy, a natural path out of his days as a comedian. Gottfried continued to work steadily until his death at 67. There were a lot of opportunities for a famous, likable, and well-known guy to get a paycheck for a few days of relatively easy work, which is to say there was plenty of celebrity-based reality TV to keep a guy busy.
He appeared on "Jay Leno's Garage," been a guest judge on "Last Comic Standing," and he was the announcer on "The Burn with Jeff Ross." In 2013, he moved out of his comfort zone as a contestant on Food Network's "Rachael vs. Guy: Celebrity Cook-Off"; he was the first person eliminated from that Rachael Ray / Guy Fieri-hosted competition. A couple months later he traded wives and lives with Alan Thicke for ABC's "Celebrity Wife Swap," and in 2015, Gottfried was a contestant on the final season of "The Celebrity Apprentice" hosted by Donald Trump before he left TV for politics. 
He was the first person to joke about 9/11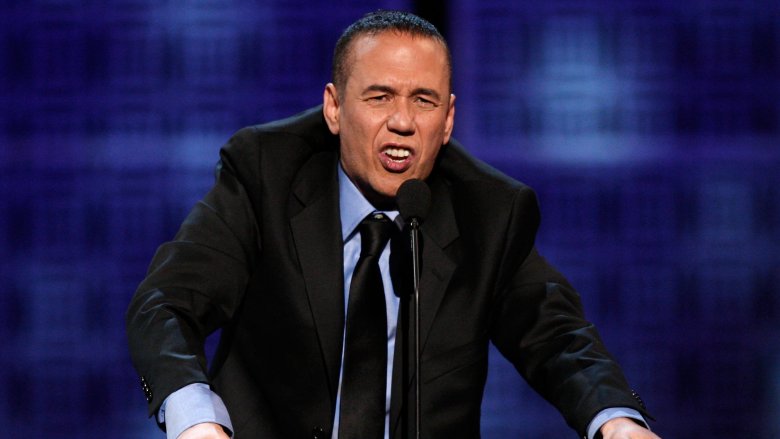 Getty Images
While well known for his squinty eyes and seemingly purposely annoying voice, Gottfried was a comedian, and an edgy one at that. If fans didn't know that about him, they certainly did in 2001, when Gottfried appeared on "The Comedy Central Roast of Hugh Hefner." It was taped a mere three weeks after the horrific events of 9/11, and, as Gottfried told Vulture in 2016, he "just wanted to be the first person to make a really-poor-taste joke about September 11." Why? Because comedians need to make jokes — that's how they process the world. "It was impromptu; I don't remember thinking about it beforehand," Gottfried wrote. "I said, 'I have to leave early tonight, I have a flight to California. I can't get a direct flight — they said I have to stop at the Empire State Building first.'"
Immediately, Gottfried said, he lost the audience. "They were booing and hissing. One guy said, 'Too soon!'"
He was (and then wasn't) the Aflac Duck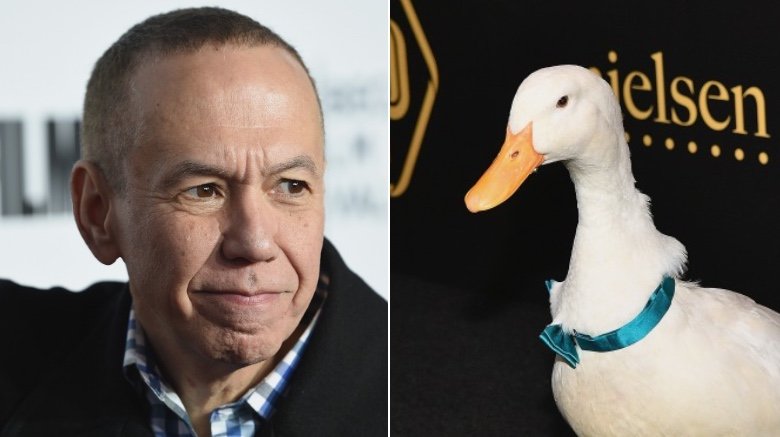 Getty Images
While Gottfried's joke about the tragedies of 9/11 was shocking to some, it didn't necessarily lose him any work. It certainly didn't get him fired from his most prominent and steady gig — which an off-color joke about another tragedy would in 2011.
In March 2011, the Tohoku earthquake and tsunami devastated northeastern Japan. More than 120,000 buildings fell, 15,000 people were left homeless, and nearly 16,000 people died. Gottfried, just like he did after 9/11, felt his comedian's duty to joke about it all, only this time he did on Twitter instead of TV. Gottfried tweeted, "I just split up with my girlfriend, but like the Japanese say, 'There'll be another one floating by any minute now.'" Then he joked, "Japan is really advanced. They don't go to the beach. The beach comes to them." 
Swiftly, insurance company Aflac fired Gottfried from his 11-year-long stint voicing the famous Aflac Duck in TV commercials. "Gilbert's recent comments about the crisis in Japan were lacking in humor and certainly do not represent the thoughts and feelings of anyone at Aflac," company executive Michael Zuna said in a statement. However, Gottfried publicly apologized. "I sincerely apologize to anyone who was offended by my attempt at humor regarding the tragedy in Japan. I meant no disrespect, and my thoughts are with the victims and their families."
Living with a double-edged sword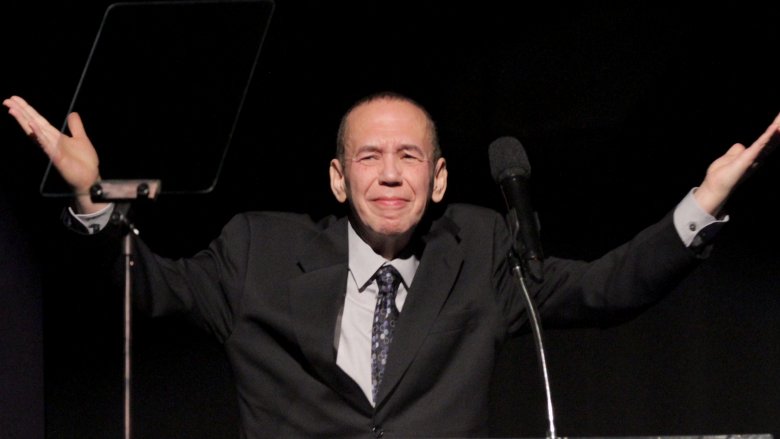 Getty Images
There were really two Gilbert Gottfrieds: the comedian and actor, and the character portrayed on TV and in movies by that comedian and actor. The voice he used was an extreme, brash version of an old-school Borscht Belt comedian, and it was very closely identified with the man. That, however, could be a blessing and a curse. Before he started prominently using the voice, such as during his short stint on "Saturday Night Live" in the 1980s, Gottfried didn't get much mainstream attention. When he did, it became his signature, and got him cast (and still does) in a huge number of acting gigs and voiceover work. 
However, that voice (and the character to which it is attached) are not for everyone, and can be extremely annoying to just as many people who like it. Therein is the paradox for Gilbert Gottfried: he had to do his most famous bit to get work, but if he didn't do the voice he may not have gotten work, but if he got work with it, he'll put off non-fans. However, the guy seemed pretty content with his two showbiz niches: touring comedian and in-demand voiceover artist.
He will be greatly missed by his fans, his friends, and his family.