The Big Bang Theory Stars Jim Parsons, Mayim Bialik Open Up About Series' Cancellation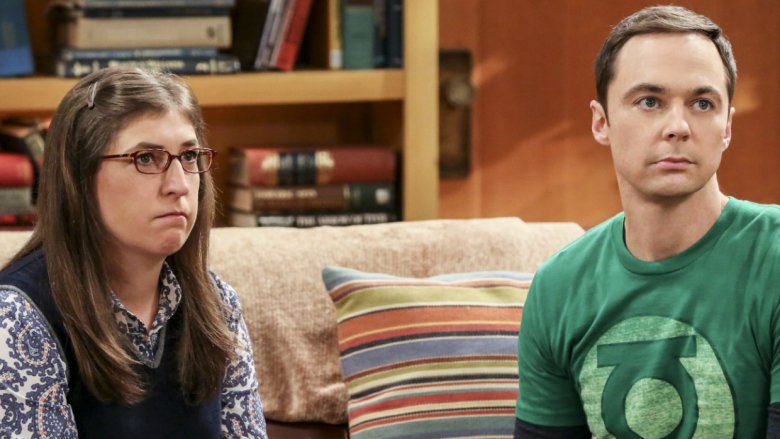 Michael Yarish/Warner Bros. Entertainment Inc.
The Big Bang Theory stars Jim Parsons and Mayim Bialik are feeling all the feels following the recent announcement that the series will end after its upcoming 12th season. 
Parsons, who leads the hit CBS sitcom as theoretical physicist Dr. Sheldon Cooper, took to Instagram to share a heartfelt letter to the series' fans, cast, writers, and crew members. 
The actor prefaced his letter, posted in a carousel of screenshot images, with a photo himself alongside his co-stars Johnny Galecki, who plays Leonard Hofstadter; Kaley Cuoco, who portrays Penny; Simon Helberg, who plays Howard Wolowitz; Kunal Nayyar, the actor behind Rajesh Koothrappali; Melissa Rauch, the actress who plays Bernadette Rostenkowski-Wolowitz; and, of course, Bialik, who portrays Parsons' on-screen wife Amy Farrah Fowler. 
In his message, Parsons wrote that "it is hard (nearly impossible actually) to really accept that this is a picture of the first of the final 24 episodes we will shoot for The Big Bang Theory." The actor noted that he feels "very fortunate" that there are 23 more episodes left to shoot, and he hopes his "level of REALLY accepting" that The Big Bang Theory is wrapping up after the impending season will "sink in" with each episode he films. 
"Something else I feel grateful for — and this gratitude needs no time to 'sink in' or becoming more 'realized;' this grateful feeling is always with me but is multiplied in this moment of us announcing our final season — but I feel such intense gratitude for our devoted viewers who are the ACTUAL reason we have been graced with the opportunity to explore these characters for 12 years of our lives," Parsons continued. 
He then gave many thanks to the Big Bang Theory crew members, applauding their ability to "bring a sense of steadiness and dependability" to the set. Parw wrote that they are "in many ways the real and steady heartbeat that keeps this body of work alive and breathing" while the stars "act like jacka**es and fools in attempt to make someone laugh."
Parsons added, "I am grateful to all the writers of the show — those with us now and those that have come and gone – because, without them, there would literally be no Big Bang Theory at all, ever." 
After commending the writers for their aptitude in "coming up with organic, entertaining ways to keep the life of this show going," Parsons turned his attention to his cast mates, and that's where things got really emotional. 
He wrote, "I am so terribly grateful for the cast in this picture and the cast members who aren't pictured here — whether they were in one scene or many episodes along the way; you are all my playmates that I have fallen in love with and who have become a part of my life on set and off. You are my playmates when we don't feel like playing but have to because it's our job to get out there and communicate and pretend we're these other fictional people and we look into each other's eyes and say these words and end up creating this weird, other reality that has enriched my life more than I will ever fully understand. I will miss of all you and all of this more than I can say and more than I can know at this time."
For Bialik's part, she seems less swept up in straight sadness over The Big Bang Theory ending as she is wrapped up in a variety of emotions — disappointment, anger, frustration, heartbreak. The actress headed to her website Grok Nation to pen a blog post discussing her feelings about the cancellation. 
"Am I happy? Of course not," Bialik wrote. "This has been my job since Melissa Rauch and I joined the cast as regulars in season 4. I love my job. I love my castmates, and I feel such appreciation for our incredible crew, our brave writers, our entire staff, and our amazing fans. So many people are a part of our Big Bang family. This is hard. I love coming to work and pretending to be Amy. She's a riot. She's me, and I am her. And soon she will not be mine to create ...  I fear it's going to be very hard to not cry every day for the next 23 episodes!"
Bialik concluded, "Mostly, I want to thank our fans for loving us hard enough to keep this train going for 12 years. And when it's time to get off, another train will pull up to the station. 'You don't need no baggage, you just get on board.'"
The Big Bang Theory fan or not, there's no denying Parsons' and Bialik's posts came straight from the heart. But what's interesting is that Parsons' letter comes hot off the heels of reports that suggested CBS chose to end the show after season 12 because the actor no longer wanted to be a part of it and wasn't willing to renew his contract to keep him on for two more seasons. As to be expected, Parsons didn't address this speculation in his letter, but his mention of the writers constantly facing a challenge in coming up with new stories for The Big Bang Theory may be a hint at why he was looking to step away. 
Regardless of why The Big Bang Theory is concluding, the end of the series' 11-year run is fast approaching. The show will air its season 12 premiere on September 24 before returning to its regular time slot on September 27.