The Good Place Creator Talks About That Finale Twist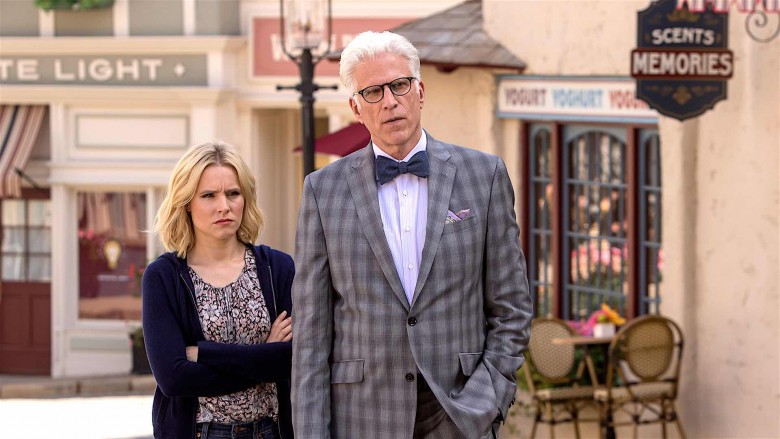 The Good Place finale may have aired nearly two months ago, but we're still not over the shock. In a twist worthy of an M. Night Shyamalan movie, creator Mike Schur flipped the concept of the show on its head, revealing that (spoiler alert) Eleanor, Chidi, Tahani, and Jason have actually been in the Bad Place all along, with Michael tricking the four into believing that they were in the Good Place as a creative way of torturing them for all eternity. In a recent interview with Uproxx, Schur revealed a little more about what went into the surprising twist.
Schur said that the idea for the twist came right after his original idea for the show, noting that the concept of a woman getting into heaven by mistake and hiding her true nature can get repetitive quickly. "Audiences are savvy, and they get bored easily, and that's the kind of 'premise pitch' where the premise would burn off and then I'd be left spinning my wheels," he said. "So I decided I couldn't commit to writing it unless I knew where it was going. Then I thought of that endgame, and everything clicked into place."
According to Schur, series stars Ted Danson and Kristen Bell were told about the twist when he pitched them the show, although the rest of the cast was kept in the dark. "I struggled with that, because I felt they had a right to know as well, but on the other hand: the fact that they did not know, and thus were only acting their scripted intentions, kept everything pure and simple," he said. "Toward the end of the year we all gathered and I filled them in— Kristen actually took a video of them as I pitched the twist. It's pretty great. And the fact that none of them had guessed it made me feel like we might be able to get all the way to the end without the truth revealing itself to the viewing audience at large."
Schur, nervous about the audience catching on to the ploy, ran the twist by a man very familiar with keeping viewers in the dark: Lost's Damon Lindelof. According to Schur, Lindelof "liked it a lot," and even provided some advice on how to write a show with a trick at its center. However, there was one recent TV mystery that scared Schur: HBO's Westworld, which struggled with the problem of rabid fans guessing at its main twists before they were actually revealed. "I took comfort from the fact that Westworld was sort of actively inviting the audience to try to figure out its twists, and we weren't, really," he noted, adding that he began to feel secure when he realized people hadn't widely figured it out a few weeks before the finale aired.
The Good Place, which we listed earlier this year as one of the best fall TV shows that you hadn't heard of yet, already has a season two renewal at NBC, and Schur teases that it will answer many of the questions about how the Good Place and the Bad Place actually work. "One thing I can say is that Michael, like all good improvisational actors and con men, used a lot of true facts to build his giant lie," he said, adding that even little details like replacing the frozen yogurt shops with pizza places are going to be important to season two's endgame. There is no word yet on when the thirteen episode second season will premiere.