Charlie Day And Rob McElhenney Developing A New Show For Apple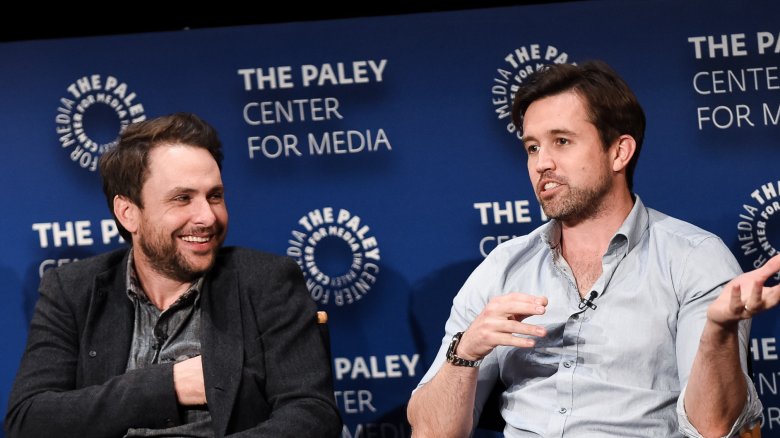 Getty Images
It's Always Sunny In Philadelphia masterminds Rob McElhenney and Charlie Day have just sold a new comedy series to Apple, which plans to air the show on their upcoming, super-secret streaming service.
It's still early days — early enough that even the video streaming platform hasn't been named yet. But according to Variety, the show has been ordered straight to series. The unnamed half-hour comedy reportedly takes place at a video game studio, and is being co-produced by Ubisoft, the software company behind games like Assassin's Creed and FarCry.
McElhenney recently made news when he exited as the director of Warner Bros'. planned big screen adaptation of Minecraft. Still, the man we know as Mac had a full plate even before taking on the new project with Apple. It's Always Sunny has been renewed through its 14th season, and he's set to executive produce another unnamed comedy starring his wife and Always Sunny co-star Kaitlin Olson. Day, meanwhile, has also kept busy, appearing in June's Hotel Artemis and executive producing the upcoming Fox comedy The Cool Kids, in which he's also set to appear.
While details about the new Apple series are slim, it marks another high profile content milestone for the company's upcoming streaming service. Deadline reported last month that the tech giant is also working on acquiring the rights to Terry Gilliam's surreal 1980 cult classic Time Bandits in the hopes of turning it into a series. They've also reportedly struck a multi-series deal with the Sesame Workshop and ordered a revival of Steven Spielberg's Amazing Stories to be helmed by Bryan Fuller. 
No word yet on when Day and McElhenney's new show is set to air.