Artists Envision What Ruby Rose Will Look Like As Batwoman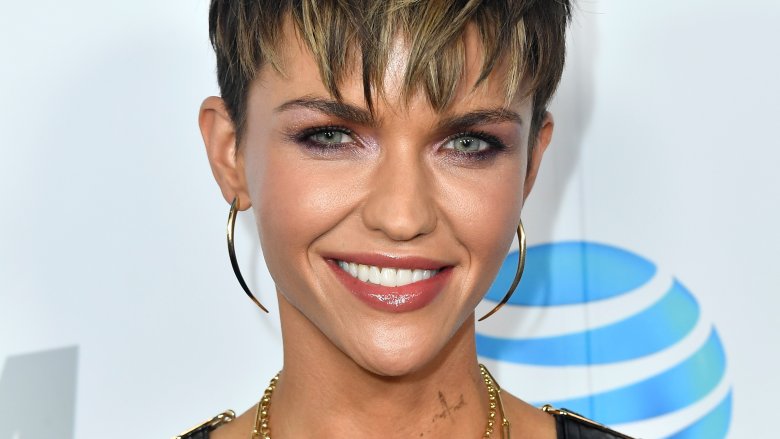 Getty Images
The minute the world learned Ruby Rose had been cast as Batwoman in the CW's Arrowverse crossover event and potential Batwoman solo series, people soon got to wondering what the Australian actress would look like as the bad guy-busting Kate Kane. Will Rose swap her short black 'do for a head of long, bright-red tresses to mirror Kate in the comic books? Will she sport her signature double-eared black mask? And what about Batwomans' costume? The black and red cape, the candy-apple boots and matching belt, the bat-shaped insignia — how is it all going to look on Rose?
Catch your breath, Batwoman fanatics. Thanks to digital artists Royy_Ledger and BossLogic, we have an idea of what Rose might look like suited up as Batwoman. 
Royy_Ledger, who has previously created stunning artwork of Jason Momoa's Aquaman and Amber Heard's Mera as well as Brie Larson's Captain Marvel, shared two illustrations (one without a mask and one with) depicting the look he thinks Rose's Batwoman might rock on the small screen. 
Both pieces feature Rose's Batwoman sporting short, slightly muted red hair, bright red gauntlets, black fingerless gloves, a skin-tight black suit with the Batwoman logo in the center of the chest, a version of the utility belt worn by members of the Bat-family, and a black cape that's lined with a tone of red that matches the hero's accessories. The second one-sheet places over Batwoman's face a comic-accurate mask that gives her glowing yellow-orange eyes.
"She will slay, @rubyrose for batwoman. No one better," Royy_Ledger wrote in the caption of the unmasked illustration. 
Check them both out below.
As for BossLogic's vision of Rose's Batwoman, it's just as incredible — which should come as no surprise to comic book and video game-lovers, since BossLogic has made a major name for himself by creating eye-popping fan art. 
BossLogic foresees the actress wearing the classic Batwoman mask (sans radiating peepers, however) and cherry lipstick that perfectly matches her hair. In the background of the photo, you can see a drawing of Batwoman on the left and a picture of Rose on the right, suggesting that when the two come together, the end result will be similar to BossLogic's illustration.
Some people have expressed dissatisfaction at the CW's choice to cast Rose as Batwoman, who will be an out lesbian in the Arrowverse. One Twitter user argued that the network "didn't even try to look for actual talent" and "grabbed the ONLY lesbian Hollywood knows of and called it a day." Another Twitter user wondered why the CW couldn't "cast a fresh or up and coming [sic] LGBT actress" instead of Rose. 
But for some others, watching Rose gush about playing Batwoman during a recent appearance on The Tonight Show with Jimmy Fallon completely changed their minds. 
On the show, the actress said she "kept spontaneously crying" after hearing she'd landed the gig, partly because she "never saw someone on TV that [she] could identify with, let alone a superhero." Rose even revealed two real-life connections to Batwoman: her mother kept bats inside the house — "she nursed these little pet bats back to life, but then they couldn't go anywhere because they were domesticated" — and Rose used to make batwings out of cardboard boxes and pretend to fly around the house. 
See, kids! Sometimes dreams really do come true. 
Fans can find out what Rose's take on Batwoman will really look like (hopefully she won't get stuck with a cardboard cape or set of wings this time around) when she makes her television debut in the Arrowverse crossover event in December.