DC's Super Pets Are Getting Their Own Animated Movie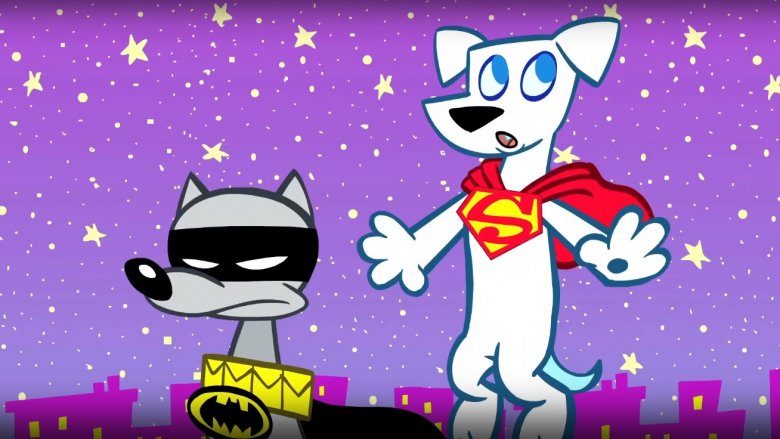 You've already experienced the Dawn of Justice. Now, DC and Warner Bros. want to prepare you for... the Dawn of Cuteness.
According to a report from Collider, Warner Bros. has enlisted writer Jared Stern to both write and direct Super Pets, a feature film about the adorable, crime-fighting animals of DC Comics. 
The Super Pets property started out in comic books, with the characters being introduced to DC Comics continuity as the loyal pets of famous superheroes, though these new Super Pets have been updated for the modern era, or otherwise adapted from other classic comic book characters and stories. Superman has Krypto the Super-Dog and Beppo the Super-Monkey, Aquaman has a seahorse named Storm, and Wonder Woman has a kangaroo of all things named Jumpa, who possesses the power of speed-hopping. The Flash, naturally, has a turtle — based, most likely, on a 1944 character named Merton McSnurtle. No, really.
Many of the characters first appeared as a team, the Legion of Super-Pets, in a February 1962 issue of Adventure Comics, having made individual appearances in various different comics prior to that. On screen, the characters have been featured on a series of animated shorts called DC Super-Pets!, which aired on Cartoon Network as part of DC Nation Shorts.
According to the Collider report, it's not currently clear whether Stern's movie will be an adaptation of the lighthearted animated shorts or if they'll pull more material from the comics, which actually take the team somewhat more seriously. There's also the possibility that he'll be going in his own direction with the property, coming up with new characters and stories rather than adapting pre-existing ones.
Stern previously worked as a writer on The Lego Batman Movie, The Lego Ninjago Movie, and Wreck-It Ralph, and also contributed story material to The Princess and the Frog and Bolt. He also wrote and directed the film Happy Anniversary for Netflix this year, with his other live-action writing work including Mr. Popper's Penguins, The Internship, and The Watch. 
DC has historically demonstrated that it can be quite difficult to get a viable cinematic universe off the ground, but who knows — maybe a successful Super Pets movie will herald the rise of a veritable cinematic cuddleverse, with puppies and kitties and horsies galore out in these streets accomplishing feats of super-heroism. Cross it over with Shazam! while you're at it — make "DC" stand for "Darn Cute". 
Aside from Super Pets, Stern's upcoming projects include the animated fable Smallfoot, which he executive produced, as well as a TV series adaptation of Dr. Seuss' Green Eggs and Ham for Netflix, which he's executive producing and writing.