July 2018 Trailers That'll Get You Excited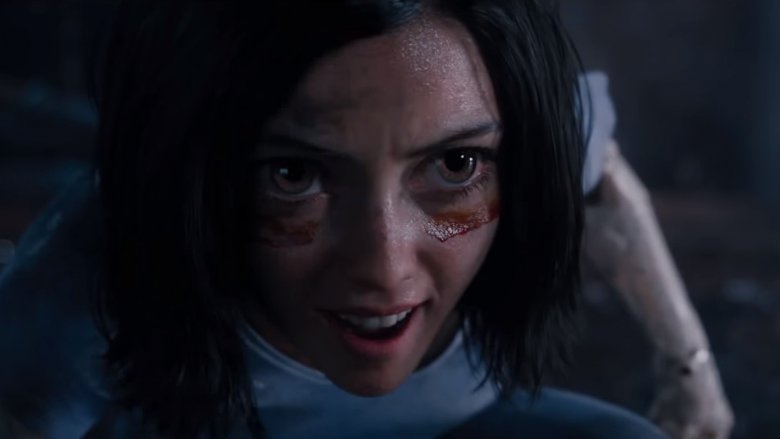 Thanks in part to the San Diego Comic-Con, July saw the release of some of the biggest movie trailers of 2018 so far. With the fall release schedule just around the corner, it seems like every major studio is dedicated to giving their fans all the eye candy they can stomach. From a tantalizing first look at Godzilla: King of the Monsters to full-blown trailers for blockbusters like Aquaman, Shazam!, and Fantastic Beasts 2, July came in like a lion and left like a kaiju, leaving a trail of explosive trailer mayhem in its wake.
But it wasn't all monster mash-ups and superhero brawls — July also saw the first trailer for Glass, M. Night Shyamalan's sequel to Split and Unbreakable, along with a terrifying first look at the J.J. Abrams-produced Nazi zombie thriller Overlord.
Even all that is just scratching the surface of all the great trailers we saw throughout the month. In fact, there are almost too many to keep track of, so here's a rundown of all the best trailers from July 2018 that are guaranteed to blow you away.
A Prayer Before Dawn — August 10
So far, A24 is the studio that can't seem to miss. They've been behind Oscar winners, underground favorites, and blockbusters alike, and 2018 sees them continuing that trend with no signs of slowing. We've already seen Hereditary become a horror sensation, and next on the docket is A Prayer Before Dawn.
Following a British boxer who's sentenced to a stay in a violent Thailand prison, the film looks like a gritty character study and a thrilling drama that won't pull any punches. The trailer introduces Billy Moore as he's arrested for what looks like drug possession. He finds himself locked behind bars with some seriously tough characters, so he sets out to make a name for himself as the toughest of them all.
Early screenings have already garnered A Prayer Before Dawn an impressive Rotten Tomatoes score, and mainstream audiences will get the chance to witness the grueling story when it hits theaters on August 10.
Patient Zero — August 14
After a relatively infection-free couple of years, zombies are breaking out on the big screen again with Patient Zero. Only this time, they can...talk? Well, at least to one person. Matt Smith, a.k.a. the 35th-or-something Doctor Who, plays an American soldier who can communicate with the infected. Most of humanity is holed up in an underground missile silo, and they're trying desperately to find the cure before it's too late.
As someone who's been bitten but not turned, Smith is the halfway man. His job is to sit down and chat with the zombies in an attempt to figure out how the whole plague works. But he meets his man-eating match when one zombie seems to be different from all the rest. It turns out that the zombies probably aren't zombies after all — they're more like smarter humans who happen to be really violent. Can humanity survive against a better version of themselves? Find out when Patient Zero goes straight to streaming on August 14.
Assassination Nation — September 21
Seeming to revel in its own controversy, Assassination Nation released its second trailer in July and provided more glimpses into what's shaping up to be a really, really weird movie world. There's a Purge-like feel to the film, which centers on the breakdown of civilized society in a small town after a hacker releases a bunch of emails and texts sent around by the residents. Who's been talking trash about whom? Apparently, everyone, so the only recourse is to grab some guns and baseball bats and hunt down all the trash talkers — which is, again, everyone.
It's all out war in the sleepy suburbs after that, and the trailer descends into a montage of ... we're seriously running out of adjectives here, so here it is again — Purge-like violence between neighbors and friends. It's like Stephen King's Needful Things, but with a catalyst somehow less realistic than the devil running a cursed boutique.
Still, Assassination Nation could very well turn out to offer some surprise fun. It's written and directed by Sam Levinson, who co-wrote HBO's Golden Globe-nominated The Wizard of Lies. Take a look on September 21.
Bohemian Rhapsody — November 2
Each new trailer for Bohemian Rhapsody reveals more details about the story, more glimpses of Rami Malek as Freddie Mercury, and, best of all, more Queen songs. The hard-rocking biopic follows the band from its humble origins to sold-out stadiums, with a hard focus on Mercury and his partying lifestyle.
But of course, there's a dark side to every story, and the latest trailer for Bohemian Rhapsody spares a few seconds to show that it's not all foot-stomping, crowd-pleasing fun for this rock quartet. Turns out Mr. Fahrenheit's solo work was putting some pressure on the band. And then there were all the drugs, and the alcohol, and, well, it's safe to say the band had a few tense years, and Bohemian Rhapsody doesn't look like it's going to shy away from anything.
Either way, the film is supposed to climax with the 1985 Live Aid show, so it should be a triumphant — if not exactly happy — ending. Find out when it premieres on November 2.
Overlord — November 9
Despite all the rumors and speculation, producer J.J. Abrams has always said that Overlord isn't a Cloverfield movie. Nobody believes him, but that's what he's saying, at least. To be fair, a World War II zombie movie would be difficult to fit into the Cloverfield timeline, so maybe we can all just enjoy it for what it is, which is a World War II zombie movie. Is that so bad, really?
The trailer opens with a plane full of soldiers flying over the beaches of Normandy. Almost immediately, they're shot down, sending a few of the unlucky troopers parachuting deep behind enemy lines. That would be bad enough, because Nazis, but it turns out that there have been some devious experiments going on behind closed doors, putting the intrepid band of soldiers face to face with horrifying monsters. And surprisingly, none of it looks cheesy.
Check it out when Overlord hits theaters on November 9.
Boy Erased — November 2
Joel Edgerton made his first foray into writing, directing, and acting in the same movie with 2015's The Gift, a paranoia-tinged thriller starring Rebecca Hall and Jason Bateman, and his upcoming film Boy Erased will see him back in all those roles. This time, he's tackling the story of a young man forced into gay conversion therapy by his overbearing Baptist father.
While Edgerton has a supporting role, the main cast is anchored by Nicole Kidman and Russell Crowe, who star as the parents of Jared, played by Lucas Hedges. The trailer is an emotional gut-punch from start to finish, with gripping performances by everyone involved, and the fact that it's all based on a true story twists the knife just a little bit deeper. In other words, you can probably expect to see Boy Erased at the Oscars next year. Take a look when it lands in theaters on November 2.
Fantastic Beasts 2 — November 16
At this point, the Wizarding World of J.K. Rowling couldn't be stopped even if you waved a wand and shouted avada kedavra at it. Following ten years of core films and a stage play, 2016 launched a brand new prequel series in the form of Fantastic Beasts and Where to Find Them. And let's be honest, it was pretty great.
So it's no wonder that Fantastic Beasts 2: The Crimes of Grindelwald is one of the most hotly anticipated films of 2018. Newt Scamander is back in action, and this time he's being drafted by a young Albus Dumbledore to help bring down the scourge of Gellert Grindelwald. The trailer promises another magical adventure filled with high-stakes wizardry and flying carriage chases — and of course plenty of fantastic beasts.
David Yates, who directed the first Fantastic Beasts and the last four Harry Potter movies, returns to helm the Crimes of Grindelwald. Look for it on November 16.
Robin Hood — November 21
Assassin's Creed heads to Nottingham in the newest trailer for Robin Hood, the reboot that's putting the aerial acrobats back in archery. Kingsman's Taron Egerton stars as the hooded arrow-slinger, with Jamie Foxx stepping in as his right-hand man Little John.
Obviously, this rendition is taking a few liberties with the source material — Little John is Robin's combat trainer, Maid Marian is Irish, and none of them are foxes. Well, scratch that — only one of them is a fox, but he's technically a Foxx.
But we're assuming it'll make up for all that with tons of action and epic bow-and-arrowing, mixed in with just enough romance to keep everyone's dates happy. Behind the scenes, the film marks the first theatrical release for director Otto Bathurst, who previously helmed episodes of Black Mirror and the British historical drama Peaky Blinders, so Robin of Loxley may be in good hands after all. It's scheduled to hit theaters on November 21.
Aquaman — December 21
Could this be the movie that turns around the Worlds of DC? As much as everyone loves to rag on some of the recent DC films, we're still rooting for one of these movies to come out and blow us all away. So far, all signs point to Aquaman being the one.
Experienced filmmaker James Wan is in the directing chair, and Jason Momoa seems to have all the right aqua-ey stuff to play the king of Atlantis. The trailer shows that the film will be pulling from Geoff Johns' 2011 Aquaman comics, which feature cool deep-sea critters called the Trench and include a battle for the throne against Aquaman's own half brother, Orm.
That's all good stuff, and the Aquaman trailer seems to showcase plenty of style. There won't even have to be bubbles around the characters when they talk — again, good stuff. Right now, Aquaman is slated to hit theaters on December 21.
Alita: Battle Angel — December 21
December 21 is shaping up to be a battleground for box office dominance. Not only are Aquaman and Robin Hood hitting the big screen that day, but they'll do so right alongside 20th Century Fox's Alita: Battle Angel.
With Robert Rodriguez directing from a script co-written by James Cameron, this adaptation of the popular manga is in great hands, but that hasn't stopped fans of the source material from getting nervous. Why are they nervous? Three words: Giant freaky eyes. True to the manga (and the general style of mangas), the main character's eyes are at least three sizes too large, or approximately the size of the Grinch's heart after he learns the meaning of Christmas.
Once you start looking past the obvious, though, it's hard to deny that Alita: Battle Angel could very well turn out to be a great movie. The trailer shows off a beautifully stylized future world, and if there's a good story behind it, then everyone may just end up forgetting about those eyes after all.
Glass — January 18, 2019
Ever since the final scene of Split, audiences have been waiting for that Splunbreakable crossover to materialize. Now that the first trailer for the sequel is here — titled Glass after Samuel L. Jackson's Unbreakable character — it's starting to look like the wait was worth it.
The trailer doesn't hold back on the goods, either. It jumps straight into a shot of Jackson's Mr. Glass, Bruce Willis' David Dunn, and James McAvoy's Kevin Crumb sitting in a room together, talking to a psychiatrist who probably doesn't believe they're all superheroes and villains.
After that, the trailer spends most of its runtime making sure everyone knows who these people are, explaining that Dunn is a bulletproof vigilante, Crumb is a schizophrenic demon-man, and Glass is really really good at planning stuff. Finally, we get some hints that Glass and Crumb are going to team up, and Dunn will have to stop their evil schemes, hopefully right after shouting, "Your criminal days are...Dunn!"
Check it out on January 18, 2019.
Godzilla: King of the Monsters — May 31, 2019
This movie is massive in both scale and anticipation, and July rewarded fans with two new looks at what's to come. Godzilla: King of the Monsters started the month with a brief teaser at Comic-Con showing Stranger Things' Millie Bobby Brown trying to get in touch with someone on a radio. It was a tense minute of talking that ended with a tease of the name "Monarch," which is the name of the human group keeping tabs on all the giant monsters.
Of course, everyone forgot about all that as soon as the first trailer for the movie dropped, because this time we actually got to see all those giant monsters. Not only is Godzilla present and accounted for, but so are his greatest foes (and sometime allies): Mothra, the big moth. Rodan, the pterodactyl. And King Ghidorah, the three-headed dragon and Godzilla's nemesis.
Who else? Well, director Michael Dougherty teased that a character from Kong: Skull Island would show up, and what are the chances of that being anyone except Kong himself? We'll be able to find out when Godzilla: King of the Monsters smashes into theaters on May 31, 2019.
Shazam! — April 2019
Little Billy Batson may not be the most popular name among the DC lineup, but even non-comics readers are bound to know the name of his alter ego: Shazam. Along with Aquaman, Warner Bros. dropped the trailer for Shazam! out of nowhere at the San Diego Comic-Con, introducing the young foster kid who's granted superpowers.
Like any kid, he just wants to have fun with his new abilities, but when a supervillain menace starts making his presence known, Billy will have to get serious to save the world. Between Aquaman and Shazam!, DC is two for two this month. The trailer keeps it lighthearted and fun, even when Mark Strong's villainous Dr. Sivana shows up. Zachary Levi seems like a great choice to play the hero, especially since he seems to have such a great onscreen vibe with Dylan Grazer, who's playing Billy's foster brother.
Unfortunately, we can't get too excited just yet. There's still a long wait ahead — Shazam! strikes theaters in April of 2019.