The Little Mermaid: We Have Miyazaki's Anime To Thank For Ariel's Design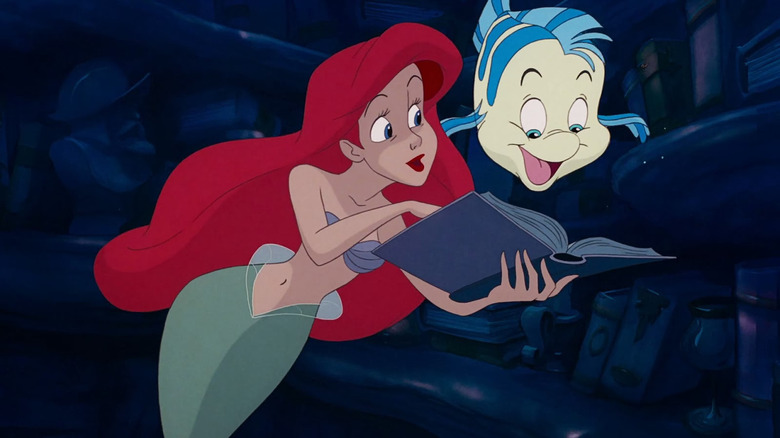 Disney
While "The Little Mermaid" may be one of Disney's best live-action remakes, it still has the tall task of living up to its predecessor. The original cartoon is one of the studio's most iconic, succeeding on nearly all fronts, from the acting to the character design. However, creating the original Ariel wasn't as easy as it may seem.
In an interview with Nostalgia Critic, Philo Barnhart, an animator on the original "Little Mermaid," reflected on what it was like designing Ariel, saying that supervising animator Glen Keane brought up the idea of taking inspiration from Hayao Miyazaki's work. "'What if we did our own version of an anime girl character?'" Keane suggested, according to Barnhart, who found the idea intriguing. "They have the little traditional triangular face, you know, with a little pointy chin and the big eyes with like — they have a million highlights in them," the animator said.
While they didn't include nearly as many highlights in Ariel's final design, the team did keep that inspiration in mind. "She was in part based on what we thought a Disney-fied anime girl would look like," Barnhart said. He went on to reveal that other inspirations for Ariel's design included French actress Emmanuel Barrett, Christy Brinkley, and Christina Applegate.
The live-action Little Mermaid had to reinvent the design of the original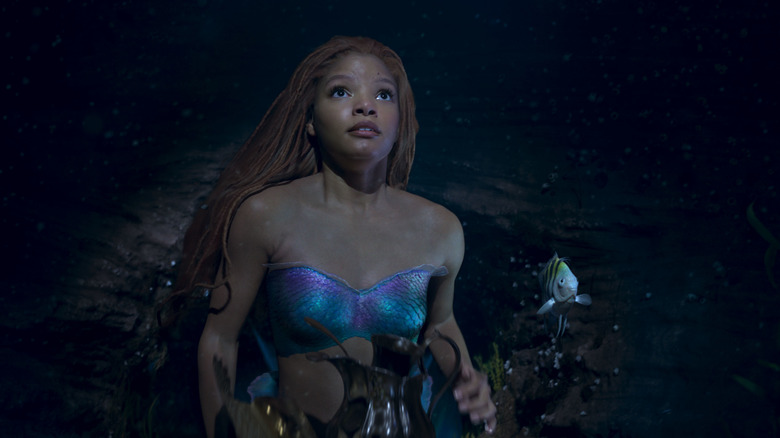 Disney
As is the case for most of Disney's live-action remakes, the designs of the originals are so iconic that the studio has to find a way to modernize them without leaving behind what made them so memorable in the first place.
In order to nail the look of the original, "The Little Mermaid" costume designer Colleen Atwood didn't want to change too much, but some things needed to be altered to bring the story to modern audiences. One major difference? No shell bra for Ariel (Halle Bailey) or any of the mermaids. When asked about it during an interview with Harpers Bazaar, Atwood responded, "We walked away from that one," elaborating on the difficulties that come with bringing that costume design to live-action. "I just think we wanted to have a more fishlike quality to the girls. Having them all plonk seashells on their breasts seemed like a weird way to go. And when you start putting shells on real bodies, it's hard to make them look good, believe me."
The change to Ariel's costume is just one of many ways "The Little Mermaid" separates itself from the original. While some people may disagree with Disney's changes, the original Ariel totally supports them, so that should be good enough for fans.