Apple TV+'s Hijack - Everything You Need To Know
Apple TV+ has been on quite the hot streak since it debuted its very first series, "The Morning Show," in 2019. Not only did the Apple Studios and Skydance Media film "Ghosted" recently make history for Apple TV+ as having the biggest debut of any films on the streamer to date, but shows like "Ted Lasso," "Shrinking," and "Bad Sisters" continuously surprise fans and critics with compelling stories that keep us invested. The upcoming 7-episode thriller "Hijack" looks set to follow that trend.
It was previously announced in April 2023 that Idris Elba would be starring in and executive-producing the show. While his best-known television role is the impulsive, complex detective, John Luther, in "Luther," his role as Sam Nelson is something quite different. "He's not an action star or a cop," Elba told Entertainment Weekly. "He has the gift of the gab." He also appreciated the fact that the episodes play out in real-time. "It takes a fresh approach to a thriller and hostage situation. There's an amplified nature of having a ticking time bomb in a plane and what that does to human nature." 
Here's everything we know so far about the upcoming project.
When will Apple TV+'s Hijack be released?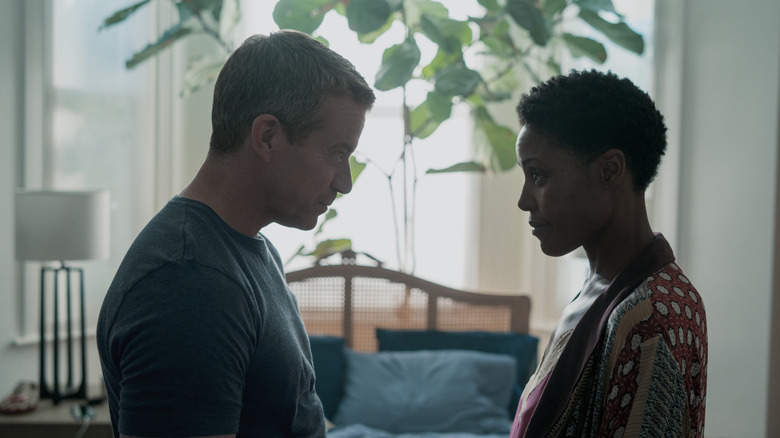 Apple TV+
We won't have to wait much longer for the high-energy hostage thriller "Hijack" to grace our screens. Per Apple's official website, "Hijack" is set to be released Wednesday, June 28, 2023, on Apple TV+. The first two episodes will be released immediately, followed by another episode released every Wednesday. The Season 1 finale is expected to air on August 2.
"Hijack" is being compared to the long-running political and terrorist drama "24," with the show taking place in real-time. So unlike other series where two minutes seem to stretch on for an eternity, each minute of time will actually be one minute of time.
Apple TV+ is $6.99 per month, with a 7-day free trial for new members.
What is the plot of Apple TV+'s Hijack?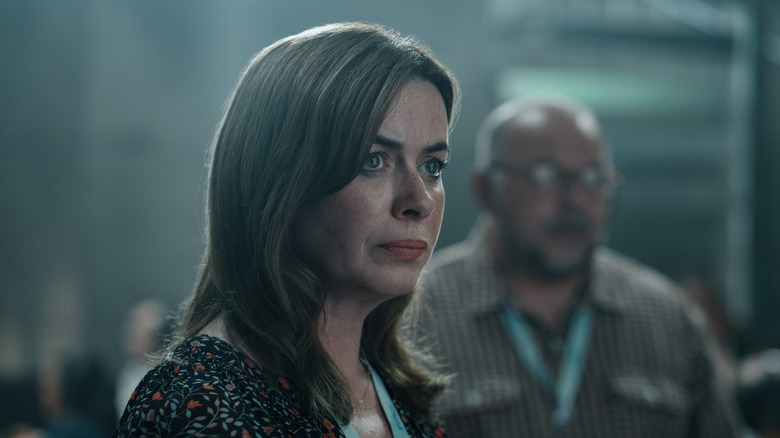 Apple TV+/YouTube
"Hijack" is a thriller that takes place in real-time on a seven-hour flight between Dubai and London. Shortly after take off, the plane is hijacked. Sam Nelson happens to be on the flight, and will do anything just to get home to his family. As authorities on the ground try to figure out what is happening on the flight, Sam's identity as a professional negotiator in the business world is revealed to them. Sam decides to use his skills on the plane to try to get himself and the other passengers home safe.
As the plane travels over different countries and airspaces, more officials and governments are pulled into the situation, such as counterterrorism officer Zahra Gahfoor (Archie Panjabi), who becomes involved in the investigation. "It is an examination of the procedures and attitudes [within the government and law enforcement], and that becomes a focal point of the storytelling," Idris explains to Entertainment Weekly.
Who is in the cast of Apple TV+'s Hijack?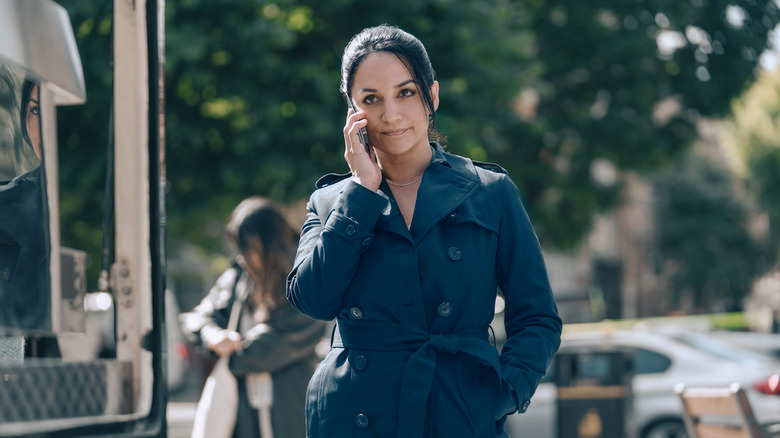 Apple TV+
In "Hijack," Idris Elba plays the lead character — businessman and negotiator Sam Nelson. While he is best known for his Emmy and BAFTA-nominated portrayal of John Luther from the British crime thriller, "Luther," he's shown quite a bit of range and versatility with roles in "The Mountain Between Us," Molly's Game," and "Beasts of No Nation."
Archie Panjabi stars as London counterterrorism agent Zahra Gahfoor, who is on the ground investigating the situation in the air. No stranger to television, she won an Emmy Award for her performance as Kalinda Sharma on "The Good Wife," and co-starred in "Snowpiercer" and "Departure."
Rounding out the cast is Christine Adams as Sam's wife, Marsha Nelson-Smith, and Jude Cudjoe as his son, Kai. In addition to these stars, Max Beesley, Eve Myles, Neil Maskell, Jasper Britton, Harry Michell, Aimée Kelly, Mohamed Elsandel, and Ben Miles have also booked roles in the series.
Who is writing, directing and producing Apple TV+'s Hijack?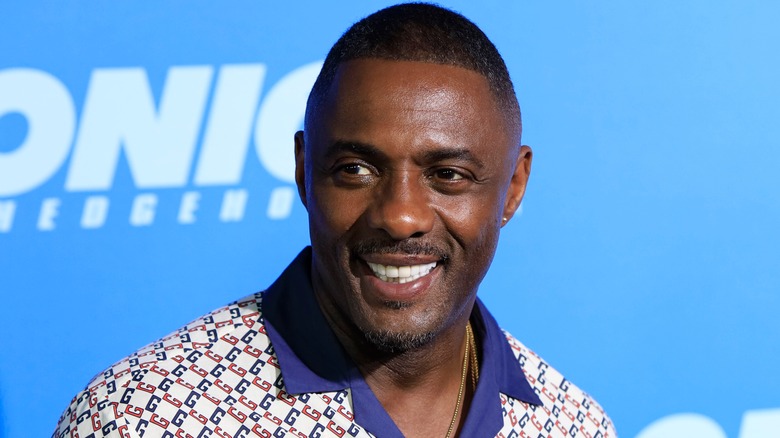 Kathy Hutchins/Shutterstock
"Hijack" is created and written by George Kay, who also wrote and co-created the Netflix mystery thriller "Lupin." Idris Elba credits working with Kay as one of his reasons for being intrigued by the series. "He really has a phenomenal taste profile for breaking down this sort of ticking clock drama," he told Entertainment Weekly.
Five out of the seven episodes of the series will be directed by Jim Field Smith. Smith and Kay have a history of working together, with the duo also having written the British comedy "Stag," and created the series, "Criminal: UK." The other two episodes of "Hijack" will be directed by Mo Ali, who's best known for "Montana" and the British series, "Cobra."
Along with being one of the executive producers, "Hijack" is the first series from Idris Elba's deal between his production company, Green Door Pictures, and Apple TV+. "Hijack" is also produced by Jamie Laurenson and Haken Kousetta's 60Forty Films and Kay and Field Smith's Idiotlamp Productions. Laurenson, Kousetta, Kay, and Field Smith are also executive producing, alongside Kris Thykier.
Is there a trailer for Apple TV+'s Hijack?
Apple TV+ dropped the trailer for "Hijack" May 25, 2023. It opens with Idris Elba's Sam Nelson in an airport, scrolling to his wife's social media account on his phone. After the pilot announces that their flight will be nearly seven hours long, Sam is shown opening his eyes as the seat belt light goes off — the same moment the hijackers surround the passengers with guns and tell them to stay seated. While one of the hostages collects everyone's electronic devices, another secures the cockpit and we hear someone say, "Operation has commenced. Plane is under control."
Sam is shown comforting a distraught passenger before we cut to a ground scene, in which DI Daniel Farrell (Max Beesley) is at Sam's home, asking his wife and son what exactly Sam does for a living. They have difficulty explaining what he does, but sum it up by saying that Sam is best at negotiation. 
Back on the plane, we see Sam trying to negotiate with the hijackers, overlapped with a foreshadowing scene of the passengers uniting to fight back with whatever items they can find. On the ground, Farrell is telling Zahra Gahfoor (Archie Panjabi) that five people on the plane don't exist, and then cryptic hints that whatever is happening is part of a network all across Europe. The trailer ends with Sam saying "It's either us or them, and I can tell you it's not going to be us."