Ted Lasso S3 Makes A Weird Connection Between Coach Beard And Brendan Hunt's Community Role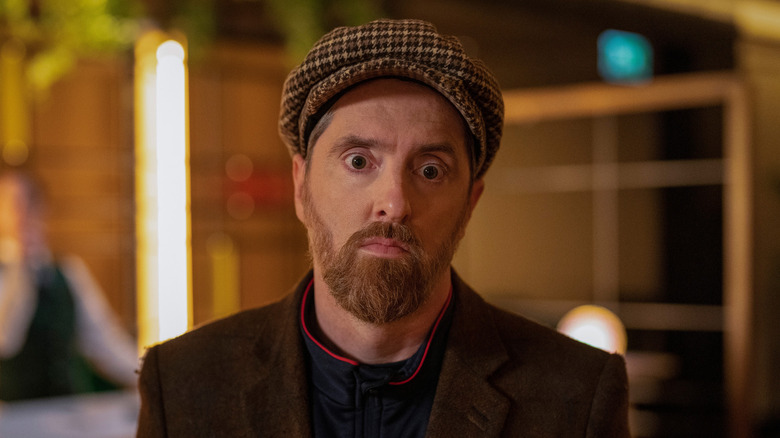 Apple TV+
Contains spoilers for "Ted Lasso" Season 3 Episode 11, "Mom City"
The end for "Ted Lasso" Season 3 gets ever nearer in "Mom City," which reveals a whole bunch of stuff about a whole bunch of people ... including Coach Beard (Brendan Hunt), who unexpectedly ends up revealing a significant chunk of his hitherto mysterious history. Beard's dramatic backstory, which he tells Nate (Nick Mohammed) during an initially ominous-seeming encounter, has plenty of dark alleyways. From his initial meeting with Ted Lasso (Jason Sudeikis) to a temporary parting of ways as Beard fell on black days and went to prison for drug theft, Beard's story starts out as a classic tale of downfall. 
Yet, after he's abandoned by his family and reconnects with Ted out of desperation, Beard becomes one of the most extreme cases of the mustache-rocking coach's inherent tendency to make the people around him better. Knowing this, it's hardly a surprise why Beard is so protective of Ted, and why he was so deeply disturbed by Nate's betrayal ... but, as Ted wisely and all-so-subtly points out when Beard stubbornly refuses to let Nate back in the AFC Richmond coaching team, the assistant coach might want to consider the possibility of giving the former West Ham United coach a second chance.
The heart-to-heart between Beard and Nate ends in an embrace and a job offer, but for fans of the NBC sitcom classic "Community," the former's freshly-revealed history might ring a few bells. See, Brendan Hunt guested on a particular episode of the show as a young hitchhiker character who bears a suspicious similarity to Beard's description of his younger, hazier days. 
Jesus the Hitchhiker shares many of Beard's proclivities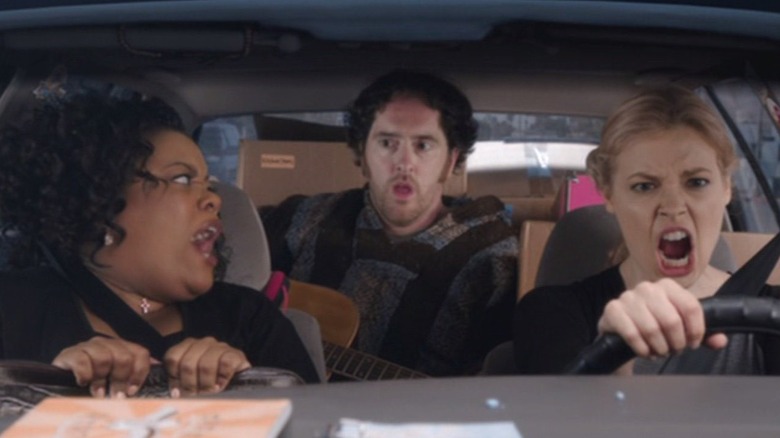 NBC
In "Community" Season 3 Episode 7, "Studies in Modern Movement," Shirley Bennett (Yvette Nicole Brown) and Britta Perry (Gillian Jacobs) pick up a hitchhiker after Shirley becomes overly concerned about Annie Edison's (Alison Brie) intention to move into the same apartment with Troy Barnes (Donald Glover) and Abed Nadir (Danny Pudi), and wants to prove that people shouldn't be judged quite as easily as Shirley does. Unfortunately, the hitchhiker is played by Brendan Hunt, who goes on to provide the kind of layered performance "Ted Lasso" fans know him for. He starts out genial enough but soon proclaims himself to be Jesus, musically expresses a desire to drink human blood, and is very close to reaching some truly unsavory territory before the main characters promptly kick him out. 
It's not hard to imagine the hitchhiker as a young Coach Beard if you pay attention. Apart from the obvious visual similarities that come from being played by the same actor, the hiker's strange attitude toward religion isn't too far removed from Beard's strange crucifix-slash-church fixation in "Beard After Hours," and the characters also share the ability to go from jovial to outright madcap within a fraction of a second. Granted, the hitchhiker is more of a creepy stoner than the kind of guy who might end up in prison for swiping a loaf of meth, but hey, he still has a good few miles to walk before his path might take him there ... and from there, perhaps, to AFC Richmond. 
The connection between Coach Beard and Jesus the Hitchhiker is rapidly becoming fan headcanon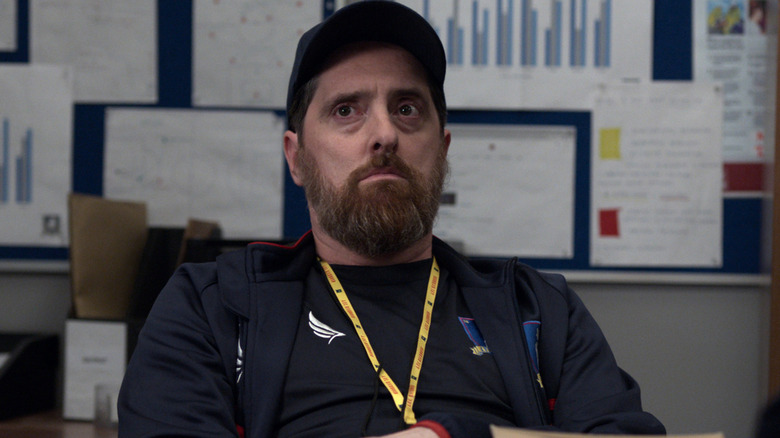 Apple TV+
Every episode of "Ted Lasso" is packed to the gills with references, Easter eggs, off-the-cuff jokes, and minor characters that may turn out to be influential in the long run. As such, fans of the show tend to be pretty eagle-eyed, and some have indeed picked up the fact that Brendan Hunt's "Community" role shares some similarities with Coach Beard. "The reveal of Coach Beard's past in the latest episode of TED LASSO works with his appearance in COMMUNITY," Twitter user @WH_Woolhat embraced the connection. 
Impressively, some fans connected the dots between the characters well before "Mom City" aired. "Woah, a young Coach Beard was the smelly hitchhiker during #anniesmove on Community," @kyleembke wrote in 2022. "Coach Beard's dark and mysterious past as Jesus in Community," @Rosgakori tweeted in 2021.
Now that the truth about Beard's past is out in the open, we'll probably hear quite a few more comparisons to Hunt's "Community" character. Of course, "Community" and "Ted Lasso" operate on different networks, so even if the resemblance between the two is intentional, it's unlikely that Hunt, Jason Sudeikis, and others will ever openly acknowledge it ... or would they?