Ted Lasso Season 3: Coach Beard's Dramatic Backstory Creates A Massive Plot Hole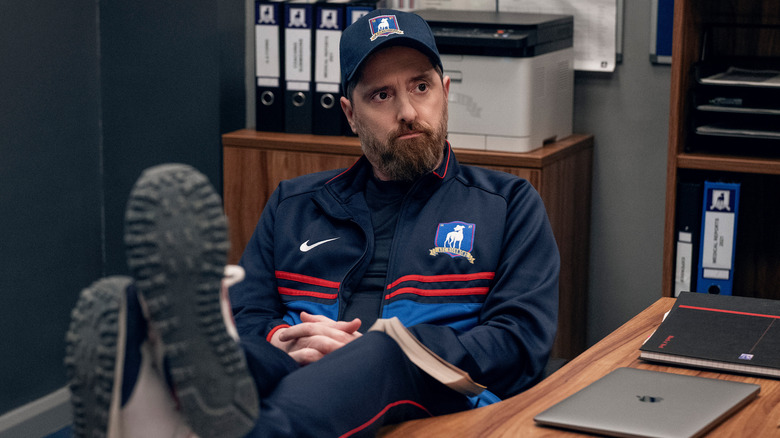 Apple TV+
Contains spoilers for "Ted Lasso" Season 3 Episode 11, "Mom City"
The penultimate episode of "Ted Lasso" Season 3 is all about mothers, sons, and Mancunian soccer juggernauts. Still, it finds time to wrap up other corners of the overarching plot, too. The end of the episode, in particular, answers some long-standing questions about the eternally mysterious Coach Beard (Brendan Hunt). Ted Lasso's (Jason Sudeikis) usually extremely reserved assistant has already lifted the veil of secrecy in Episode 10 by telling Trent Crimm (James Lance) that he's originally from Peoria, Il., but this episode opens all the dams when Ted gently challenges Beard to forgive Nate Shelley (Nick Mohammed). Beard proceeds to do just that by giving Nate a very uncharacteristic monologue that explains the exact nature of his own relationship with Ted. As it turns out, they are indeed old friends, but Beard went through some very dark days and even spent some time in prison before Ted helped him to straighten out his life as only Ted can.
The backstory explains a whole lot about Beard's boundless loyalty to Ted and rather conveniently allows him to recognize that Nate also deserves a second chance. It's just that this touching revelation means that Beard's very presence in the show becomes a pretty major "Ted Lasso" plot hole ... because the fact that he can coach AFC Richmond with that history would be a virtual impossibility in real life.
Beard is far too well-known to get away with such dark secrets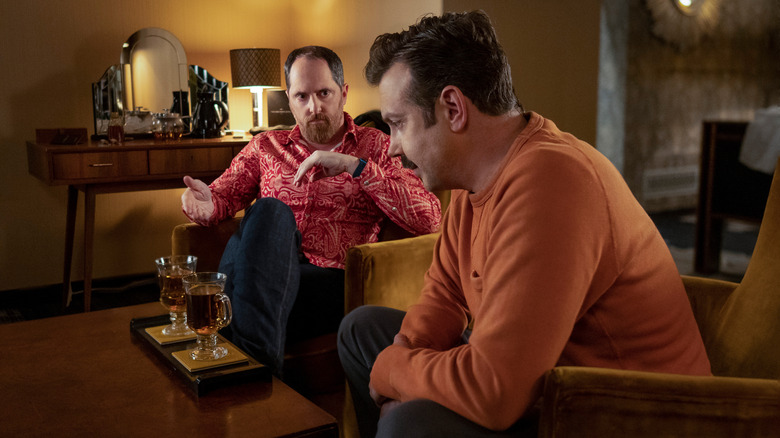 Apple TV+
While it's terribly unlikely that a known felon would land a coaching job in a top soccer league in the first place, Beard's established tag team chemistry with Ted and Rebecca Welton's (Hannah Waddingham) desire to hire the worst possible coaching talent in Season 1 might be enough to handwave that matter. However, the grim realities of the British press would be far more difficult to dodge.
Ted and Beard are coaching in the Premier League — the top level of soccer in a country that's known for its particularly ruthless tabloid press. This makes head coach Ted a celebrity by default. While assistant managers like Beard aren't quite on the same level, they're still, at the very least, that one weird member of the proverbial boy band who mostly hangs around in the background. As such, Beard might not be the star of the show, but he's still very much on the stage. The press must know it, too, especially because many of these assistants are future coaching superstars themselves. Current Arsenal manager Mikel Arteta used to be Pep Guardiola's Coach Beard before he broke out on his own. Grey hair Nate's real-life inspiration Jose Mourinho toiled years as an assistant manager, scout, and even translator before becoming a celebrated top manager.  
"Ted Lasso" doesn't even bother to hide the fact that assistant coaches are famous. Both Roy Kent (Brett Goldstein) and Richmond-era Nate have received plenty of attention from the public and the media, and while Roy is a former star player, it's still weird that the show continues to pretend that Beard — a regular dugout presence — remains an unknown entity who can freely embark on after-hours antics and Piggy Stardust adventures without anyone noticing. 
Ted's friend or not, there's no way Beard could coach in Premier League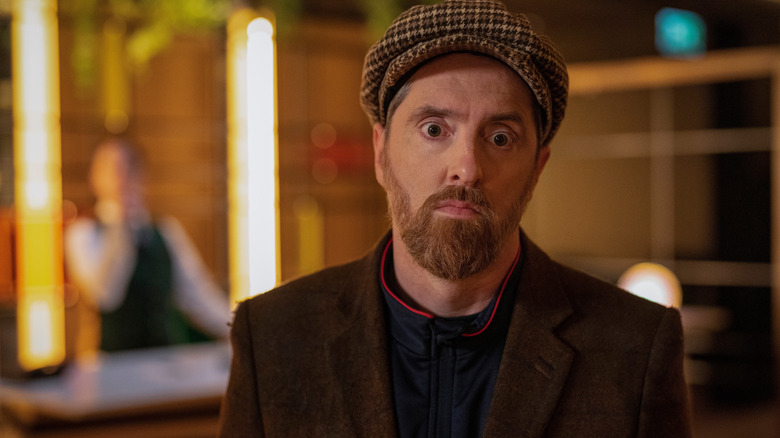 Apple TV+
Apart from the level of recognition Beard would inevitably have in his position, the fact that Ted is an absolute curiosity in top-level soccer whether he wins or loses means that his team must be among the most followed in the British — and perhaps global — sports scene. Because of this, there's no way some tabloid or another wouldn't have done a deep dive into the coaching staff's backgrounds and uncovered Beard's dark secrets, causing a public outcry and a media backlash that would effectively force Rebecca to fire the guy ... or, more likely, Beard to resign in an attempt to prevent hurting Ted's career. In fact, there's no way that Trent Crimm wouldn't know about the prison sentence by Season 3. Yet, the show asks the viewer to believe that the hard-hitting journalist hasn't even bothered to find out where Beard is from. There's no way the man doesn't have a Wikipedia page after three seasons in Richmond.
Of course, if we want to get really pedantic, there's no way Beard would have gotten to coach Richmond in the first place because, in the real world, even Ted wouldn't be allowed near the team no matter how much Rebecca tried to hire the guy. After all, there's absolutely no way a man with Ted's limited soccer know-how could have acquired a UEFA Pro license, which is a prerequisite for coaching a high-level professional soccer team. It also requires at least 360 hours of careful study on top of the lower-level licenses you need to have before even starting, so he'd probably know what friendly matches are if he'd qualify for the job.