The Couture Inspiration Behind Queen Charlotte's Wedding Gown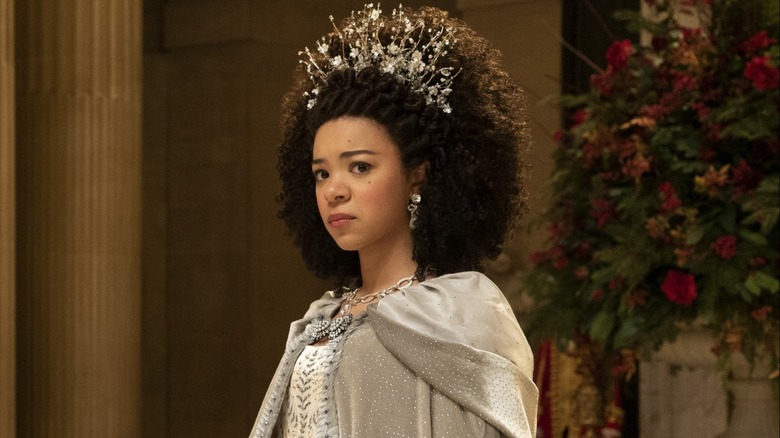 Netflix
While Netflix's "Bridgerton" takes love scenes and dating tropes to the next level, "Queen Charlotte" is more subtle. The prequel mini-series about the titular queen (Golda Rosheuvel) follows her journey from German royal to Queen of England. Though it takes some time for George (Corey Mylchreest) and Charlotte (India Amarteifio) to get accustomed to each other — and fall in love – marriage is still the central plot of the series. 
The very first episode kicks off as Charlotte travels to marry a man she's never met. After a failed attempt to scale a garden wall and escape, the two trade vows, and the rest is history. Like the titular character, the fashion of the series comes from real-life inspiration, though not necessarily where one would expect.
"[O]ur pitch to Shonda was that we wanted to bring a high fashion, modern element to our characters," costume designer Laura Frecon reported to Forbes. "We wanted it to feel as if you could wear these clothes on the runway or to a Met Ball. Our inspiration was a mix of high fashion, Dior's New Look, impressionist paintings, and our research." 
These decisions were not just for the pomp and circumstance of the Regency era, either. Like the events that take place on-screen, Charlotte's costumes weave a compelling narrative.
The gowns in Queen Charlotte tell a story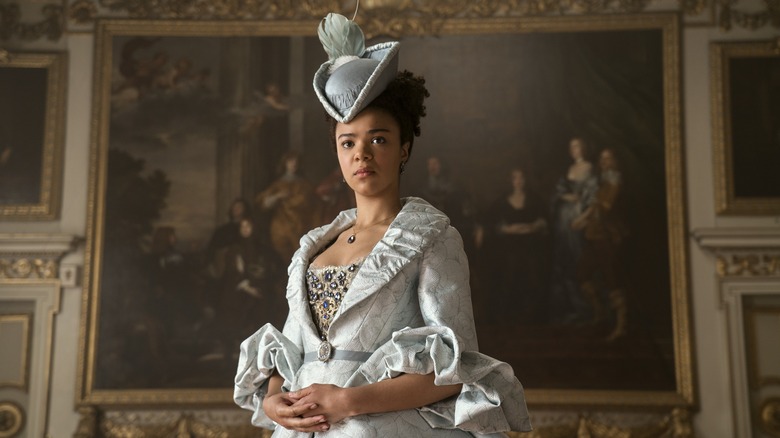 Netflix
When the series opens, Charlotte finds herself in an unenviable position. Though she comes from royal background, she must travel to a foreign country to marry a stranger. As soon as she arrives, she is overwhelmed by the differences between her homeland and England. Her future mother-in-law, Princess Augusta (Michelle Fairley), is a traditionalist and presses her into a wedding gown without the sapphires and finery of Germany.
"For the [English] wedding gown isn't that plain really, but it feels consciously plain by comparison [to the carriage dress]," costumer Lyn Paulo told IndieWire. "We interwove a lot of Yorkshire and Tudor roses into the hem of that gown, which were also woven into George's costume for the wedding. Augusta didn't include anything that was German in the British gown. It's all England, England, England." 
Ultimately, Charlotte makes decisions that leads her away from wearing the dress. She exerts her independence, and when she decides to marry George, she dons a more ornate dress for the ceremony. Taking inspiration from the 2014 Met Ball, the "Queen Charlotte" production credited Charles James with the show's magnificence.
"It was embroidered by our machine embroiderer, Twan Lentjes, then it was hand-embroidered and embellished by our embellishers, and then we made the cape with a special sparkle," Laura Frecon said. "We did it because we really wanted Charlotte to be able to show, 'This is me. This is who I am.'"