Barbie's Second Trailer Takes Barbie And Ken Into The Real World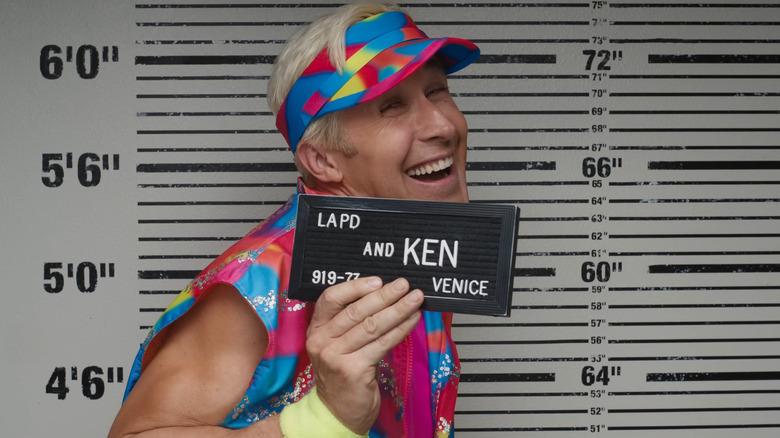 Warner Bros.
A new trailer for "Barbie" has arrived, and it's the most in-depth look at this wildly anticipated summer movie.
Details about Greta Gerwig and Noah Baumbach's latest collaboration have been kept largely under wraps until now, with this trailer finally giving fans a concrete look at what happens in this movie. So far, news about the "Barbie" movie has mostly been, to put it simply, vibes; the first teaser was narrated by Helen Mirren and was a perfect send-off of "2001: A Space Odyssey," and the preceding trailer was pretty light on details, mostly presenting scenes without much context.
Now, fans watch as Barbie (Margot Robbie) and Ken (Ryan Gosling) are launched from their idyllic Barbie-World into the real one, where they rollerblade, get arrested, dress up like cowboys, get arrested, engage in high-speed chases, and probably get arrested for a third time. Here's what we finally got to see in the latest "Barbie" trailer.
Barbie's world is turned upside down in the latest trailer
As the trailer opens, Barbie invites Ken over for a totally chill night involving a fully choreographed dance party with all her Barbie friends, but she ends up interrupting the proceedings with a question that spooks everyone: "Do you guys ever think about dying?" From there, her world starts falling apart; she falls off of her roof and, worst of all, her feet flatten out, horrifying the other Barbies.
A cryptic Barbie played by Kate McKinnon offers Barbie the choice to return to her old life or go to the real world and learn about who she is, using a stiletto and a Birkenstock as symbols of her old life versus what lies ahead. (Barbie picks the stiletto at first and is informed that she made the wrong call.) From there, Barbie and Ken experience the real world... and when Will Ferrell's character, likely the CEO of Mattel, finds out, her orders that Barbie be returned to her box immediately, forcing Barbie to try and evade him at every turn.
This movie looks like an absolute blast, and getting a closer look at this buzzy, big film is a huge treat for "Barbie" fans. As the trailer says, whether you love or hate Barbie, this is the movie for you — and it comes out on July 21, 2023.