Barbie's Soundtrack Features A Song From Ryan Gosling And We're Not Ready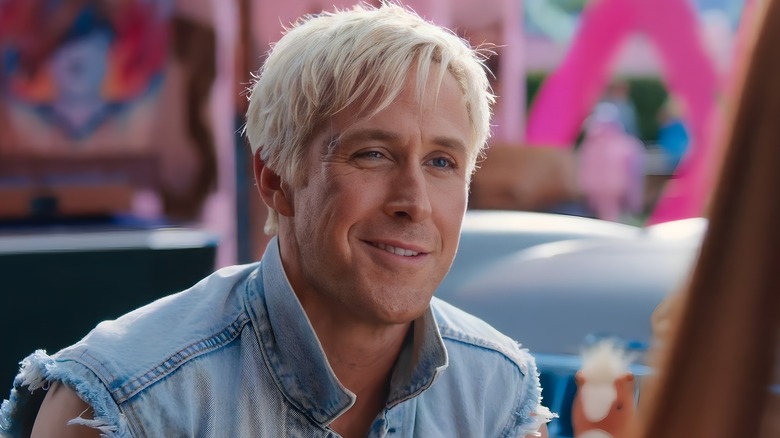 Warner Bros.
The list of artists featured on the "Barbie" movie soundtrack is finally out, and it includes one of the movie's stars — and suffice to say, we are not ready.
Reported on Instagram in collaboration with Rolling Stone, the announcement was revealed with a photo of Margot Robbie as Barbie reading a publication called "Barbie News" with a list of musicians who came together to provide music for the "Barbie" soundtrack. The list contains Ava Max, Charli XCX, Dominic Fike, Dua Lipa, Fifty Fifty, Gayle, HAIM, Ice Spice, Kali, Karol G, Khalid, Lizzo, Nicki Minaj, PinkPantheress, Ryan Gosling, Tame Impala, and The Kid Laroi, but at the bottom, it also says "more Barbies and Kens" will be announced. Mark Ronson, the film's music supervisor, is also name-checked at the bottom.
This is an incredible list of artists, but perhaps the most interesting part here is that Ryan Gosling, who plays the main Ken in "Barbie," is apparently providing some sort of song. So what can fans expect — and how do they feel about Gosling's musical talents being included on the soundtrack?
Ryan Gosling has dabbled in music throughout his career
Warner Bros.
If you're not already aware, Gosling has actually shown off his musical talents before — including in an Oscar nominated film. In 2016's "La La Land," Gosling sang alongside Emma Stone (who won an Oscar for her role) and a song that highlighted his vocal stylings, "City of Stars," ultimately won that year's Academy Award for best original song. Not for nothing, but the origins of Gosling's career are musical as well; he famously appeared in the Mickey Mouse Club alongside fellow future stars like Britney Spears and Justin Timberlake when he was still just a kid.
You might be less familiar with Gosling's other musical venture, but in light of the news that he has a song on the "Barbie" soundtrack, it feels relevant to mention his long-dormant band Dead Man's Bones. Formed with Zach Shields and based on the pair's childhood love of Disney's Haunted Mansion, Dead Man's Bones released one self-titled album in 2009, with songs like "Werewolf Heart" and "My Body's a Zombie For You" evoking themes of death, graveyards, and the macabre. The Silverlake Conservatory Children's Choir featured heavily on the album, and perhaps most importantly, Gosling performed as "Baby Goose" while he was a part of Dead Man's Bones.
Fans are psyched that Ryan Gosling has a song on the Barbie soundtrack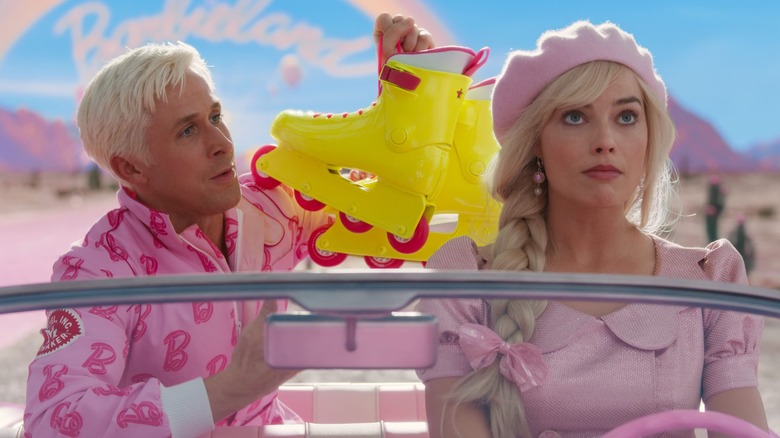 Warner Bros.
Fans were pretty excited that Ryan Gosling is featured on the "Barbie" soundtrack — and as it turns out, there's a whole lot of Dead Man's Bones stans out there in the wild. Pop culture apparel purveyor Super Yaki chimed in and reposted the announcement photo, writing, "RYAN GOSLING HAS A SONG ON THE BARBIE SOUNDTRACK?? Dead Man's Bones hive, we're finally winning." @cheracuse agreed: "ryan gosling song on the barbie soundtrack is a huge win for me, a hibernating ryan gosling and dead man's bones fan."
@hiimbobbi referenced Gosling's big musical film, tweeting a photo of the "La La Land" poster and saying, "In honor of Ryan Gosling having a song on the Barbie soundtrack, I'm listening to the La La Land soundtrack." Don't worry, Mickey Mouse Club purists: a clip of Gosling dancing as a kid made its way across Twitter, with users like @Dhanush747 saying, "Ryan Gosling in the Barbie soundtrack be like" with the clip following right after.
The "Barbie" soundtrack and movie both arrive on July 21, 2023.