MCU Fans Are Eagerly Anticipating A Halle Berry Cameo In Deadpool 3 After Her Storm-Y New Photo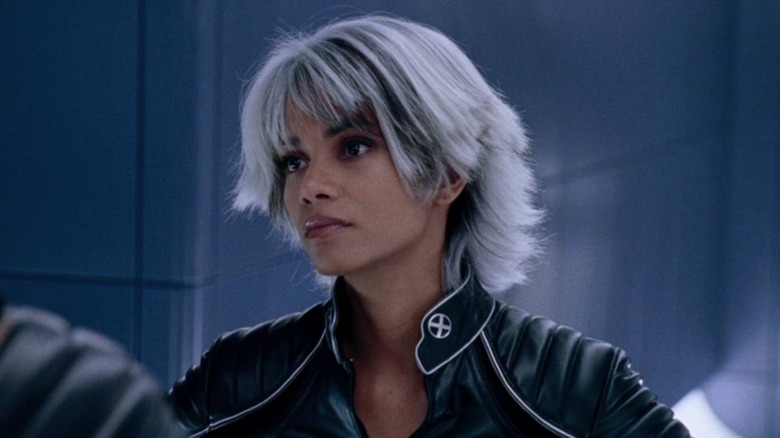 20th Century Studios
Out of all the Marvel Cinematic Universe projects on the way, it's safe to say one of the most highly anticipated is "Deadpool 3." In addition to closing out Ryan Reynolds' trilogy, it's also bringing back Hugh Jackman as Wolverine. The two mutants will get a chance to interact on the big screen (not including "X-Men Origins: Wolverine," but the less said about that, the better). And Jackman's return opens up the possibility that other "X-Men" cameos could be on the way, and a new post from Halle Berry suggests Storm could also factor into the plot somehow. 
On May 24, Berry uploaded a photo of her with her cat along with the caption, "Patience takes practice." At first glance, it'd be easy to assume this is a reference to her role in "Catwoman" with her holding a cat and using the word "Patience" in the caption, seeing how her character's name in that movie was Patience Phillips. However, fans have latched onto the fact she's sporting short gray hair, not unlike what she wore as Storm in the "X-Men" franchise. It may amount to a simple cameo, but superhero fans are clearly thinking she's going to be in "Deadpool 3" somehow. 
Rumors are flying of all the X-Men characters who could be in Deadpool 3
Halle Berry's post has suspicious timing, with "Deadpool 3" having just begun filming. The change happened recently because if you go back to an April 28 post she made on Twitter, she's a brunette with blonde highlights. All signs suggest she's suiting up to play Storm again, and fans think she won't be the only "X-Men" alumni making a grand return.
Patrick Stewart, who already reprised his role as Charles Xavier in "Doctor Strange in the Multiverse of Madness," has also hinted he could be back in the mutant feature. When doing an interview for "Star Trek: Picard," he had this to say about "Deadpool 3:" "I've been told to standby. That's all, I know nothing more than that." That certainly sounds like he's playing coy about his involvement in the movie. Nothing has been confirmed for either actor as of yet, but fans are taking anything they can get, and Redditor u/Major-Concentrate-87 wrote, "Although some are not reliable, [Giant Freakin Robot], [My Time to Shine Hello] and Grace Randolph have all said that the old X-Men will return for Deadpool 3."
"Deadpool 3" serving as a true conclusion to 20th Century Fox's "X-Men" franchise would make sense, but you never know. "X-Men" cameos could certainly factor into the upcoming "Avengers: Secret Wars" movie, too. Berry's involvement isn't even a sure thing at this point, as this is all speculation, but with filming underway, expect more news to come out in the near future as the film marches toward its November 8, 2024 release date.