Barbie: Margot Robbie Gave Ryan Gosling Beach-Themed Presents Every Day On Set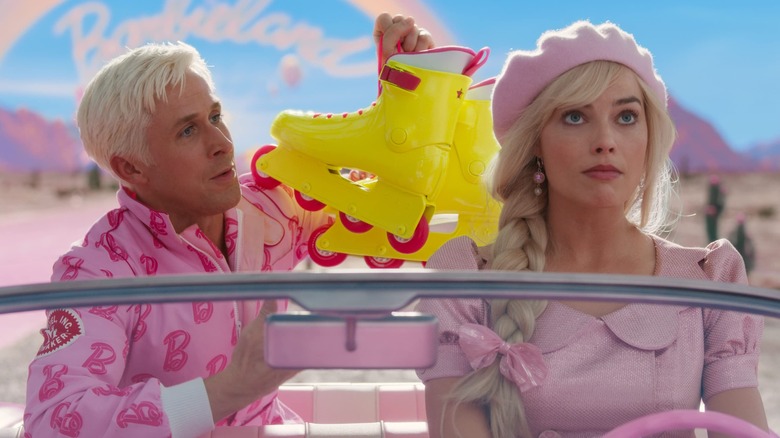 Warner Bros.
Everything about the "Barbie" movie looks at once both awesome and adorable, and the behind-the-scenes anecdotes are no different.
In a profile in Vogue that interviews "Barbie" stars Margot Robbie and Ryan Gosling — as well as writer-director Greta Gerwig — Gosling, who plays Ken in the upcoming movie based on the line of Mattel toys, revealed that Robbie gave him little gifts during filming to help him find his character. 
"It would be very un-Ken of me to talk about Ken" Gosling said when asked how he brought Ken to life in the movie, but he said Robbie helped him out in the cutest way possible. "She left a pink present with a pink bow, from Barbie to Ken, every day while we were filming," Gosling said. "They were all beach-related. Like puka shells, or a sign that says 'Pray for surf.' Because Ken's job is just beach. I've never quite figured out what that means. But I felt like she was trying to help Ken understand, through these gifts that she was giving."
Ryan Gosling never imagined playing Ken, but he was drawn to the project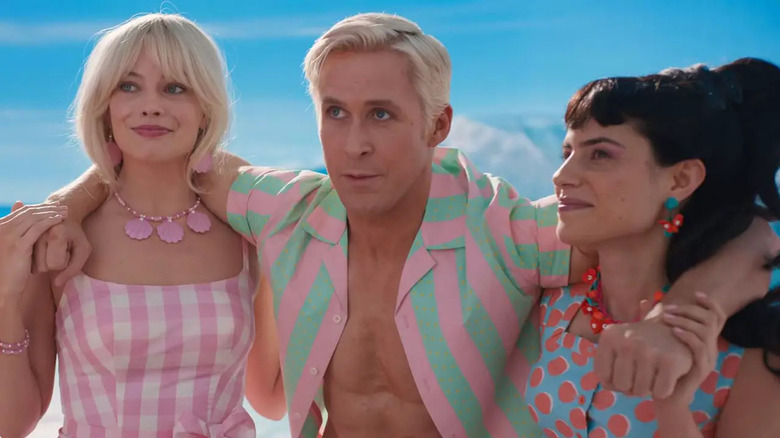 Warner Bros.
Described in the profile as playing Ken "with daft aplomb," Gosling, an acclaimed actor with a diverse range of projects under his belt, admitted that he didn't think he'd ever play Barbie's boyfriend. "Ken wasn't really on my bucket list," Gosling told Vogue. "But in fairness, I don't have a bucket list. So I thought I'd give it a shot."
Discussing the project at CinemaCon — which was reported by Entertainment Weekly at the time — Gosling was pretty effusive about the project, sporting a tee with Gerwig's name in the film's font and gushing about how he developed a character based on a plastic doll with smooth nether regions. "I only knew Ken from afar," he began. "I didn't know Ken from within and if I'm being really honest, I doubted my Kenergy. I didn't see it, but Margot and Greta, they conjured this out of me somehow."
According to Gosling, he had quite the transformation: "It was like I was living my life and then one day I was bleaching my hair, shaving my legs, wearing bespoke neon outfits, and rollerblading down Venice Beach. It came on like a light scarlet fever and then I woke up one day and was like, 'Why is there fake tanner in my sheets? What just happened?'"
Ryan Gosling is just one of many Kens in the Barbie movie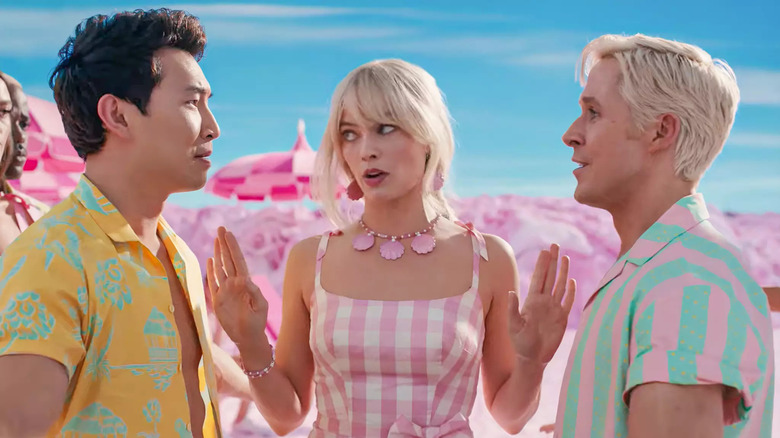 Warner Bros.
Based on the first trailer released for the "Barbie" movie — the plot of which is largely shrouded in mystery — Gosling is far from the only Ken within this universe. Simu Liu plays another Ken who's prominently displayed in the trailer and who's an apparent rival to Gosling's Ken, with the two shouting that they'll "beach" each other off as they vy for Barbie's attention. Kingsley Ben-Adir ("One Night in Miami..."), Scott Evans ("Grace and Frankie" and younger brother to Chreis), Ncuti Gatwa ("Sex Education" and the new Doctor on "Doctor Who), and John Cena are also all reportedly playing other Kens, but as of this writing, we haven't seen much of them beyond some character posters.
As for Gosling, it seems that he was meant to play Ken, based on what he told late night host Jimmy Fallon. After reading Gerwig's script, which he told the host was the best he'd read in his career, he took some time to think about it... only to receive a clear sign. After spotting a Ken doll face down in the dirt in his backyard, he apparently texted Gerwig, saying, "I shall be your Ken. For his story must be told."
The "Barbie" movie comes out on July 21, 2023.