Bad Boys 4: Better Call Saul Breakout Rhea Seehorn Joins The Cast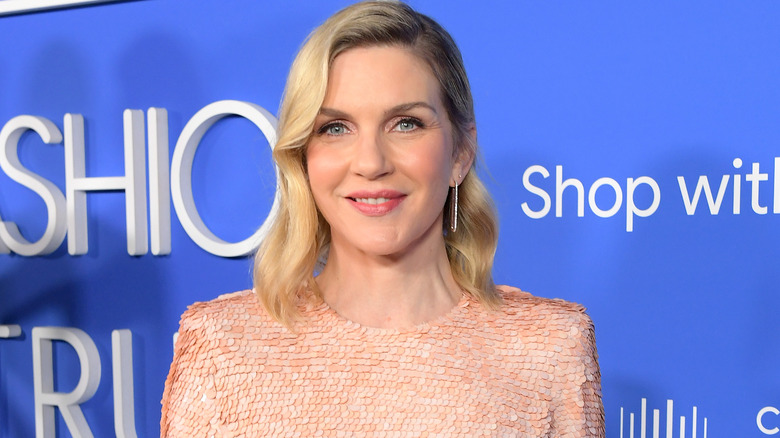 Charley Gallay/Getty Images
"Bad Boys 4" has found its newest cast member, and it happens to be an alum of "Better Call Saul." As reported by Deadline, Rhea Seehorn, best known for her work as Kim Wexler on the AMC series, has signed on to the film. Details of the character she'll be playing have yet to be released.
Will Smith and Martin Lawrence are poised to return in the new film, reprising their roles as Mike Lowry and Marcus Burnett respectively. Alongside the duo, "Bad Boys 4" has been building up a supporting cast that already includes Vanessa Hudgens, Alexander Ludwig, and Paola Núñez. The trio is reprising their roles from "Bad Boys For Life" as Kelly, Dorn, and Captain Rita Secada, respectively. They are joined by Ioan Gruffudd and Eric Dane.
The cast members aren't the only returning players from the third entry in the franchise, as directors Adil El Arbi and Bilall Fallah are also returning to helm "Bad Boys 4." Chris Bremner, who co-wrote "Bad Boys For Life," returns to take on writing duties solo this time around.
Rhea Seehorn has joined later entries of notable films before
Despite being best known for her role in the "Breaking Bad" spinoff series, Rhea Seehorn is no stranger to second entries to high-profile films. One of Seehorn's early roles was in the 2005 TV movie "Romy and Michele: In the Beginning," a prequel to the 1997 film "Romy and Michele's High School Reunion." In the film, Seehorn played Ashley Schwartz, alongside Katherine Heigl and Alexandra Breckenridge as the titular duo this time around.
Seehorn also appeared in the 2019 film "Inside Man: Most Wanted," a direct-to-video sequel to the 2006 Spike Lee film "Inside Man." She played a more prominent role in this film, taking on the role of FBI hostage negotiator Dr. Brynn Stewart, a new character in this installment. She teams up with the NYPD's hostage negotiator Remy Darbonne (Aml Ameen) to determine the true motivations of a group of robbers who have taken hostages at the Federal Reserve Bank of New York.
Seehorn was last seen on the big screen in the science fiction dramedy "Linoleum," which saw a limited release earlier this year. In the film, she played Erin Edwin, wife of Cameron Edwin (Jim Gaffigan), a children's TV show host who decides to build a working rocket in their backyard.