Barbie's Second Trailer Puts The Spotlight On Ryan Gosling's Ken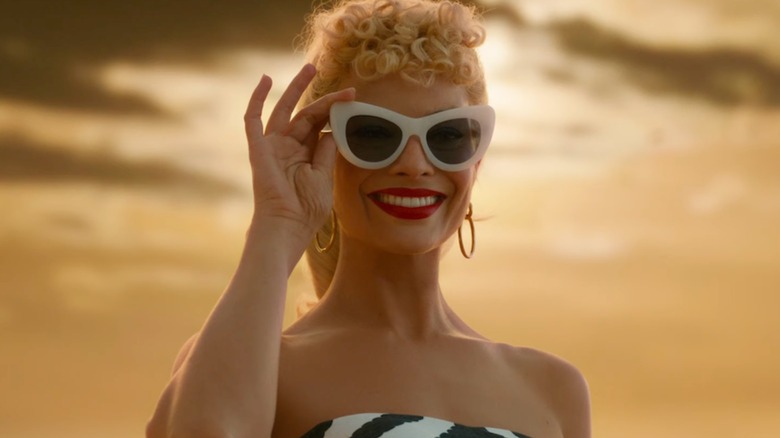 Warner Bros. Discovery
Barbie: an iconic doll, a globally-recognized property, and a staple of pop culture. Since their creation in the late 1950s, Barbie dolls have ruled toy aisles everywhere while wearing a wide array of outfits, urging kids, their parents, and collectors to toss them in their shopping carts. Meanwhile, the minds behind the Barbie brand have also made efforts to expand beyond just toys. This has led to the creation of an animated Barbie-centric movie franchise, as well as a live-action film that's on its way to the movies.
Simply titled "Barbie," this Greta Gerwig-directed feature has fascinated movie fans practically from the moment it was announced. Would it be about the titular toy coming to life? Or would it focus on a world full of Barbie dolls? Perhaps a blend of both? Sadly, the first teaser for the film only offered more questions than answers, paying homage to director Stanley Kubrick's "2001: A Space Odyssey" of all things and providing brief snippets of some of the characters. Thankfully, we're not left entirely in the dark anymore.
A proper full-length "Barbie" trailer has finally dropped after the teaser, and it provides some much-needed context for the story ahead.
Barbie looks as colorful and lively as one would hope
The first full-length trailer for the movie gives us a better look at Barbie (Margot Robbie) as she navigates an entirely new world outside of her native "Barbieland." Thus, the feature is about her efforts to find a niche in life that makes her happy after being removed from the one place she thought she belonged.
Aside from Robbie, "Barbie" brings along a cast that's absolutely stacked from top to bottom. Ryan Gosling will take on the role of Ken, and Will Ferrell will appear as the CEO of toy company Mattel — a bizarre role that he's teased in a previous interview. Additionally, names like Dame Helen Mirren, Simu Liu, Rhea Perlman, Michael Cera, and more have signed the dotted line to join the "Barbie" cast. Time will tell just how they all factor into the story when this intriguing film finally releases.
"Barbie" arrives on July 21.