American Born Chinese Was An Unintentional Reunion For Everything Everywhere All At Once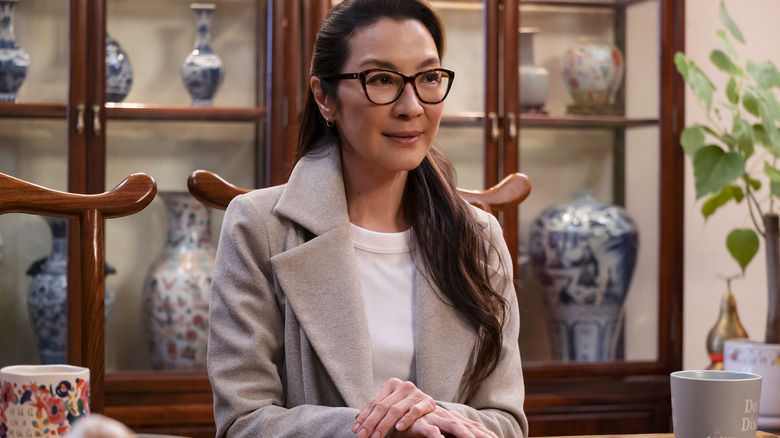 Carlos Lopez-Calleja/Disney+
After the trailer for "American Born Chinese" reunited the core cast of "Everything Everywhere All at Once," the series is finally here with an unforgettable adventure. Based on the beloved graphic novel, "American Born Chinese" tells a timeless tale of acceptance, courage, and heritage that elevates the relatable coming-of-age story. As young Jin Wang (Ben Wang) navigates his new school and peers, he meets an unexpected friend who's on a mythical quest that features several familiar faces. 
"American Born Chinese" shares similar thematic elements with "Everything Everywhere All at Once," such as a central focus on family and the underlying stress money can cause, and both are infused with a mystical backdrop. These shared components made the surprise reunion feel even more natural and almost like an extension of the Academy Award-winning film. With Den of Geek, executive producer Melvin Mar revealed the irony of how the feat came to be: "The funny part of all of it is we cast them before the movie came out." 
He recalled how Michelle Yeoh (Evelyn, the central character in "EEAAO"), initially got involved by way of the series' keen-eyed director. "Destin [Daniel Cretton] called Michelle and just said 'I'm doing this thing. I think it's really cool. Take a look,'" Mar explained. "And she was like 'I'm in.'" Based on the premise of "American Born Chinese," it's no surprise Yeoh needed little-to-no convincing to join such a legendary project.
Ke Huy Quan and Stephanie Hsu complete the Everything Everywhere All at Once trio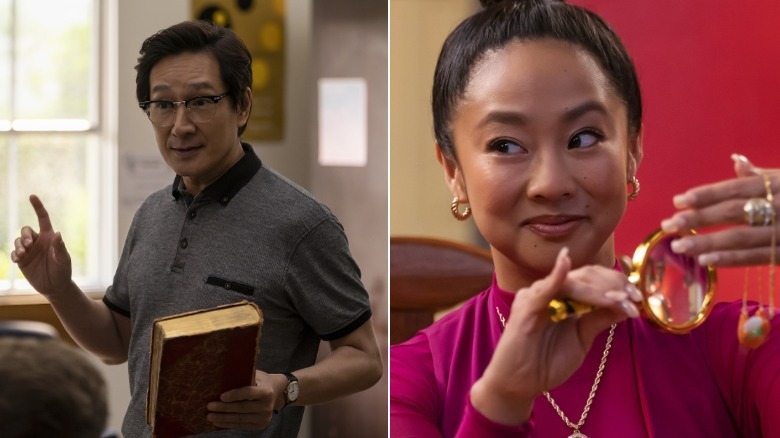 Carlos Lopez-Calleja/Disney+
After Ke Huy Quan's remarkable Hollywood comeback, he made his way to television screens with a dual role in "American Born Chinese." His first appearance is as the 1990s sitcom caricature Freddy Wong, who highlights outdated and racist depictions of Asian Americans. He later sheds this negative portrayal through a pivotal part of the later episodes, which allows him to show off his impressive acting range. 
Melvin Marr told Den of Geek that his involvement was essential in recruiting Quan for "American Born Chinese" because of their previous history together. He shared, "I knew him socially and it all just sort of came together. We got really lucky." The series also features Stephanie Hsu as Shiji Niangniang, who adds a dash of whimsey amidst the encroaching threat of magical danger. "American Born Chinese" even includes James Hong (grandfather Gong Gong from "Everything Everywhere All at Once") and Brian Le, who you may remember from the film's infamous trophy sequence. 
After filming had completed, the younger actors praised their talented cast members and were absolutely thrilled to be working with such well-renowned stars. Daniel Wu, who plays the towering Monkey King, also reflected on their timely luck in casting. "Then we didn't know that Michelle and Ke would go on this amazing journey to win the Oscar," Wu added. "It's one cool Asian American project to another one. Both are about family and a parent and child relationship. I think it's really cool to be able to present two different ways of storytelling, but a very similar theme."