American Born Chinese's Kelvin Yu, Gene Luen Yang, And Ben Wang Praise The Series And Cast - Exclusive Interview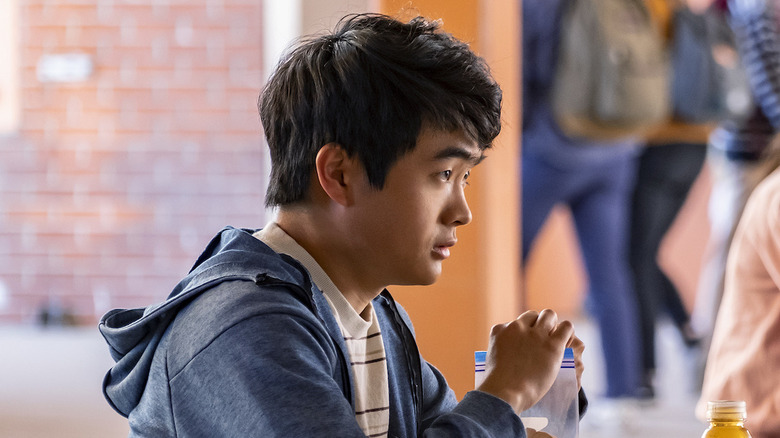 Disney/Carlos Lopez-Calleja
Adapting a book or graphic novel into a TV show takes a whole host of creative talent. Whether it's the director, writer, or cast, each individual has a vital role in bringing about a new vision of a beloved world. Original fans often have difficulties accepting changes with on-screen adaptations, but it always helps when the OG writer is involved with the process.
That's the case for the new Disney+ series "American Born Chinese," as the show's executive producer, Gene Luen Yang, penned the graphic novel the series is based on. So while there will certainly be changes between the books and the show, Yang was heavily involved in determining what those changes might be.
Fans may recognize "American Born Chinese" executive producer Kelvin Yu for his acting work on projects like "Master of None," "Wonder Woman 1984," "Cloverfield," "Star Trek," and "Timer"; he also had guest star stints on series like "Gilmore Girls," "Bones," and "Hawaii Five-0." However, "American Born Chinese" isn't his first foray into the world of producing. Yu has had various production roles on "Bob's Burgers" since 2014, and he was also an executive producer on "The Bob's Burgers Movie." And while "American Born Chinese" is Ben Wang's major breakout role as Jin Wang, it certainly won't be his last, if you ask Yu.
Disney+ invited Looper to the New York Comic Con press room back in October, where we exclusively spoke to Yu, Yang, and Wang about the show's cast, working together, adapting the show from the source material, and the impact of spearheading a project that hones in on the Asian American experience.
An Asian American Michael J. Fox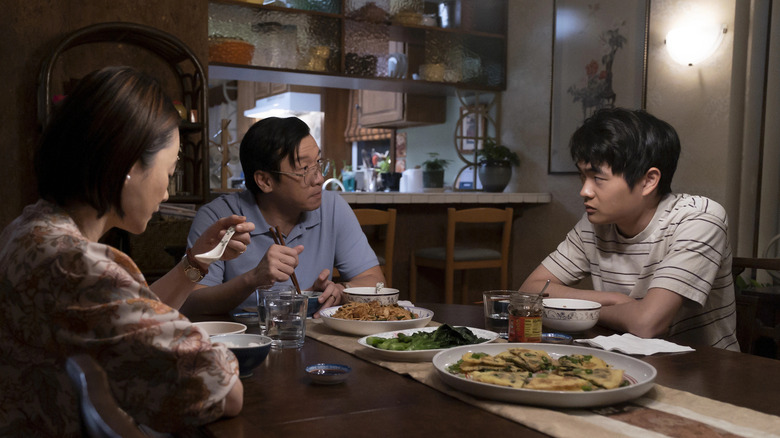 Disney/Carlos Lopez-Calleja
Kelvin, you've done a lot of acting on top of producing. How has that helped you on the production side of projects like "American Born Chinese" and "Bob's Burgers"? [And] what is so special about this particular project?
Kelvin Yu: The acting side is definitely helpful because I feel a little bit like I came into the mail room or something. I've seen every side of what it feels like to tell a story, whether it's the writing, the producing, or actually being in front of the camera. Working with actors like Ben, young guys [like] him, was huge because I can empathize with what it means to adjust between takes to try something new [or] to go off script. He happens to be similar to me. He's the theater-trained, theater-based guy and not afraid of improv, and it's kind of a five-school player from comedy to drama and everything in between. That was exciting to see a younger version of myself on screen because I was writing a younger version of myself.
Can you think of a particular moment that may have been inspired by that dynamic?
Yu: Well, the first time we met him on Zoom before we even cast him, somebody said something like, "[He's an] Asian American Michael J. Fox." It was a huge compliment.
Ben Wang: It is.
Yu: We actually haven't had a leading man like that in a while, and we definitely haven't had very many — if any — leading men that look like Ben. A leading man doesn't have to look like Cary Grant or James Dean or whatever. A leading man is somebody that you follow, that you're following throughout two hours or eight episodes. Ben has this ability in real life too. You may notice it ... Sorry for talking about you right in front of your face.
Wang: No, please go ahead. I can take it.
Yu: [He can] stutter his way through a real monologue in a charming, interesting way.
Wang: Oh, thanks.
Yu: Whereas other people, it looks like a mistake. But actually, his primary business is to fumble and find his way with things in a charming way.
Wang: In a very trained and professional way.
Yu: Yeah, in a trained ... He majored in stutter, so that was useful to us as a TV show because we were telling the story of a young guy who's trying to figure out himself.
On-screen mentorship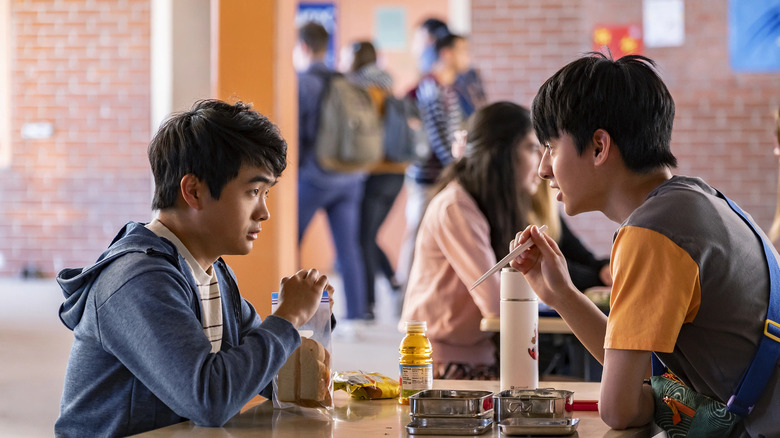 Disney/Carlos Lopez-Calleja
Ben, what was it like working with [creatives] like Destin [Daniel Cretton], and did he give you any advice on life or the industry or anything like that?
Wang: Yeah. [Jokingly] He would [say], "Kid, there's three things you need to know ..."
Yu: "Let me tell you something."
Wang: No ... The most incredible thing about working with everybody on this show is not only how incredibly professional and awesome they are as professionals in the industry, but also how kind and generous they are. That's the way these guys work. That's really heartening for someone who's just getting into the industry to be able to have that dynamic and to work in that kind of environment. It's freeing, and it feels good.
Have you had a chance to do any ad-libbing or any in-the-moment reactions to scenes at all?
Wang: Oh, all the time. Sometimes people like it, and sometimes the writer comes up and says, "Maybe you should stick to what I wrote." [Laughs]
[Laughing] Tell us about that moment.
Wang: "Don't worry. It's not just you. It's all over." But you try to have fun and stick to the truth. You trust the team that's there to guide you in the right direction.
Transitioning from a graphic novel to TV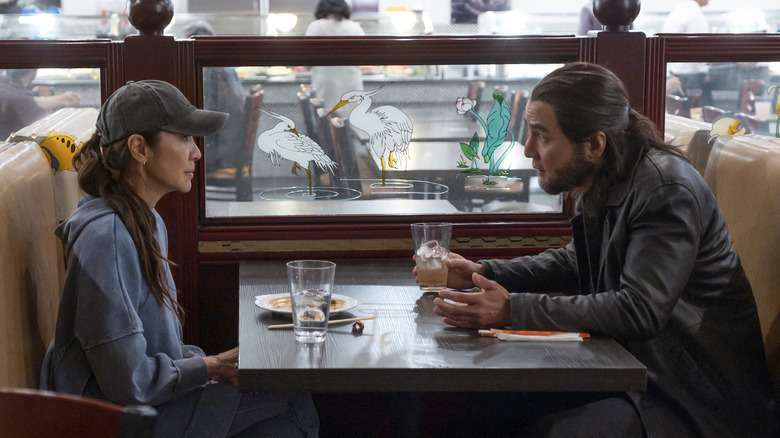 Disney/Carlos Lopez-Calleja
Gene, what has been the most important component for you from a writing standpoint, and was there anything that you really wanted to include — and on the opposite end, anything that you wanted to avoid doing?
Gene Yang: The transition from the book that I did in 2006 to this television show that'll be coming out [in 2023] ... There are lots of different pieces. First is a different medium. The medium of television is different from the medium of a graphic novel. Second, we had to update the story itself. In the original graphic novel, I pulled from my own experiences growing up in the '80s and '90s.
One of the decisions I made early on with the television show was that it was going to be set contemporarily. It's going to be set in the 2020s. The conversation about Asian Americans has changed from the '80s and '90s until today, so our show has to reflect that. That was both a challenge and also really fun. It was fun to figure that out, to figure out where Asian America is today.
Ben, you've done a lot of popular Gen Z projects like "Sex Appeal" and "Search Party." What is it like working on this massive Disney show, "American Born Chinese," and what will fans of your other work tune into and love about this show?
Wang: It's funny. Fans of ... All of those things you named, I did one line. If there [are] fans of my other works, that would make me so happy. They're like, "Yeah, we wanted this." This is probably the first real big project and big role that I've ever had the chance to do in the world of film and television. I'm happy to be able to do it. It checks every box I had ever wanted to check, so I feel lucky.
Telling an integral Asian American story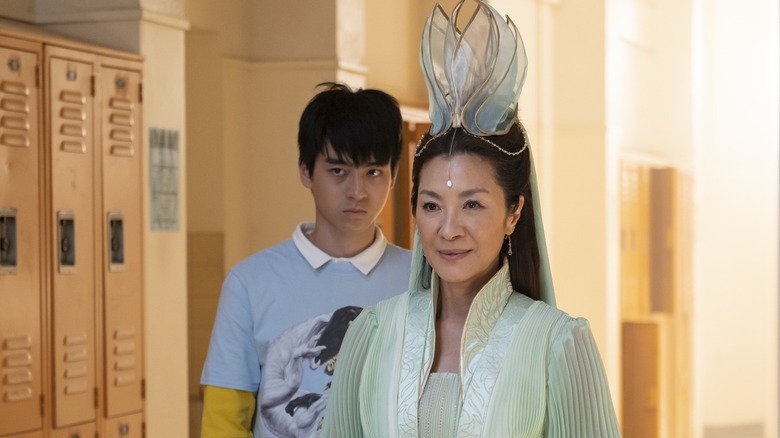 Disney/Carlos Lopez-Calleja
What has been, for all of you, the most exciting and important thing about bringing such integral stories to life when we don't often see that representation on screen?
Yu: Well, Gene's book is a seminal, important, unique moment in Asian American graphic novels and in literature at large. The TV show, in some ways, is an opportunity to do that again in a different medium now that ... When we started developing the script, there was no such thing as Disney+.
The script was in development for three or four years. As culture moves, as media moves, sometimes they're ready. I feel like audiences are ready, the streaming world is ready, and this is another chance to hopefully move the whole thing forward.
You have stars like Michelle [Yeoh], [and] you have young talents like Ben, so it all came together in such a special way. It's the kind of thing that regardless of how it's received, we're all going to hold it dearly in our memories. But I do think it's all on screen. This is a real opportunity for us to put something out there that we're ready for, and I think the world will be ready for.
Do any of you guys have a comment on that?
Yang: It's like inviting people over to your house and showing them around. You're looking forward to it, but it's also a little bit terrifying and also exciting.
Wang: Right. I agree. It's that.
Yu: My house is awesome, so ...
"American Born Chinese" premieres on May 24 on Disney+.
This interview has been edited for clarity.