Ted Lasso Season 3 Episode 11 Review: An Emotional Rollercoaster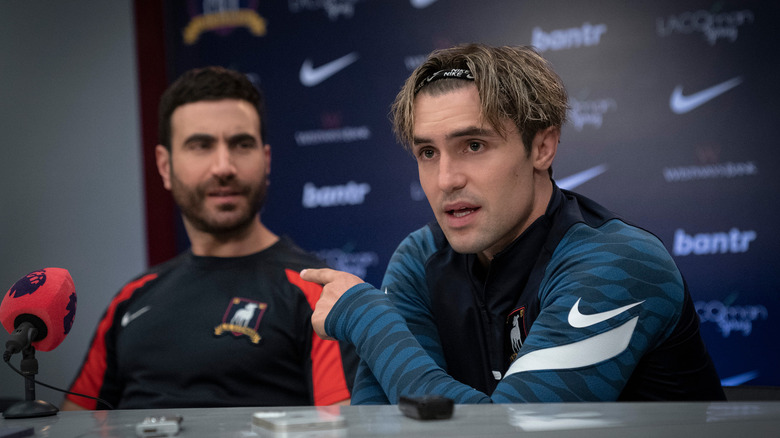 Apple TV+
EDITORS' RATING :
8.5 / 10
The last couple episodes of "Ted Lasso" have had a distinct lack of the title character (Jason Sudeikis). While he's been around here and there, we haven't had a lot of meaty storylines to keep him forefront in our minds, instead shifting our attention to Rebecca (Hannah Waddingham), Keeley (Juno Temple), Roy (Brett Goldstein), Nate (Nick Mohammed), and some of the players. And while we continue to focus on people besides Ted in the penultimate episode, "Mom City," there's finally been enough space carved out for a Ted-specific story too: Ted's mother (Becky Ann Baker) has arrived in England unannounced, bringing joy to everyone who's ever wanted to meet her ... with the exception of Ted.
That this thread bookends Jamie's (Phil Dunster) storyline, letting Jamie shine in his tale of returning to Manchester City to take on his old team, is a good thing. But add in the story of how Nate agrees to return to Richmond, and jeez, this episode is long. Still, it's got its moments — a lot of them in fact. While there are still some issues with consistency and accommodating the sprawling cast of "Ted Lasso," this episode offers a lot to recommend it.
Ted and his mother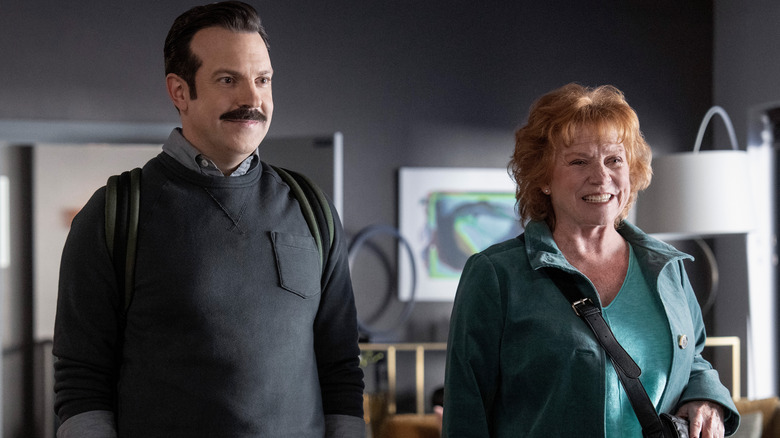 Apple TV+
Ted's mother is there to tell Ted something, but whether she actually will or not is a different story. Ted knows that she's there for a reason but she's so good at keeping things quiet, even the audience wonders why Ted is being cordial but remote with his mom. This is the weakest part of the episode — I can understand the strain parents can bring, but Ted's noncommunication with his mother is tedious. While Ted is too polite perhaps to voice his desire to hear why she's really there, the episode languishes in its first 20 or so minutes because of it. By the time the team takes off for Manchester without Ted's mom, it's a relief to get away from her.
That stands in contrast with the end of the episode, when Ted finally gets honest with his mother — and finally gets her to tell him why she's really there. It may be only about five minutes, but it's a powerful five minutes in which he tells her exactly why he's angry with her and why he's scared. This is the kind of thing we've been waiting to see from Ted all season, and while it'll inevitably lead to a change — one that's been foreshadowed since the beginning of the season — it's also the kind of genuine talk we tune into Ted Lasso for. While I could have done without this storyline dragging out so long at the beginning of the episode, the final exchange between Ted and his mom made it worthwhile.
Jamie and Nate struggle in their own ways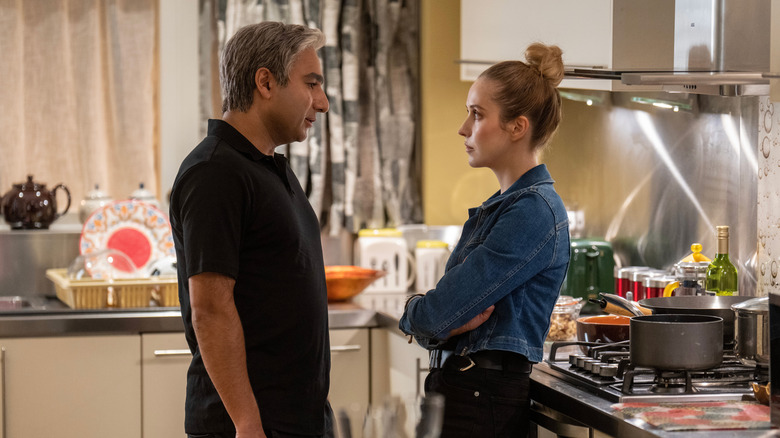 Apple TV+
Meanwhile, the episode finds Jamie feeling down, to a surprising degree considering his boastful and brash baseline. Roy attempts to talk to him with no luck (Phil Dunster really hams up the crying here), and then Keeley tries, and despite her superior emotional skills, she whiffs it too. Luckily the team has arrived in Jamie's hometown of Manchester and his mom is there to help him. She may look like a bombshell, but she just loves her boy. Jamie finally gets the advice — and cuddles — that he needs. It's a nice scene that proves Jamie is a mama's boy in the best way.
The truth is that while Jamie is feeling funny about playing his old team and especially seeing his father, he's more than capable of taking them on, and he finally gets a chance to prove that. The game is rousing, especially when Jamie rises above his ankle injury, and while it may be a bit of wish fulfillment, it's hard not to cheer alongside the crowd. Of course, there's still the matter of where Jamie's father is, and a single shot gives away his possible location and why he can't be there. It's a reveal that could have big consequences for Jamie in the final episode.
While Jamie is at the height of his talents, Nate is at the bottom of his. He's working at the restaurant with Jade (Edyta Budnik), and while he says he's happy, no one seems to think he's telling the truth. When the TV shows a soccer match, he's mesmerized. Still, even when three players from Richmond come by to offer his old job back, he says no because Ted doesn't know about it. Jade is determined to make him take the job, though, and finally gets her way when Beard comes to see him.
Beard (Brendan Hunt) has been steadfastly against Nate returning. In fact, he's the last hold out. But finally, after Ted tells him he hopes "all of us or none of us are judged by the actions of our weakest moments," Beard sees the light. While Nate has been trying to whittle a 60-page apology letter to Ted down into something manageable, Beard comes over to officially offer him his old job. Beard doesn't always say a lot, but when he does it's worth listening to, and this one is a doozy. It explains why Beard's got Ted's back and why he was against Nate returning — and why he's finally for Nate coming back too. It's great to see Beard taking the reins like this, and it will be even better to see Nate back on the team after a season of estrangement.
The episode ends on a cliffhanger, stopping as Ted is about to reveal something to Rebecca. I'm sure you can guess what that is and why it necessitates the end of the show. While this season hasn't been "Ted Lasso" at its best, even bad "Ted Lasso" is pretty good. This episode still has moments that aren't firing on all cylinders, but overall the good outweighs the bad. Even some small moments like Sam (Toheeb Jimoh) and Rebecca exchanging a look are nice to see. It's a promising sign for the final episode in a week's time.
"Ted Lasso" Season 3 is currently debuting on Apple TV+ with new episodes every Wednesday.