Phil Dunster Breaks Character In Ted Lasso S3 E2 Creating A Hilarious Hidden Blooper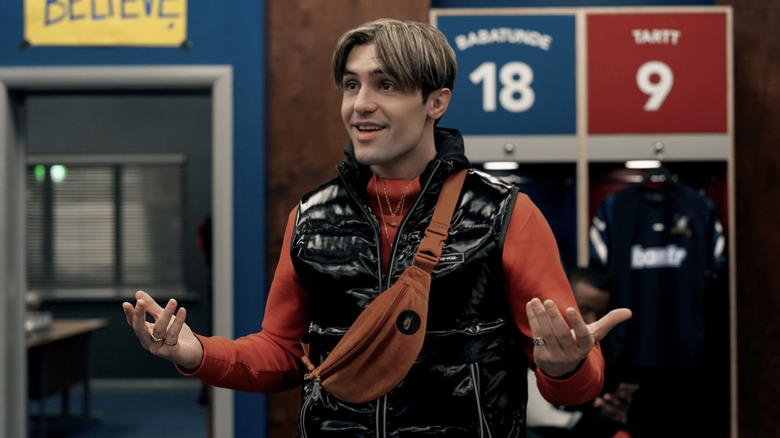 Apple TV+
Season 3 of "Ted Lasso" is well underway, and Episode 2 gives the audience a closer look at why Roy Kent (Brett Goldstein) harbors resentment toward Trent Crimm (James Lance). Ted Lasso (Jason Sudeikis) has given Trent the green light to write a book about AFC Richmond, an idea that Roy's not too fond of. In typical Roy Kent fashion, he uses some colorful language to bluntly forbid the players from giving the writer any information. The exchange itself is hilarious and it sets the foundation for some great character development later in the episode, but eagle-eyed fans couldn't help but notice that Jamie Tartt actor Phil Dunster was doing his best not to burst out laughing in the background of the scene.
As Roy makes his point, Jamie is noticeably holding back laughter, trying to hide a smile behind his hand as he narrowly avoids direct eye contact with the camera. It almost seems like it could just be Jamie reacting to Roy's antics, though Dunster all but confirmed that the scene shows him breaking character on Twitter.
"@phildunster was fighting for his LIFE," quipped Twitter user @LaurenPokedoff alongside a zoomed-in clip of the moment in question. "I am a professional who serves the scene and the scene alone. My inability to control myself around @brettgoldstein (physically, mentally and carnally) holds no bearing in this matter..." Dunster jokingly replied. Whether the reaction was scripted or not, fans are loving this hidden blooper.
Phil Dunster breaking character makes fans want a blooper reel
Apple TV+
Jamie has come a long way since Season 1, and it's great to see a smile on his face — even if it's actually just Phil Dunster breaking character. Other viewers noticed the flub, as well, and fans were laughing right alongside the actor. "Saw it right away, had to back it up to show my husband," said Twitter user @andrea_reiher. The moment delighted across the board. Twitter user @TheDannyCage wrote, "My wife & I were rolling when we spotted this!"
Twitter user @MarilynReplogl2 didn't blame the actor for laughing: "I did not notice the first OR the second time I watched, tbh. And now I LOVE it and think nothing less of your acting chops!"
The scene has fans even more eager to see "Ted Lasso" bloopers. "We need a gag reel for this show please. Or all of the seasons really," said Twitter user @BrookePirouznia.
Even if the moment isn't an official blooper, it's still more than "Ted Lasso" fans have ever received in that department. The show is certainly classified as a comedy despite delving into themes like mental health and toxic masculinity, so it's bizarre that viewers have never seen any kind of blooper reel. The cast obviously loves a good bit, a fact made all the more evident this week when actor James Lance posed as "Trent Crimm, fake journalist" during a White House press conference about mental health.