Kieran Culkin Didn't Think Anyone Would Watch Succession When It Started Filming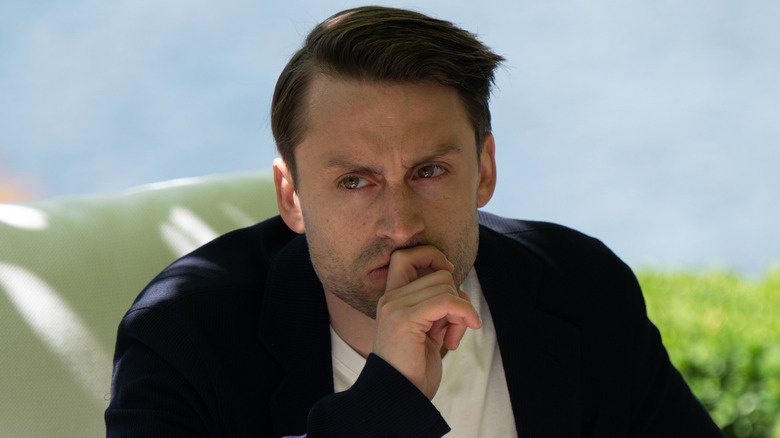 Graeme Hunter/HBO
"Succession" is a pretty divisive show, despite being one of the most popular and critically revered series in HBO's history. Apparently, star Kieran Culkin, who plays Roman Roy, felt the same way when they first started filming — and was worried nobody would even watch the show.
During a roundtable discussion for The Hollywood Reporter with Pedro Pascal, Jeff Bridges, Evan Peters, Michael Imperioli, and Damson Idris for The Hollywood Reporter, Culkin admitted that, when he first started working on "Succession," he didn't think anybody would want to watch a show about uber-wealthy people behaving horribly. When they were all asked if they're any good at "predicting how [their] work will land," Culkin said "Succession," as his first major TV show, gave him some pause.
"This was the first time that I actually had that thought, because this is my first time doing a TV show," Culkin said. "When it's just a movie, to me, it's finished, it's none of my business if it's good or bad or how well it does, it's just done now, I'm doing the next thing. So this time, I had a little more of a vested interest, like, 'I hope it's good, I hope people watch it.' And I remember while we were shooting it, feeling like, 'OK, I can tell this is good quality, but who the hell is going to want to watch the show?'"
Kieran Culkin wasn't sure Succession would be popular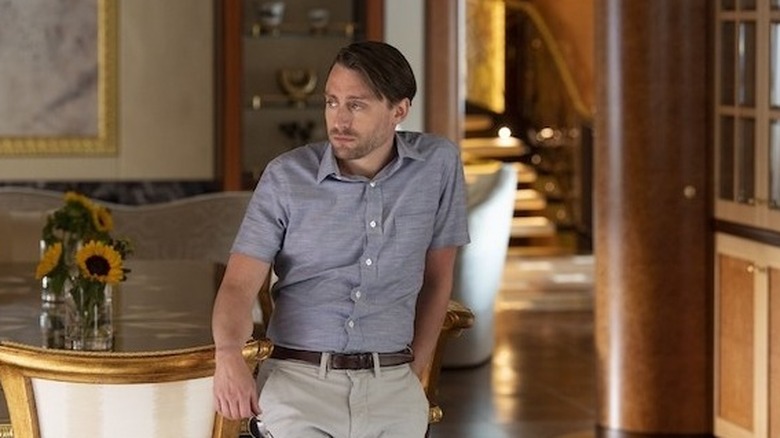 Graeme Hunter/HBO
"And then about halfway through [filming season one], I remember coming home and my wife asked how work was, and I was like, 'I think the show is good,'" Culkin continued. "And it was reassuring to know that was what the response was: a little bit slow at the beginning, and then people really connected to it."
This isn't the first time that Culkin expressed this; he's been pretty open with the fact that, when he first filmed "Succession," he wasn't sure it would be a hit — or even liked at all. During a 2020 Variety Actors on Actors chat with Dan Levy, creator of "Schitt's Creek" — a show that lampoons the very rich in an entirely different way — Culkin expressed mild distaste for the first few episodes of the show.
"You can't watch the show and walk away thinking, 'Eh, it's fine,' Levy said to Culkin after calling "Succession" the "greatest show on television." Culkin was pretty blunt in his response, saying it definitely took a second: "I think the first few episodes, it is that. Somewhere around Episode 5, I came home and my wife asked me how work was, and I was like, 'Good.' And she was like, 'Really?' And I was like, 'I don't know what happened, but I sort of think we have something here. I just care about these people now.'"
Does Succession take some time to get good?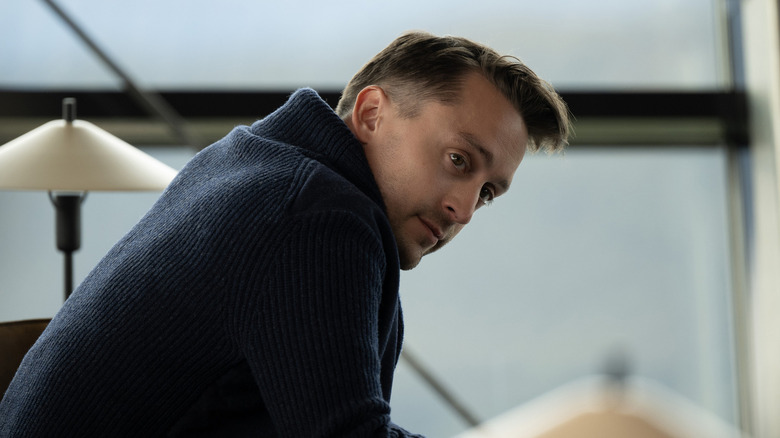 Graeme Hunter/HBO
So is Culkin right? Does "Succession" need the benefit of the doubt during its first few episodes? To be sure, the characters are odious right from the jump, especially Culkin's Roman, who, throughout the first couple of episodes, pleasures himself against an enormous office window and rips up a million-dollar check in front of an actual child. (For god's sake, the show's second episode is titled "Sh*t Show at the F**K Factory.") The incredible trick that Jesse Armstrong — the show's creator and one of its main writers — pulls throughout the series is that, somehow, you end up caring about the Roys, just like Culkin did when he was filming Season 1.
This comes to a horrible head in the show's fourth and final season, when during the show's version of Election Night in a different timeline, Roman is instrumental in installing a far-right fascist, Jeryd Mencken (Justin Kirk), as President-elect by using the Roy family television network to call the election prematurely. Watching as he declares that all they did was make a night of "great TV" and that "nothing happens," it's easy to hate Roman in this moment... which forces the audience to realize just who they're rooting for. Clearly, the show walked this fine line expertly thanks to Armstrong and Culkin's performance — but now, it definitely makes sense that Culkin once wondered if anyone would even like these fictional people.
The series finale of "Succession" airs on May 28, 2023.