Jurassic World Dominion Director Wanted Bryce Dallas Howard To Jump Out Of A Plane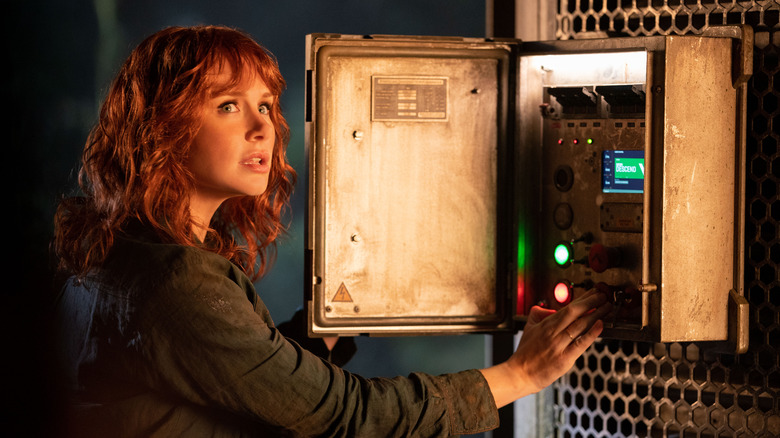 John Wilson/Universal Pictures/Amblin Entertainment
It's rare in Hollywood for an actor to jump out of a plane, much less fall out of one for the sake of their art; however, doing a skydive was an idea that director Colin Trevorrow had in mind for actor Bryce Dallas Howard when conceiving the action scenes for "Jurassic World Dominion." Speaking with Syfy in 2022 before the release of "Jurassic World Dominion," Howard said Trevorrow brought up the idea of her doing a free-fall toward Earth at the 2019 premiere of "Rocketman," a film where Howard portrays Elton John's (Taron Egerton) mother, Sheila.
"Afterwards, he was like, '[Writer] Emily Carmichael and I have written in a sequence where you fall out of a plane. What are your thoughts on actually doing that?'" Howard told Syfy. " I like to think that I'm very game, but I'm also very safety conscious. I'm game to try stuff." After thinking the scenario through, however, Howard came up with a crafty line with the aim of getting Trevorrow to abandon his and Carmichael's highly ambitious idea.
Howard's mention of insurance grounded Trevorrow's plane idea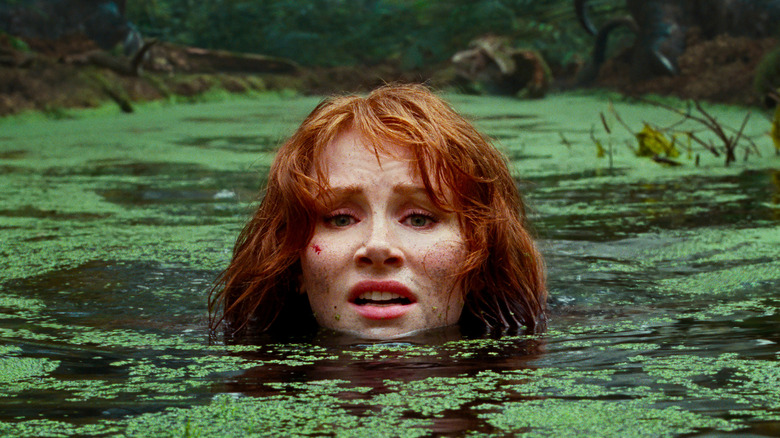 Universal Pictures/Amblin Entertainment
Since Bryce Dallas Howard didn't want to flat-out say no to Colin Trevorrow's idea, she came up with an excuse to get out of it.
"I remember [thinking] 'I don't want to do that. I don't want to jump out of a plane. Like, that's the last thing that I want to do for the rest of my life. I don't want to do that ever. Ever.' But I didn't want to say that," Howard told Syfy. "I was like, 'Listen, whatever insurance is good with.'" With that, Trevorrow grounded the idea.Instead, she kept her feet on the ground and tackled plenty of other action-set pieces, like swimming neck deep in swampy waters. 
Contrary to her indifference of falling out of a plane, Howard still had trust in Trevorrow and his plans for "Jurassic World Dominion." In addition to teaming back up with Chris Pratt, Howard was excited that Trevorrow invited "Jurassic Park" stars Sam Neill, Laura Dern, and Jeff Goldblum to share the screen with her.
"I was always just excited to see what's going to happen when Claire is having a dynamic with the legacy characters, with new dinosaurs, with new characters," Howard said.
Trevorrow clearly trusts Howard, so much so he even wants to hand the "Jurassic World" franchise over to Howard to direct. In addition to helming three episodes of "The Mandalorian," Howard has been hired to direct Disney's long-awaited reboot of "Flight of the Navigator."