Colin Trevorrow Wants To Hand The Jurassic World Franchise Off To One Of Its On-Screen Stars
David Livingston/Getty
Colin Trevorrow, the writer, producer, and director of "Jurassic World" and the upcoming release "Jurassic World: Dominion" (per IMDb), has managed to continue the blockbuster tradition established by Steven Spielberg and Joe Johnston. Under Trevorrow, the franchise has continued to ensure that the dino-mad brand is a force to be reckoned with at the box office. The proof is in the pudding as, per Box Office Mojo, "Jurassic World" alone has made over a billion dollars worldwide on a $150 million budget.
But even the mightiest of franchises sometimes need a change of pace. The 2018 sequel to "Jurassic World," "Jurassic World: Fallen Kingdom," was directed by J.A. Bayona instead of Trevorrow, for instance. And with "Jurassic World: Dominion" in the books, it seems that Trevorrow is looking to infuse even more new blood into the movie series. In fact, he thinks one of the co-stars featured in "Jurassic World: Dominion"' would be a perfect addition to the franchise's directing team.
Here's which actor he thinks ought to direct an installment of the "Jurassic World" franchise.
Colin Trevorrow wants to pass the torch to Bryce Dallas Howard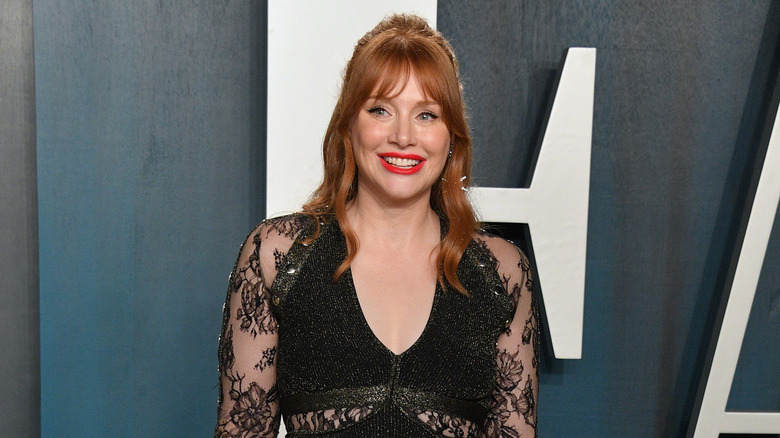 George Pimentel/Getty Images
Bryce Dallas Howard, the actress who portrays Claire Dearing in the "Jurassic World" series, is no stranger to the director's chair. According to IMDb, she's recently followed her father Ron Howard's footsteps and has directed two episodes of the Disney+ series "The Mandalorian," one episode of "The Book of Boba Fett," and has been attached to direct her first feature, a remake of Disney's "Flight of the Navigator." It's perhaps not surprising that Trevorrow thinks she's the perfect person to hand the reigns of the "Jurassic World" franchise over to.
Speaking to Variety in May 2022, Treverrow said, "She knows I want that, so I'm not going to pretend. Bryce actually can direct whatever she wants, and if she would ever make that choice to come and make a 'Jurassic' movie, we would consider that a tremendous privilege for us." 
That's a high compliment since Howard hasn't even directed a full film yet. It definitely shows a lot of confidence in the actress' abilities. In the same Variety article, Howard replied to Treverrow's praise by saying, "Oh my gosh, Colin actually said that out loud? That is so naughty," with a laugh. 
Fans of this "Jurassic"-sized franchise will have to keep their eyes peeled to find out if Howard and Treverrow's hopes come to fruition.