Roseanne Spinoff The Conners Premiere Date Revealed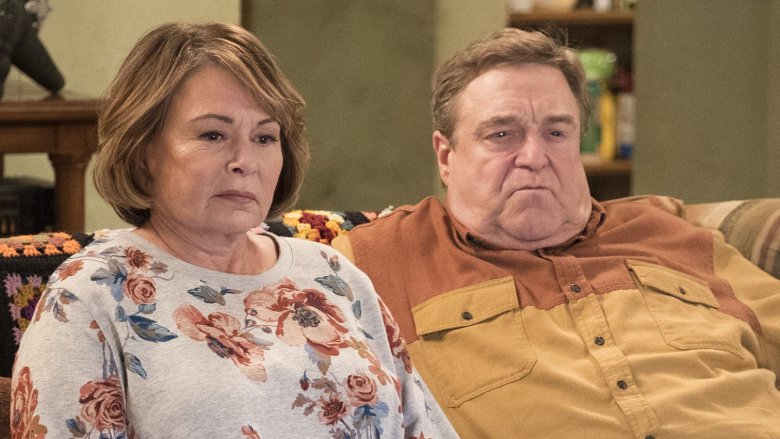 Roseanne may not be returning to television like some fans have hoped, but a spinoff of the sitcom revival is headed our way soon. 
Per Variety, ABC has scheduled the Roseanne spinoff The Conners to premiere on Tuesday, October 16. The series, which features every member of the Roseanne reboot cast except for Roseanne Barr, will air in the 8 PM ET time slot. 
ABC announced The Conners in late June, when it handed the project a 10-episode, straight-to-series order. At the time, Roseanne executive producer Tom Werner confirmed that Barr — who was fired from the revival series and caused the show to get canceled altogether after she shared a racially charged tweet concerning former Obama White House adviser Valerie Jarrett — has no "creative or financial participation" in The Conners. 
Barr and Werner engaged in lengthy discussions about how ABC could create the spinoff series, with Barr finally agreeing to the terms of the settlement in order to save "200 jobs of beloved cast and crew." 
When news of The Conners moving forward first made headlines, Barr stated, "I regret the circumstances that have caused me to be removed from Roseanne ... I wish the best for everyone involved." Added Werner, "We are grateful to have reached this agreement to keep our team working as we continue to explore stories of the Conner family."
Without Barr involved in the spinoff, ABC will have to address a major concern: how to write Barr's Roseanne Conner out of the series. The Conners is said to center around the family "after a sudden turn of events," a phrase that could easily be taken as "following Roseanne's death." We've said goodbye to plenty of television characters this year alone, so Roseanne joining the ranks of the fallen is totally plausible, right?
Well, sort of. It's complicated. 
Barr still legally owns the rights to the Roseanne Conner character — as well as to any future spinoffs and reboots involving the character — so if she is killed off on The Conners, her death would have to happen in a way that leaves the door cracked open for a possible resurrection. (Roseanne-kenstein, anyone?)
Fans can find out what happens to Roseanne and the rest of the gang when The Conners premieres on ABC on October 16.