The Young Sheldon Season 6 Finale Scene That Had Fans In Tears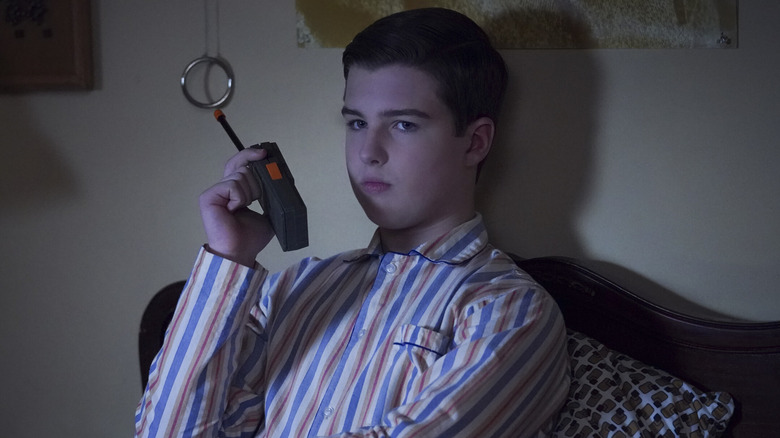 Sonja Flemming/CBS
Longtime fans of the "Big Bang Theory" spin-off "Young Sheldon" know all too well that the show has no trouble reining in the comedy in exchange for surprisingly heartfelt and dramatic moments. However, even they weren't prepared for what the Season 6 finale, "A Tornado, a 10-Hour Flight, and a Darn Fine Ring," brought them. When a tornado touches down in Texas, the shock of the disaster prompts the scattered members of the Cooper clan to reconsider their interpersonal relationships and situations.
There are plenty of emotional moments from the episode to go around, but viewers were especially struck by the scene where Cooper family patriarch George Sr. (Lance Barber) and Missy (Raegan Revord) reconcile over their recently frayed relationship while stuck on the side of the road. Missy, who has been dealing with quite a bit of teenage angst lately, owns up to her recent actions, while George does his best to comfort her.
After the episode aired on May 18, 2023, many fans online were vocal regarding how this scene, as well as the rest of the episode, made them feel. "I started crying when George and Missy were hugging each other on the side of the road," Redditor u/Resident-Humor-5439 wrote. As it turns out, this user is far from the only one who shed some tears.
Many fans wept over the George and Missy sequences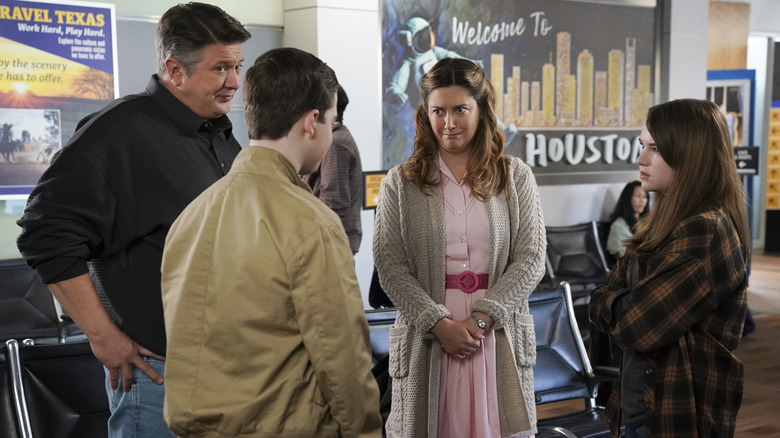 Sonja Flemming/CBS
Several "Young Sheldon" fans noted that they were surprised by how much they reacted emotionally to George and Missy's bonding scenes and the Season 6 finale in general. "I don't think I've ever cried at a show like I did with this one. "Missy and George bonding moment was killer and then following it up with Connie's house being destroyed," one commenter wrote. Others agreed, with u/judgejudystan commenting: "I never thought this show would make cry so much."
Even fans who weren't as hot on the overall episode and its plotlines found the moment quite compelling. "I really didn't like the use of a tornado to resolve everyone's feelings after a fight for a second time, but they did it just as well as the first time," u/bellowingburrito noted. "I cried at the end at Connie's house and George's ability to step in and protect himself and Missy. Incredibly endearing."
Particular praise was heaped upon Raegan Revord's performance as Missy, as fans found her to be the standout character of the episode. "Raegan was so good. Unbelievably talented actress," u/darkdoesreddit opined. Others had similar words of positivity to say about the actor. "Raegan Revord is really shining in this episode," u/BSB8728 wrote.
Pastor Jeff's change of heart also impacted many viewers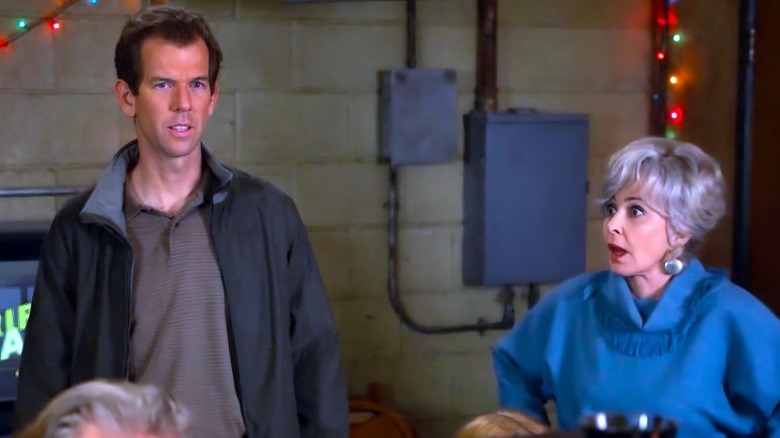 CBS
As fans on Reddit discussed how much they loved George Sr. and Missy's emotional moment, several other parts of the episode came up in conversation. The destruction of Meemaw's (Annie Potts) house and the overall chemistry of the "Young Sheldon" cast members were discussed, as were the unexpected actions of the often shady and condescending Pastor Jeff Difford (Matt Hobby). Instead of ratting her out, he keeps his lips sealed about the gambling room Meemaw runs within her laundromat — largely because of the fate of her home and the traumatic experience they just endured in the form of the tornado.
u/OnlyTheBLars89 described Jeff's uncharacteristic decision as one of the highlights of the Season 6 finale, while u/SnooKiwis5050 feels this was a rare example of Jeff choosing his humanity over his faith. Still, u/jennkins94 isn't exactly overjoyed by Jeff choosing to look out for Meemaw, calling him out for his inconsistency in their comment: "Why can't he forgive the "sin" of Georgie getting Mandy pregnant out of wedlock when this guys first wife hated him so much and then left him coz she barely spoke English which is sketchy, who is he to judge?"
All in all, the closer of "Young Sheldon" Season 6, "A Tornado, a 10-Hour Flight, and a Darn Fine Ring," doesn't seem to have left fans of the show disappointed. It's an episode full of memorable scenes, emotional moments, and surprises, amounting to an overall strong season finale.