Young Sheldon Shakes Up His TBBT Memories Again In The Season 6 Finale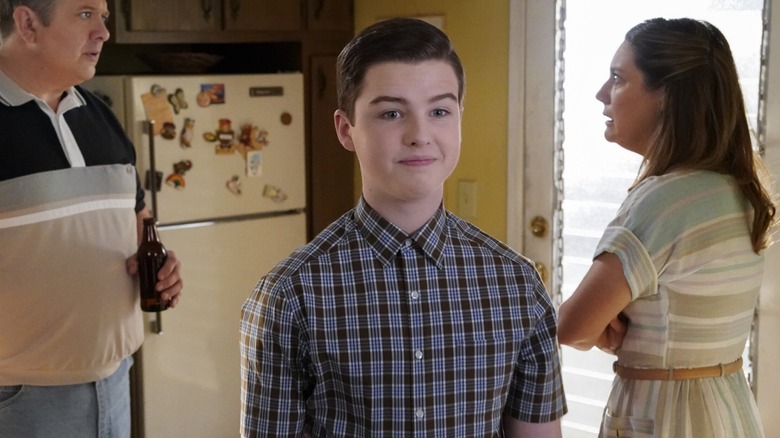 Robert Voets/CBS
After changing up Sheldon's (Iain Armitage) age for his big Germany trip, "Young Sheldon" again messed with what we know from "The Big Bang Theory," keeping viewers on their toes. The prequel series often references the original in fun ways that further develop the titular character and illuminate his future quirks. Through Adult Sheldon's (Jim Parsons) reminiscent voice-over, we learn even more about the notable child prodigy, even if his memories don't always align with his older self's recollections.
In the dramatic Season 6 finale, Sheldon embarks on his life-changing journey to Germany with his loving mother, Mary (Zoe Perry). While he's on the plane, a dangerous storm hits his Texan home, along with a massive tornado that nearly takes out his father and sister. In "The Big Bang Theory," Sheldon recalls the harrowing event with his dear friend Penny (Kaley Cuoco), though it's now clear that he got some details wrong.
As TV Line first observed, in Season 1 of "The Big Bang Theory," Sheldon told Penny his mom had to fly home to help his dad George (Lance Barber) with the house. "It was tornado season, and it was an aluminum house," Sheldon said. However, we learn in "Young Sheldon" Season 6 Episode 22, "A Tornado, a 10-Hour Flight and a Darn Fine Ring," that it was actually his Meemaw Connie (Annie Potts) that needed help with her severely damaged home. 
Sheldon's house wasn't damaged by the tornado, but his Meemaw's home was completely devastated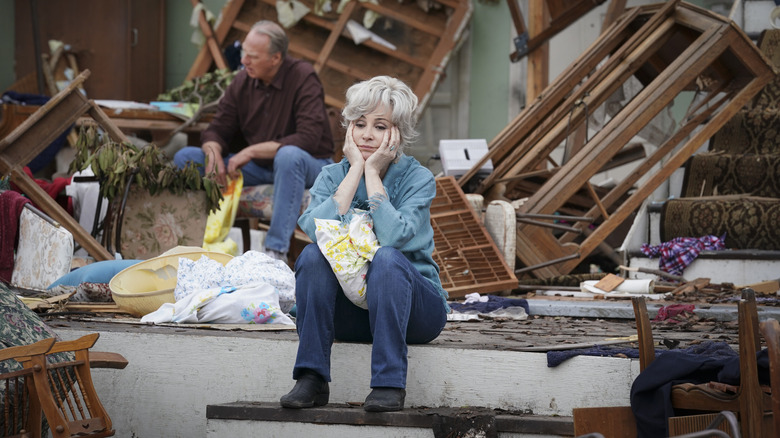 Sonja Flemming/CBS
As "Young Sheldon" sets the stage for Season 7, which may be its last thanks to "The Big Bang Theory" canon, the Season 6 finale delivered numerous big developments for our favorite characters. Georgie (Montana Jordan) and Mandy (Emily Osment), finally tied the knot after successfully co-parenting their adorable daughter Constance, aka "CeCe," together. Luckily, this got them out of the house, as they told Mandy's underwhelmed parents about the engagement just before the devastating tornado hit Meemaw's home.
George and Missy (Raegan Revord) also had a close call of their own that put an end to her recent rebellious streak. They narrowly avoided being swept up in the cyclone by following George's advice and lying down close to the ground. As the Coopers endure these traumatic events, Mary and Sheldon prepare to say "Guttentag" to Germany.
While the episode reveals the remains of Meemaw's windswept house, some may feel it inaccurately represents what we (and Sheldon) know to be true from the established canon in "The Big Bang Theory." However, after this disaster, and several other looming tragedies that have already been foreshadowed, Sheldon's memory may be a bit hazy in his adult years when he looks back at the past. On the other hand, his parents also could've told a little white lie in order to soothe the anxious perfectionist while he was studying overseas.