MCU Stars Respond To Thor Actor Ray Stevenson's Death
Paul Archuleta/Getty Images
On May 22, it came to light that actor Ray Stevenson had died at the age of 58. His death reportedly occurred on May 21, and at the time of publication, the cause has yet to reach the public. Stevenson turned in numerous memorable performances on screens big and small throughout his professional acting career, entertaining moviegoers and television viewers alike in a range of productions. Of course, when assessing Stevenson's cinematic legacy, one would be remiss not to highlight his work under the Marvel banner — within the Marvel Cinematic Universe and outside of it.
Stevenson's first Marvel role came in 2008 via the criminally underappreciated "Punisher: War Zone," a gory and grim take on Frank Castle's (Stevenson) story that's all too often overlooked during discussions of Punisher adaptations. Sadly, this turned out to be Stevenson's only live-action turn in the role, but he got another crack at Marvel thanks to the then-recently established MCU. In 2011's "Thor," he took on the role of Warriors Three member Volstagg, which he reprised in the 2013 sequel "Thor: The Dark World" and the trilogy-completing 2017 film "Thor: Ragnarok."
In response to his death, some of Stevenson's Marvel colleagues have taken to social media to honor his memory and legacy.
Folks from across the Marvel universe have honored Stevenson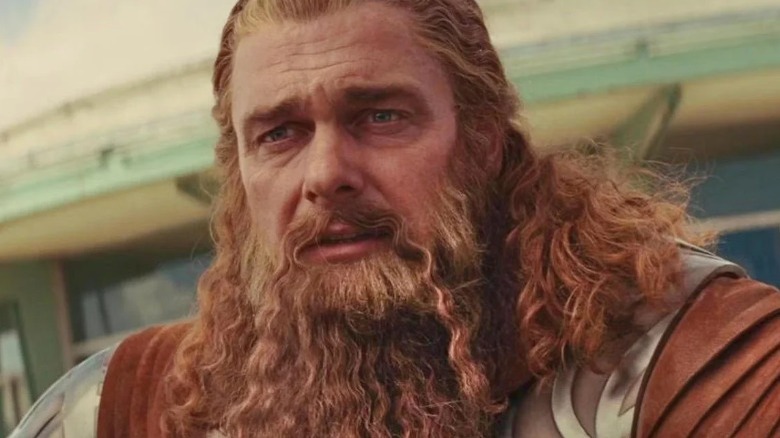 Marvel Studios/Disney
As word of Ray Stevenson's death has spread across the Internet, folks who have worked in front of and behind the camera for Marvel productions made touching statements in his memory.
"So sorry to hear about the passing, far too young, of Ray Stevenson. I only knew him a little from shooting post-credits of Thor 2 & a couple interactions at events, but we had some good laughs & he was a joy to work with. His friends & family are in my heart today," wrote DC Studios figurehead James Gunn — the director of the "Guardians of the Galaxy" trilogy and "The Guardians of the Galaxy Holiday Special" — in a tweet. 
The actor behind Claire Temple on Netflix's Marvel productions like "Daredevil" and "Luke Cage," Rosario Dawson, also posted a Twitter tribute to Stevenson, calling him "vivacious & unbelievably present & vibrant." While they didn't work together in any Marvel efforts, Dawson and Stevenson worked extensively on the upcoming Disney+ "Star Wars" series "Ahsoka," which will arrive on the streaming service in August. Stevenson's work as the fallen Jedi Baylan Skoll on the program is one of his final performances.
Stevenson's fellow Thor actors have paid tribute to him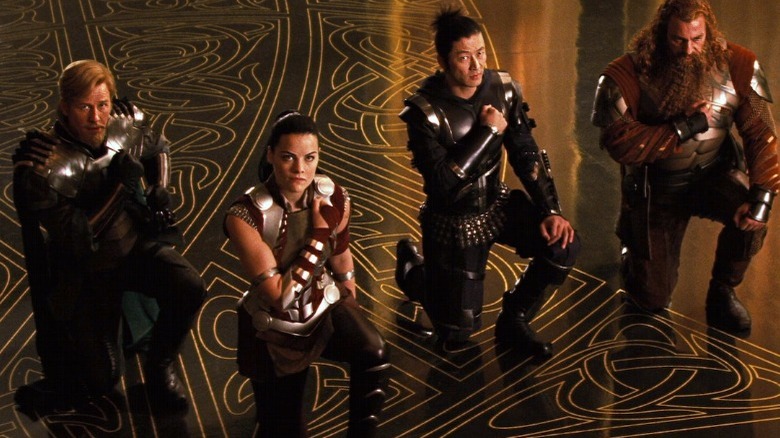 Marvel Studios/Disney
In addition to James Gunn and Rosario Dawson, a few of Ray Stevenson's "Thor" companions made touching social media tributes to him. 
Stevenson is remembered well by his fellow Warriors Three actors. Over on Instagram, Hogun actor Tadanobu Asano made a post about Stevenson and reminisced about their time working together. Asano described his kindness, helpfulness, and warmth and thanked him for all he did for him. Josh Dallas, who played Fandral in the first "Thor" movie before Zachary Levi took over the role in "Thor: The Dark World" and "Thor: Ragnarok," posted about Stevenson on his Instagram story, writing, "Rest in peace Ray. #raystevenson."
Additionally, Lady Sif herself, Jaimie Alexander, went to Instagram to speak on her friend and co-star's death while sharing some photos of them together. "Ray. Man. My heart is shattered. You made everyday so much fun on and off set. You always looked after me. Always made me laugh," she began her post, recalling him visiting her in the hospital and their unforgettable dinners. Though she has plenty of stories to share about him, she wishes they had the chance to make even more memories. Alexander concluded her post, "I'm sending so much love to your beautiful family. Love you."
Just as he did with fans of his work, Ray Stevenson clearly left a lasting impression on numerous Marvel talents. He is already sorely missed.