The Last TV Series Ray Stevenson Was In Before He Died
Ray Stevenson had put together a very impressive list of roles by the time of death at the relatively young age of 58. Some of the more recognizable ones include his portrayal of two Marvel characters: the title character in 2008's "Punisher: War Zone" and Volstagg in the "Thor" films. These were barely the tip of the iceberg, though, as over the course of 30 years Stevenson racked up over 150 credits in film and television. 
He has a knack for playing tough, authoritative, or imposing figures, be they police sergeants, soldiers, or Irish mobsters. This aptitude was also evident in Ray Stevenson's final television role, as was his connection with one of modern media's most enduring properties: "Star Wars." 
Ray Stevenson's final television role is in the upcoming "Star Wars" miniseries "Ahsoka," playing Baylan Skoll. This isn't the first time that Stevenson has portrayed someone in the "Star Wars" universe, though it will be the first time he has played someone in that universe in live-action. Stevenson also gave a voice to Mandalorian Imperial Viceroy Gar Saxon in two animated shows — "Star Wars Rebels" and "Star Wars: The Clone Wars."
Ray Stevenson's last role was as Baylan Skoll in Ahsoka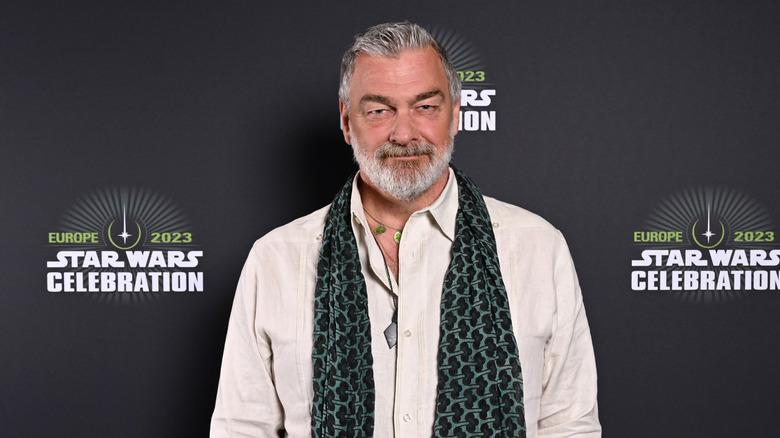 Jeff Spicer/Getty Images
Baylan Skoll is an entirely different kind of role from Ray Stevenson's past role in the "Star Wars" franchise as Mandalorian Imperial Viceroy Gar Saxon. This goes well beyond the fact Saxon is a voice-acting role, while Baylan Skoll is a live-action role. Along with that, Baylan Skoll does not have connections to the Mandalorian. He instead has connections to the Jedi and one of the most infamous and game-changing moments in "Star Wars" history.
A former Jedi, he is one of the few to have avoided Order 66, which sought to eliminate the entire Jedi order, by escaping into the Unknown Regions. He is also an adversary to the series' protagonist, Rosario Dawson's titular Ahsoka. Exactly how the two Jedi are pitted against each other isn't quite clear at the time of this writing. 
Currently in post-production, "Ahsoka" is scheduled to premiere on Disney+ in August of 2023.