Succession: The Cameo You Probably Missed At Logan Roy's Funeral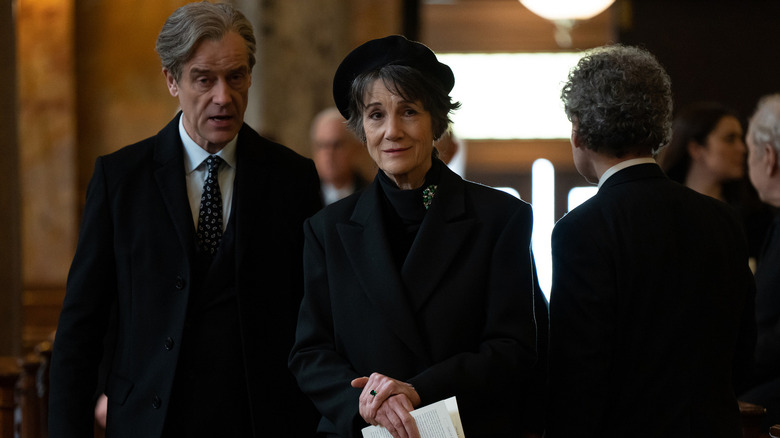 Macall Polay/HBO
Contains spoilers for "Succession" Season 4 Episode 9 — "Church and State"
If it seems like basically every person in the world attended the fictional funeral of Waystar Royco patriarch Logan Roy (Brian Cox), it's because, well, everybody did. Within the world of "Succession," Logan's funeral was, perversely, an event where you could see and be seen (unless you were Matthew Macfadyen's Tom Wambsgans, who missed the proceedings because he was too busy dealing with the fallout over ATN calling the election for a far-right fascist). That crowd, as it turns out, also included Cox's real-life wife, Nicole Ansari-Cox.
As episode director Mark Mylod told The Hollywood Reporter in a piece about the show's penultimate episode, Ansari-Cox had previously asked to shadow him as a director while Cox appeared on-set as a decoy, attempting to throw off any paparazzi snapping photos of actors milling around the set. During her time on set, though, she got more involved and ended up playing a character who has previously been mentioned, but never seen: Sally Anne.
"I was happy for her to do that," Mylod said of Ansari-Cox shadowing him. "She's a really wonderful person and a great director. So she was with me anyway. When we got the script, there's this character, Sally Anne. She said, 'This is me! It's exactly my profile. Do you mind if I read for it?' I said, 'Nicole, knock yourself out!' And she was fantastic. So she got the role. She doubled up as the director's shadow and playing Sally Anne."
How does Nicole Ansari-Cox factor into the scene?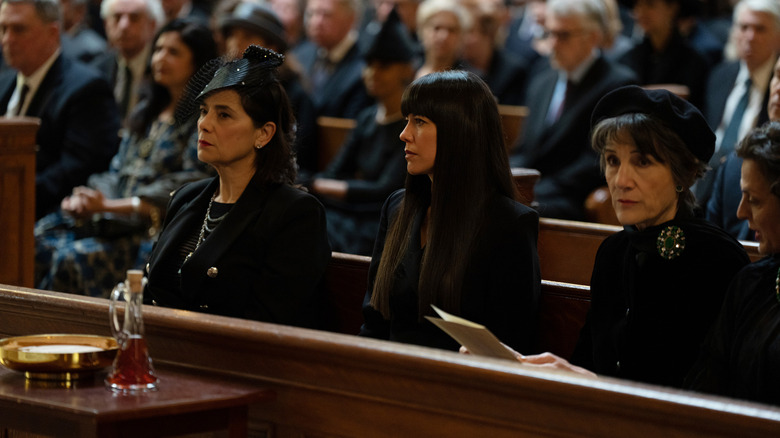 Macall Polay/HBO
If there's one thing viewers know for sure about Logan Roy, it's that he sure isn't faithful to his wives or girlfriends. Audiences have met two of his three wives, Lady Caroline Collingswood (Harriet Walter) and Marcia Roy (Hiam Abbess), as well as Kerry (Zoë Winters), the last of whom was Logan's faithful assistant and girlfriend right up until his sudden death aboard his private jet. Every time Kerry has appeared on screen after Logan's death, she has been, to put it politely, a wreck, and the funeral is no different; she even shows up with a friend who's lawyer, concerned she won't be allowed inside.
Caroline, meanwhile, has a whole different plan. Taking Kerry by the arm, she escorts her towards the front row and towards Kerry's natural enemy Marcia... and they encounter someone else along the way. As Caroline makes introductions in the group, she refers to the new woman, Sally Anne — played by Ansari-Cox — as "her Kerry," making it clear that she was Logan's mistress during Caroline's era. She's briefly invoked by Logan's children from time to time, but this is her first physical appearance — and considering that the series is ending soon, likely her last.
Ansari-Cox barely utters a word besides greeting the other women, and they all share a chuckle when Marcia observes that Logan won't be grinding his teeth in his sleep that evening — but it's definitely a funny, strange little cameo that feels like a classic "Succession" move.
The series finale of "Succession" airs on Sunday, May 28 on HBO at 9 P.M. EST.