Young Sheldon: What Song Plays In Georgie's Car During The Season 6 Finale?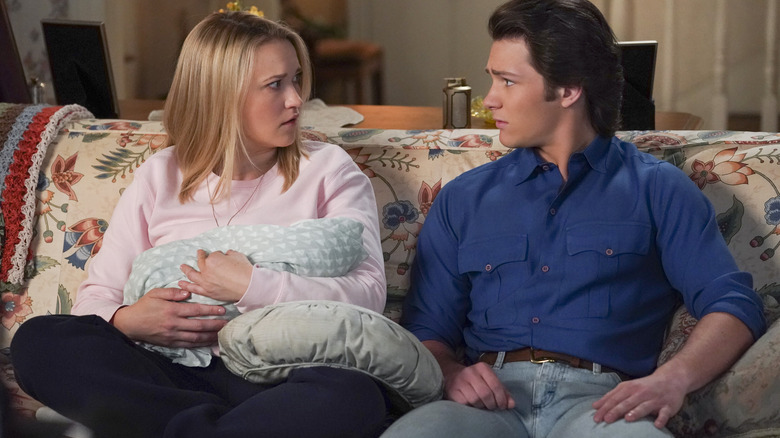 Sonja Flemming/CBS
Contains spoilers for "Young Sheldon" Season 6, Episode 22 – "A Tornado, a 10-Hour Flight and a Darn Fine Ring"
The "Young Sheldon" Season 6 finale went out with a chaotic whirlwind of events as a massive storm devastated Sheldon's hometown. The dangerous hurricane throws a wrench in the Coopers' plans as Sheldon (Iain Armitage) prepares to fly overseas for his summer research project. Meanwhile, Georgie (Montana Jordan) and Mandy (Emily Osment) embark on a romantic getaway to a couple's spa with surprising results. Their ride back home even features a recognizable tune that might highlight how Mandy feels about their complicated relationship.
Ahead of the unforgettable finale, the prequel slightly alters what fans know from "The Big Bang Theory," like changing Sheldon's age for his Germany trip. This prepares fans for the many surprises in the hour-long finale, like Georgie and Mandy's engagement. After their uncomfortable trip is cut short, "Young Sheldon" delivers a highly anticipated moment from the couple.
In the final scene of the episode, Mandy makes a surprising move. She turns down the car's radio and agrees to marry Georgie after his many proposals. It even appears Mandy is moved by the lyrics of the notable 1990s jam "Hey Jealousy" by Gin Blossoms, which could reflect her current emotions. 
Gin Blossom's Hey Jealousy may indicate how Mandy is feeling before her proposal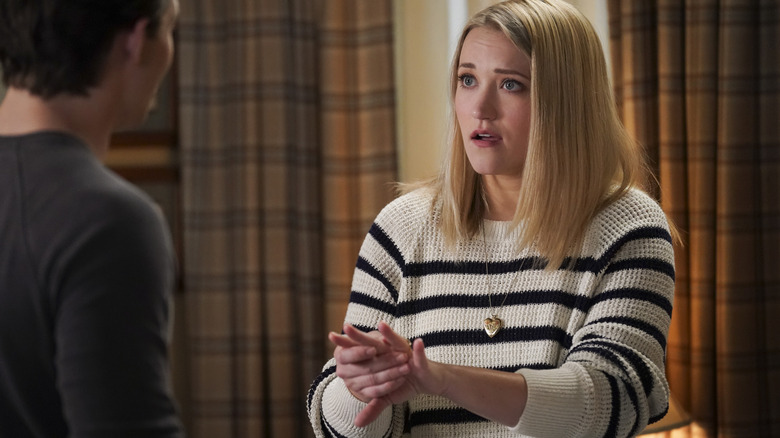 Sonja Flemming/CBS
Georgie and Mandy have had a complicated relationship, especially after she found out he was lying about his age. In their conservative hometown, Mandy's image would be damaged by having a baby out of wedlock with an underage teenager. Over time, Georgie matures into a loving and capable father, which extinguishes many of Mandy's doubts as they co-parent their daughter.
During their couple's massage, however, Georgie and Mandy argue about his numerous proposals, which Mandy continually shoots down. This begins to clear the air by showing Mandy how hurt Georige is and how much he wants them to be a family. On their way back home, Mandy thinks over the situation while listening to the lyrics to Gin Blossoms' "Hey Jealousy."  
After hearing the following lyrics — "You were the best I'd ever had. If I hadn't blown the whole thing years ago, I might not be alone" — Mandy turns down the volume. At this moment, she's reflecting on their past relationship and considering the future. This leads fans to the moment they've all been waiting for as she proposes to him, and they seal the deal with a kiss.