Young Sheldon Changes Up Sheldon's Age From TBBT For His Big Germany Trip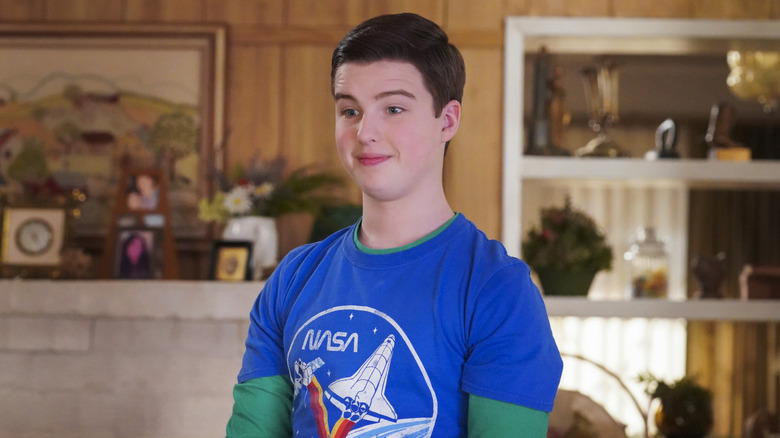 Bill Inoshita/CBS
"Young Sheldon" is making some changes ahead of Sheldon's (Iain Armitage) college program in Germany. In an effort to catch up with his older classmates and buff out his resume, he's gifted a special opportunity from his mentor Dr. John Sturgis (Wallace Shawn). Sheldon will be studying superstrings, which will surely prepare him for his future theorization of string theory, at the University of Heidelberg in Germany. If that sounds familiar, it's because Sheldon (Jim Parsons) mentioned the excursion to Penny (Kaley Cuoco) in "The Big Bang Theory," however, he was a slightly different age in that retelling.
Ironically, the theme of Season 6, Episode 19, "A New Weather Girl and a Stay-at-Home Coddler" is age, as Sheldon feels he's falling behind his fellow students. He also believes the novelty of being a child prodigy is wearing thin and he needs to do something else to stand out. This leads him to search for an undergraduate research internship that will give him an additional edge when applying to graduate school at the California Institute of Technology, aka Caltech.
Sheldon will fly off to Germany at the young age of 13 (one year before the devastating death of his father), which varies from what Sheldon said in the original series. As Yahoo! pointed out, Sheldon was actually 15 in the version of the story he told Penny, making this a small deviation from his future recollection.
Sheldon is headed to Germany two years earlier than expected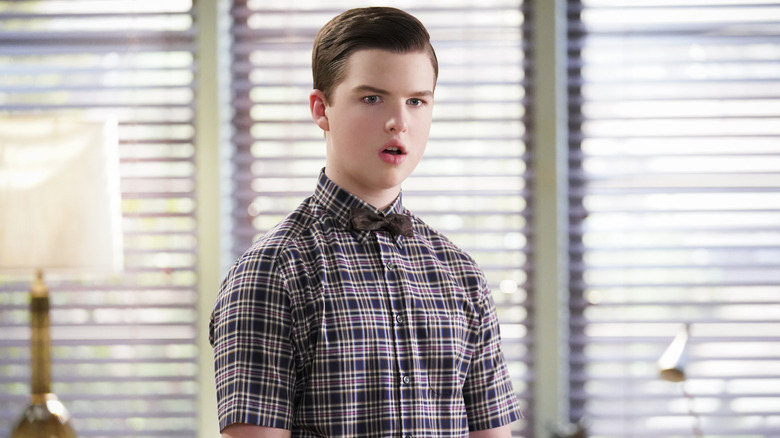 Bill Inoshita/CBS
While it's possible this could be a simple slip-up on Sheldon's part, it seems unlikely given how detail-orientated he is. In "The Big Bang Theory" Season 1, Episode 11, "The Pancake Batter Anomaly," he tells Penny about his mom Mary (Zoe Perry) accompanying him to Germany, "My mom had to fly back to Texas to help my dad because the house slipped off cinderblocks again," Sheldon continued detailing, "It was tornado season, and it was an aluminum house." This lines up with what we can expect in the following episode of "Young Sheldon," as we even overhear high wind warnings during Mandy's (Emily Osment) viewing of the evening news.
Since the terrifying tornado detail remained the same, it's possible that Sheldon's childhood trauma led to an instance of misremembering when it comes to the events from his childhood. After this life-changing adventure, Sheldon endures a tragic loss when his father George (Lance Barber) unexpectedly dies, which likely won't happen in Season 6. He then moves hundreds of miles away from his family to start graduate school in California, which is enough sudden change to muddle anyone's memories.
In between these milestones, Sheldon will also have an awkward and emotional scarring moment with his father that gives him his unusual knocking habit. This could also jumble his memory and lead to the mixup in his later retelling with Penny. In reality, though, the writers most likely want to move along the narrative to these key moments without having to do a time jump.