India Amarteifio Thinks Queen Charlotte's Taboo Topics Make The Show Beautiful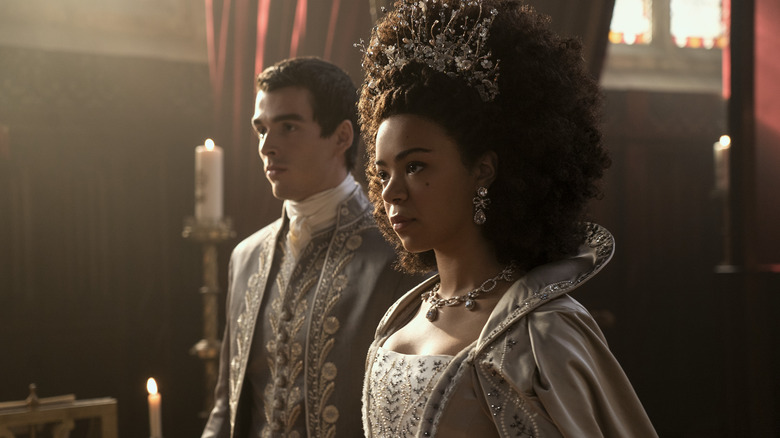 Liam Daniel/Netflix
The Netflix drama "Queen Charlotte: A Bridgerton Story," a six-part prequel to "Bridgerton," premiered in its entirety on May 4 and has since earned a 94% approval rating from critics at Rotten Tomatoes. The prequel introduces India Amarteifio as the young Queen Charlotte (played by Golda Rosheuvel in "Bridgerton," and in flash-forward scenes in the prequel) newly arrived from Germany to take the hand of King George (Corey Mylchreest). Stephanie Archer of Film Inquiry heaped praise on the two actors who play Charlotte, giving them much of the credit for the show's luster.
"Amarteifio is what makes the series a success, especially in its early moments," Archer wrote. "She emulates the performance of Rosheuvel, transversing time while making the performance uniquely her own."
Amarteifio thinks the show shines brightest in its willingness to look at some darker universal issues that span the centuries between the time of George and Charlotte's reign and the filming of the series, including concerns regarding race, gender identity, sexuality, and mental wellness. Amarteifio told InStyle she particularly appreciated the show's sensitive treatment of George's struggles with mental illness.
"I think what's beautiful about our show is that we get to delve into really important topics that are not spoken about, maybe a bit more taboo ... I think whatever takes over George, obviously, and is very real to him but is an invisible kind of affliction, [which] is very important at the moment, especially for young men, talking about issues. I think Corey does an amazing job in portraying him."
India Amarteifio also appreciates the diversity in the cast of Queen Charlotte: A Bridgerton Story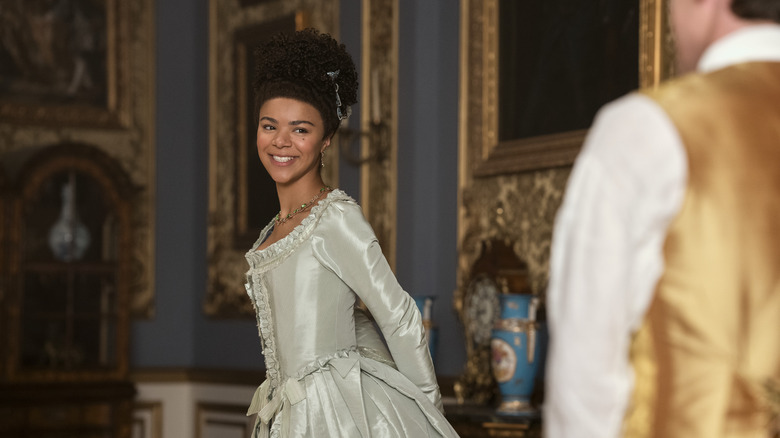 Liam Daniel/Netflix
India Amarteifio also said she appreciates the significance of having diversity among the cast, especially in a series that takes place more than two centuries in the past. "It's so important," Amarteifio said. "Not only just for actors to have more strings to their bow in the sense of the genres that they can tap into and they can play with, but just for little girls and boys to see themselves represented in any way, shape, or form, especially for young Black children. Period pieces [were] never really a genre that was open for me." 
She added that series creator Shonda Rhimes deserves credit for introducing that diversity to "Queen Charlotte: A Bridgerton Story" as she has done with her other successful endeavors like "Grey's Anatomy," "Scandal," and "Station 19." 
I think that is what is great about Shonda, as well,"  Amarteifio said. "She consciously makes the effort to involve everyone in her projects, which, hopefully, in years to come, won't have to be such a big deal." She had additional praise for Rhimes, saying the legendary showrunner and writer had made herself available to the up-and-coming stars of "Queen Charlotte" as a friend and mentor during production. "She is wonderful and just so giving of her time and everything that she bestows," Amarteifio said. "She's very happy to share, which is amazing... she was just really supportive of us."