Where Was Queen Charlotte: A Bridgerton Story Actually Filmed?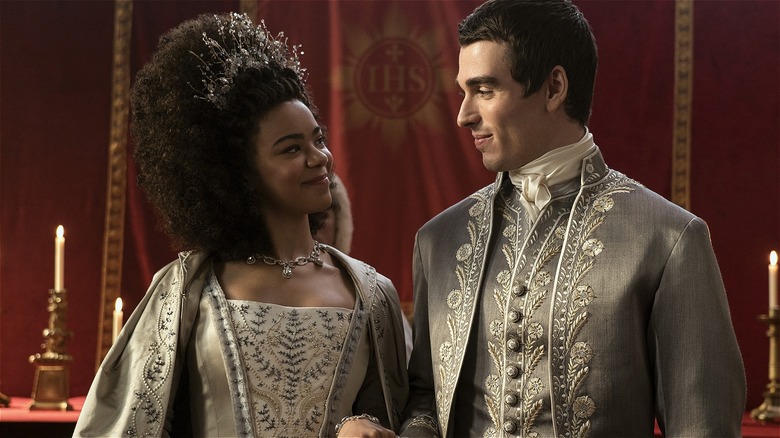 Liam Daniel/Netflix
Far subtler than its steamy predecessor, Netflix's "Queen Charlotte" nevertheless has just as much pomp and circumstance. Taking place in the fictionalized world of Georgian England, Shonda Rhimes' miniseries shows how the titular figure becomes the queen we know and love. In the role of reality-inspired Charlotte, India Ria Amarteifio demonstrates remarkable nuance as the royal not only commits herself to a king grappling with his mental health but changes the tone for the better.
"In the Bridgerton world, we're always talking about how Queen Charlotte and King George sort of made this new England possible, where we're seeing integrated society, and everybody's got titles. And so I wanted to show how that came to be," Rhimes explained. In between a moving love story between Charlotte and George (Corey Mylchreest), viewers can marvel at the grand structures of an era gone by. Eagle-eyed "Bridgerton" viewers will note that the "Queen Charlotte" locations resemble those of previous seasons. That is not by accident. According to Tudum, the two series share many filming locations. Hampton Court Palace appears in "Bridgerton" Season 2 and in the new series as the location for Buckingham House. This location holds special significance for English history as it was the home of Henry VIII, who was infamous for executing his wives. The love story in "Queen Charlotte" is infinitely more romantic, to say the least.
The locations weren't all glamor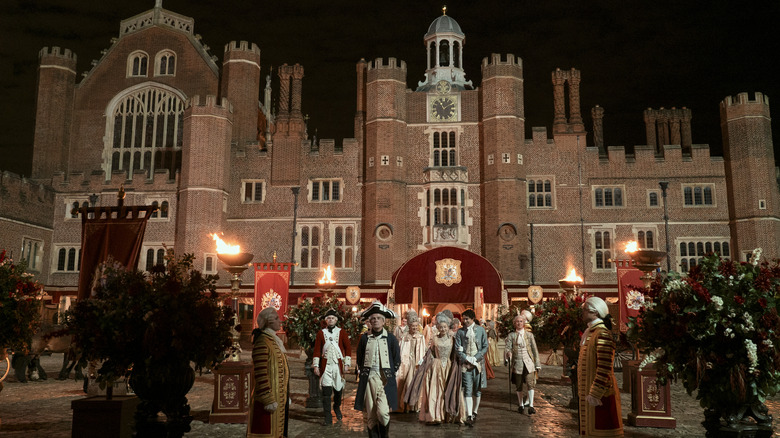 Liam Daniel/Netflix
One of the joys of any prequel is seeing how many beloved characters go from where they were to where they are. While Charlotte is a huge draw for the series, many should also be tuning in to see the origins of the Danbury clan. The most likable "Bridgerton" character is Lady Danbury (Adjoa Andoh), who is used sparingly in the flagship series. But in "Queen Charlotte," we get a look at her story as well as her estates. Dorney Court was used as a location for Danbury Villa and has also been a location for fellow royal saga "Elizabeth: The Golden Age." And if you want to see where the Danburys hold court, private and public tours of the place are available. You can also visit Belton House, a structure used for Buckingham House and Kew Palace. But as grand and picturesque as these houses were, there was a slight caveat.
"In a lot of these stately homes, you can't have the intimacy scenes in the beds. You can't touch the beds. You can't move the beds," production designer David Ingram told People. "Being a 'Bridgerton' story," he noted, "there's a lot of intimacy." Blenheim House was an important location for Buckingham House but could not be used extensively. For intimate bedroom scenes, production reconstructed sets to get the shots they needed.
"We really asked a lot of them. We were there for two and a half weeks running," Ingram said. "We were very lucky how supportive they were."