Supergirl Season 4 Casts Nicole Maines As TV's First Trans Superhero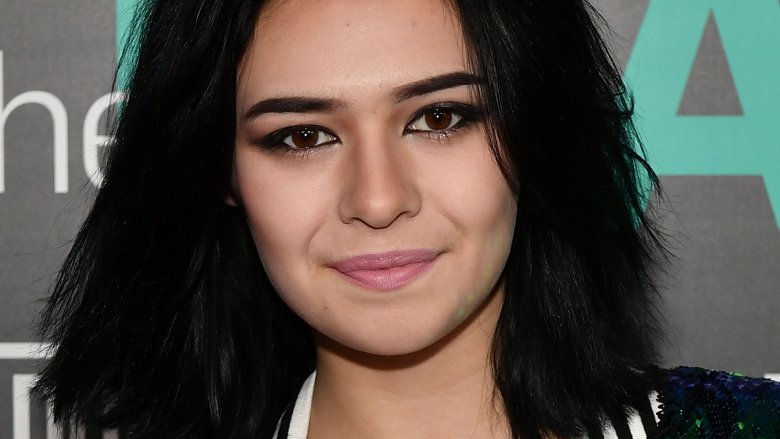 Getty Images
Supergirl is about to make history. 
At the series' San Diego Comic-Con panel on Saturday, the CW announced that Royal Pains and The Trans List's Nicole Maines will join Supergirl season 4 as Nia Nal, better known by the superhero moniker Dreamer, to become the first transgender superhero on television. Deadline confirmed Maines' casting. 
Described as "a soulful young transgender woman with a fierce drive to protect others," Nia won't be a full-fledged vigilante at the start of the fourth season of Supergirl. Instead, the upcoming collection of episodes will see Nia, a new member of CatCo's reporting team, grab hold of her inner strength to become what she was always meant to be: the superhero Dreamer.
Maines' character's personal evolution from Nia into Dreamer has been compared to the ways in which Melissa Benoist's Kara Zor-El grew and matured to become Supergirl as she stands today. 
Overall, the character appears to be a new iteration of DC Comics' Nura Nal, otherwise known as Dream Girl.
If you're staring at your laptop screen, wondering why Maines looks so familiar and where you might have seen her before, you're not alone. Let us get you up to speed on the woman behind TV's first trans hero. 
Maines' name made national headlines when she was just a young teen. After the grandfather of a classmate at Maines' elementary school complained to school officials that Maines shouldn't be allowed to use the girls' washroom — and the school agreed with him, banning her from entering the female restroom — the Maines family sued her Orono, Maine school district. In June of 2014, the Maine Supreme Judicial Court found that the school district was in violation of the Human Rights Act, and ruled that trans students should be allowed to use the restroom assigned to the gender with which they identify. 
Since then, Maines has been an outspoken activist for the LGBTQ+ community. 
In 2015, Maines and her family were the subject of Washington Post writer Amy Ellis Nutt's book Becoming Nicole: The Extraordinary Transformation of an Ordinary Family, which chronicles the Maines family's journey to better understand and celebrate not just their daughter's identity but the identities of everyone. 
That same year, Maines made her television debut in an episode of USA Network's Royal Pains, portraying a trans teen and choreographer named Anna whose hormones posed a potential risk on her heath.
In 2016, Maines delivered a TEDx Talk at Southern Maine Community College entitled "Transgender: You're Part of the Story," in which she discusses growing up as an openly transgender young woman. She was also featured in HBO's The Trans List, a documentary directed by Timothy Greenfield-Sanders that highlights the stories of 11 transgender individuals including Caitlyn Jenner and Orange Is the New Black actress Laverne Cox. 
More recently, Maines spoke out about Scarlett Johansson's involvement in the film Rub and Tug. Johansson was set to portray transgender gangster and massage parlor owner Dante "Tex" Gill, but dropped out of the project due to subsequent backlash. 
"With trans folks, we have a lot of people accusing us of just playing dress up for whatever reason, and that's not true," Maines told Variety. "And so having trans people play trans roles shows that we are valid in our identity and we deserve to exist as we do."
It's for this reason that Maines' involvement in Supergirl is not just exciting but also incredibly important.
And Maines actually isn't the only new addition to Supergirl season 4. April Parker Jones (If Loving You Is Wrong, Jericho, The Last Ship) is set to play Colonel Haley, a "hardline career military woman" who is fiercely dedicated to her country and loyal to a fault to her commanding officers. David Ajala (Nightflyers, Doctor Who) is also on board, albeit in a recurring role rather than a series regular one, as the devilishly charming and witty Manchester Black, described as the kind of man who can best his enemies in any situation — even when he "brings a knife to a gunfight."
It'll be quite a treat to see how this new trio fits into the established narrative, which is said to explore the famous DC Comics storyline Red Son in season 4. 
Supergirl introducing Maines' Nia Nal as TV's first transgender superhero sets an incredible precedent and opens the doors for even more positive LGBTQ+ representation on the small screen. Might we get to see Alysia Yeoh — Barbara Gordon/Batgirl's best friend, roommate, and a transgender woman — in a DC series in the future? That would be 100-percent kick-ass, and we hope it happens some day soon. 
For now, we can look forward to seeing fresh faces Nia Nal, Colonel Haley, and Manchester Black team up with the rest of the Supergirl crew when season 4 premieres Sunday, October 14 at 8 PM ET on the CW.