Jim Brown's TV And Film Resume Is Stacked With Classics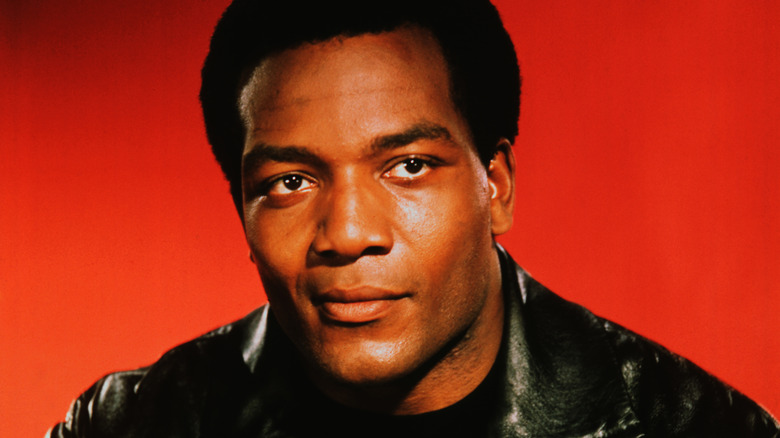 Bettmann/Getty Images
The sports world and the entertainment world both lost a legend when news broke that legendary football player Jim Brown passed away peacefully in his sleep. His wife, Monique, announced on Instagram that he passed. "To the world, he was an activist, actor, and football star," she wrote in an image of the two of them together. "To our family, he was a loving and wonderful husband, father, and grandfather. Our hearts are broken."
It isn't up for debate that he had a massive impact on the NFL. He won the NFL Rookie of the Year award in 1957, also winning the MVP that same year. He was elected to nine Pro Bowls, won an NFL championship in 1964, and also rushed for 12,312 yards in his career. That is good enough for 11th all-time as of this writing, but this marked a record at the time of his abrupt retirement at age 30.
While his retirement was early and unexpected, he wanted to spend his time doing other things. "I want more mental stimulation than I would have playing football," he told Sports Illustrated in 1966. "I want to have a hand in the struggle that is taking place in our country, and I have the opportunity to do that now. I might not a year from now." He spent the rest of his time as an activist and as an actor who appeared in over 50 projects. Some of them are huge titles where we played alongside some of the biggest names in the industry.
He appeared in some big TV series in the '80s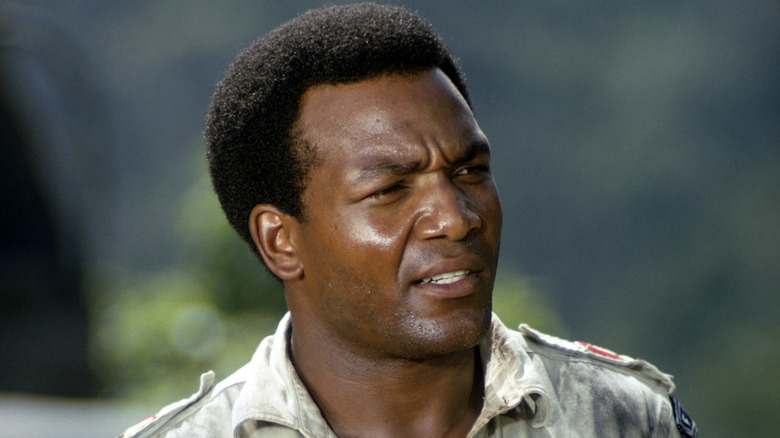 Susan Wood/getty Images/Getty Images
After Jim Brown retired from the National Football League, he made his first TV appearance in the short-lived "Valentine's Day," following a young playboy working for a New York publishing house. He played himself for the first time in one episode, but it opened up the opportunity for him to play other roles on some very notable series throughout his career.
From 1979 until 1986, Brown landed roles in some of the most popular series of the time. He played two different characters over three episodes of "CHiPs" from 1979 to 1983. He followed that up with a 1983 episode of "TJ Hooker" alongside William Shatner, and appeared in a follow-up episode in 1984. He also got the opportunity to work next to David Hasselhoff in his smash hit, "Knight Rider." In 1986, he made an appearance on another massive 1980s series with a one-episode role in "The A-Team."
In the '90s, he appeared as himself in a handful of series, including "Good Sports," "Living Single," "Between Brothers," and "Arli$$." His most recent appearance in a TV series in 2004 in four episodes of "Soul Food," where he played Willie White. 
While that is an impressive list of series to appear, he had an even bigger film career.
He held his own against industry legends
Sure, Jim Brown got a chance to rub elbows with some big names in TV series over the years, but his foray into movies pit him against some of Hollywood's most legendary characters. His first acting credit happened in the 1964 western "Rio Conchos," where he got his acting career started. What followed was a bevy of impressive credits that included films with Lee Marvin, Charles Bronson, Jack Nicholson, Denzel Washington, Cameron Diaz, Al Pacino, and Kevin Costner.
1967's "The Dirty Dozen" turned out to be a classic, and it allowed Brown to work alongside multiple legends. The film follows a rebellious officer tasked with using convicted murderers to assassinate Nazis. Brown played Robert T. Jefferson, the lone Black member of the unit and a man that was sentenced to death by military courts for defending himself against a hate attack. He later got an opportunity to play a villain and go up against Arnold Schwarzenegger as Fireball in "The Running Man."
In the '90s, Brown got a chance to appear alongside Jack Nicholson, Pierce Brosnan, Glenn Close, and Sarah Jessica Parker in "Mars Attacks," followed by Denzel Washington, Milla Jovovich, and fellow sports star Ray Allen in "He Got Game" two years later. He also appeared in two football movies when he served as Tony D'Amato's (Pacino) defensive coordinator in "Any Given Sunday" and later played himself in 2014's "Draft Day," alongside Kevin Costner, Jennifer Garner, and Chadwick Boseman. 
Brown may be remembered as an iconic athlete and titan of the gridiron, but his contribution to some big movies over the last few decades can't be overstated.