Law & Order: What Characters Does Sarah Paulson Play?
Over the course of her almost three-decade-long career, Sarah Paulson has proven herself to be one of the most versatile actors in Hollywood. In turn, she's also become one of the best-respected performers in the game, earning raves for her work in film, television, and theater, eventually earning both an Emmy and a Golden Globe for her turn as Marcia Cross in the 2016 series "American Crime Story."
The "American Horror Story" all-star began her career in television back in the 1990s. Like so many actors before her, she did so via a guest spot on the legendary procedural drama "Law & Order." That appearance came in the 1994 episode titled "Family Values," and found Paulson portraying Maggie Conner, the 17-year-old daughter of a murdered book publisher who may have had something to do with the killing — and also may have been having an affair with the likely killer, her philandering stepfather. Paulson was barely a year removed from her own high school graduation at the time, jokingly admitting to Terry Gross during a 2016 Fresh Air interview that it's humiliating that said performance is still out there for the world to see.
She also told Gross that landing a spot on "Law & Order" felt like a legit rite of passage as an actor, because so many other performers got their start on the show. And if you've seen the episode in question, you know Paulson's performance is far stronger than she might recall. 
Paulson has indeed played two roles in the greater Law & Order universe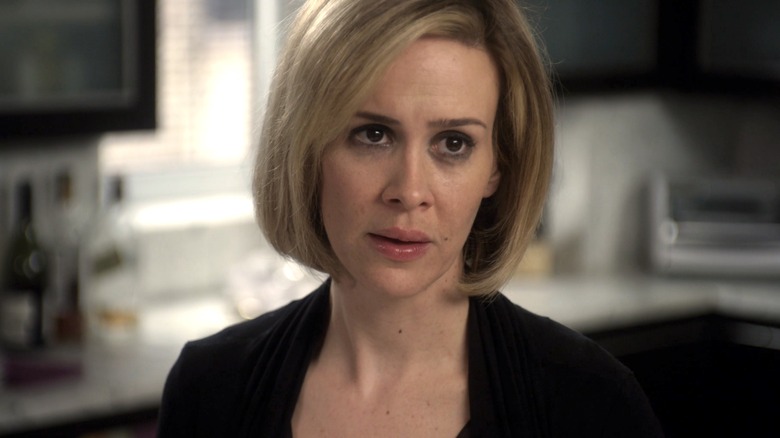 NBC
As it happens, that 1994 gig was not the last Sarah Paulson booked in the "Law & Order" franchise. And in 2010, the actor indeed joined the notable list of actors who've played multiple characters in the franchise when she joined the cast of "Law & Order: Special Victims Unit" for a one-off appearance. 
Paulson's "SVU" gig came in the Season 11 episode "Shadow," and it found the actor once again a prime suspect in the murder of a parental figure. Only this time around, Paulson's duplicitous character Anne Gillette is believed to have had a hand in offing both her mother and her father, allegedly arranging the kills in hopes of inheriting their fortune. Anne initially tries to deflect suspicion by putting Detectives Olivia Benson (Mariska Hargitay) and Eliot Stabler (Christopher Meloni) on the scent of a presumed stalker. But matters get tangled — as they so often do on "Law & Order" — when that stalker turns out to be a detective from the Special Frauds Division ("Lost" alum Naveen Andrews) who's investigating Gillette for another crime altogether.
Don't worry, we aren't here to spoil any of the twists and turns that come thereafter for "SVU" fans who've yet to see "Shadow." We can, however, confirm that Paulson's work in the episode is as fierce and nuanced as we've come to expect from the actor as her career has grown. And we'd wager she's a lot more at ease with folks catching this performance in syndication.