AHS: Sarah Paulson Ranked Her Own Characters From Best To Worst
"American Horror Story" has been terrifying audiences for over a decade with numerous memorable performances that drive the unforgettable scares. Creator Ryan Murphy assembles an all-star cast each season to tell a truly unique and enthralling tale. One of the show's most notable performers is the versatile Sarah Paulson, who has her own ranking of her favorite roles. 
Paulson has been featured in many "American Horror Story" seasons, making her a headlining staple of the series. Her diverse and emotionally complex characters lead to scene-stealing performances that highlight her top-notch acting talents. While everyone has their personal choice for Paulson's best "American Horror Story" characters, her insights are especially interesting.
She's played powerful witches, illuminating mediums, and even conjoined twins in an impressive double role. Her parts are often funny and dramatic, allowing Paulson to show off her vast array of talents that even extend behind the camera. On-screen, she brings riveting characters to life, though some apparently interest her far more than others.
Lana and Cordelia reign supreme as Paulson's personal favorites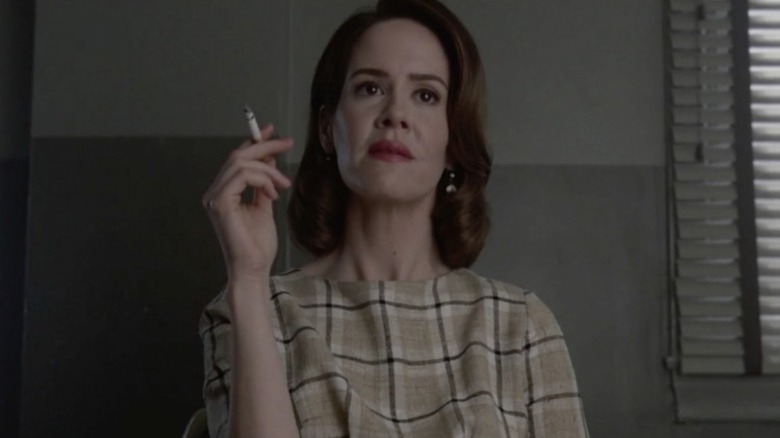 FX Networks
Sarah Paulson proved herself a mainstay of "American Horror Story" when she blew audiences away in the role of Lana Winters in Season 2, "Asylum." She faces off with the horrifying serial killer Bloody Face (Zachary Quinto), earning herself "final girl" status when she lives to tell the twisted tale. Lana's journalistic instincts keep her alive, and her fierce grit helped make her a queer icon and fan favorite.
It's no surprise to learn that Lana is Paulson's absolute favorite character as well. In a Twitter exchange captured on Reddit by u/ohstephen, the talented actor revealed her "AHS" ranking from best to worst as follows: "Lana, Cordelia, Sally, Bette&Dot [sic], Venable, Billie Dean, Ally, Audrey, Shelby, wait. Am I missing someone?" She added an inquisitive detective emoji for emphasis. Paulson's double role as Bette and Dot ranks higher than one might expect, considering how difficult she's said the performance was.
Lana is also one of the few parts that Paulson reprises in a later season of "American Horror Story." Her character returns in Season 6, "Roanoke," as an accomplished television host, which reveals Lana's bright future after "Asylum." That could be the hidden detail that threads her personal favorites together, as she also returns as the Supreme witch Cordelia in Season 8, "Apocalypse," to avert total doomsday. Sally tracks as a reasonable third pick since it's such a wild departure from her other roles, and she impressively played the part while simultaneously portraying Marcia Clark in "American Crime Story" Season 1.