Grey's Anatomy: Fans Of The Series Are Ready To Deliver A Verdict On Season 19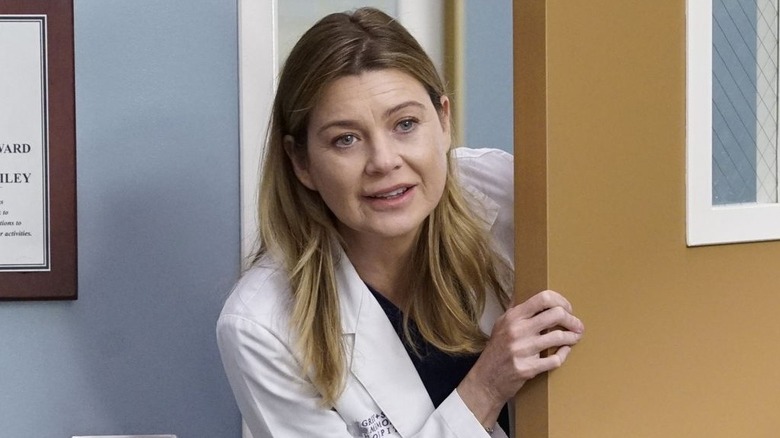 ABC
It might be hard to believe, but "Grey's Anatomy" has been on the air for nineteen seasons. It's been airing since 2005, when it launched as a mid-season replacement that somehow became the longest-running medical series in the history of television — and to say it hasn't always been consistent is a bit of an understatement. For every great episode, there's a plotline where an intern hallucinates and sleeps with her dead fiancé or a loose lion attacks unsuspecting people in Seattle. So how did Season 19 go over with fans now that it's wrapped up with a two-part season finale?
Expectations may have been low throughout Season 19, especially when news broke that Ellen Pompeo, who plays the show's namesake Meredith Grey, would no longer be a full-time cast member on the show. (She still provides the voiceover that opens and closes each episode and remains an executive producer). Not only that, but a new class of interns was introduced, clearly meant to mimic the original five who opened the series. As it turns out, fans... actually liked Season 19!
On a Reddit thread written after the season finale aired, u/martj1009 kicked off the discussion with their take: "What were your thoughts? I honestly LOVED this season. The last couple of seasons have been...okay....some highlights of course. I excuse them for the COVID season because well you know...the pandemic...but what are your thoughts of S19? I LOVE the new interns, really gave me OG greys vibes."
Fans really liked Season 19 of Grey's Anatomy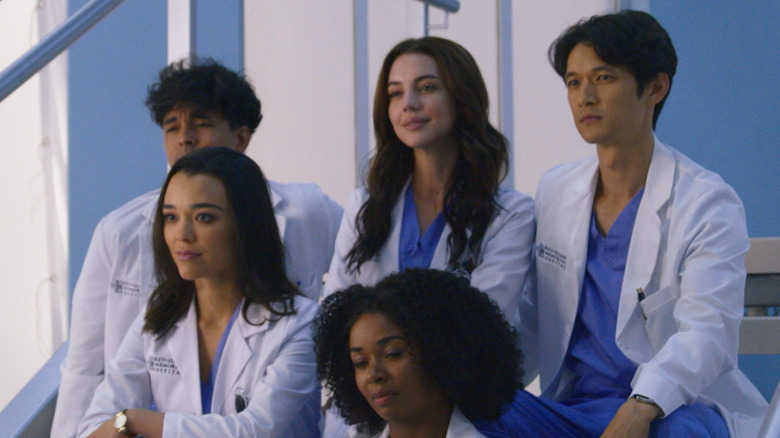 ABC
The consensus among fans on the thread seems to be as follows: Teddy Altman (Kim Raver) is a great pick for chief of surgery at Grey Sloan Memorial Hospital, bringing Taryn Helm (Jaicy Elliott) back from behind the bar and into surgical residency once again was a great call, and the new interns are actually pretty great.
"I'm surprised by how much I liked it!" u/macademicnut wrote on the same thread. "I've been indifferent for the past few seasons, but this one drew me back. I think the addition of the interns was a great choice. They're much more interesting to me than most, if not all, of the regular cast members. Yasuda [Midori Francis] is great, Simone [Alexis Floyd] & Lucas [Niko Terho] have chemistry, and Jules [Adelaide Kane] & Kwan [Harry Shum Jr.] grew on me a lot these past two episodes." u/coffeebeanwitch agreed: "Grey's is back. There for a while I dreaded watching because it was kinda bad but I remained loyal. I find myself excited about watching again!!!"
As part of a larger argument about the good and bad things about Season 19, u/Soluxtoral wrote, "Interns are great. Refreshing cast of characters. Yasuda is 100% my favourite, with Jules being 2nd. Simone is sort of boring to me, and I don't mind the idea of Lucas as a character but I'm not into the actual acting going on."
There were some aspects fans didn't love about Season 19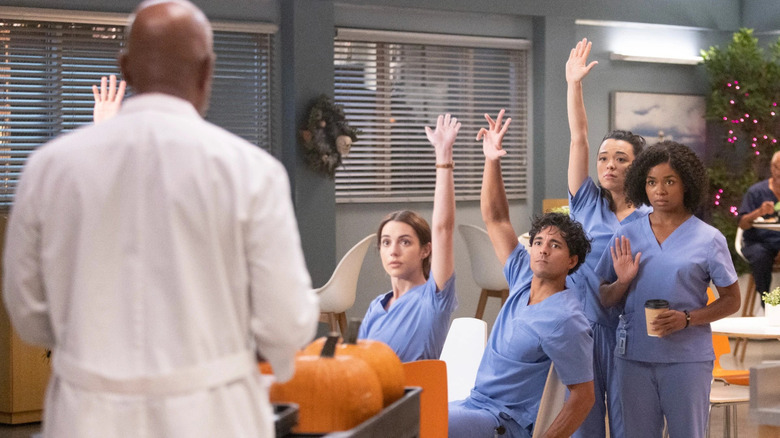 ABC
There seemed to be two big sticking points about Season 19, though. Fans were definitely upset about the non-starter relationship between Kai Bartley (E.R. Fightmaster) and Amelia Shepherd (Amelia Scorsone), who got involved during the previous season; the two are in a long-distance relationship, and as a result, the notable relationship — Fightmaster is the first non-binary actor on the show, and Kai is also non-binary — ended abruptly when Kai got a job in London.
As u/FadelessRipley wrote, "I'm majorly pissed at what they did with Kai and Amelia, and just dumping Kai's character into the ether like they do with many queer characters. Seriously, stop blowing smoke about queer representation and then just screwing it up because you don't give enough screentime compared to other characters and couples, and then don't know what to do."
The other complaint had to do with the characters of Jo Wilson (Camilla Luddington) and Atticus "Link" Lincoln (Chris Carmack), who both felt underutilized. In the same comment mentioned earlier, u/Soluxtoral wrote, "Can we actually do something with Link and Jo as characters? Jo spends most of her time not doing OBGYN work, and used as a prop for Links affection. The few things she's had quickly get moved to the background (like Luna's hard of hearing diagnosis). Link spends basically every scene thinking about Jo and how much he loves her and it's such a waste. His few "ortho god" moments have been pretty lackluster and the whole "patient death" thing didn't go anywhere."
How does Season 19 of Grey's Anatomy end?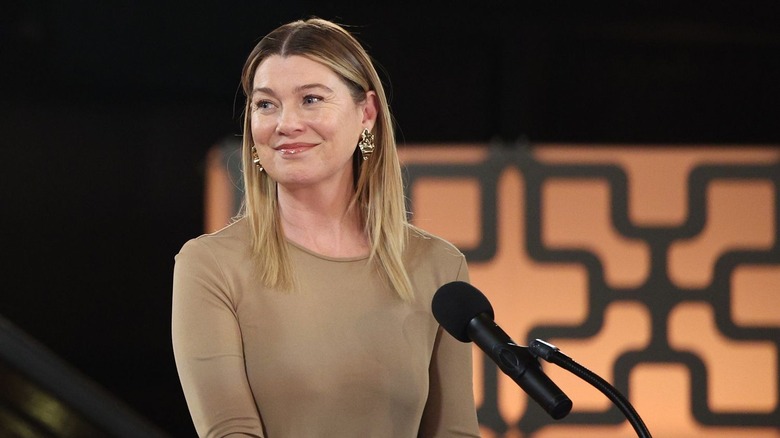 ABC
Contains spoilers for "Grey's Anatomy" Season 19 Episodes 19 and 20 — "Wedding Bell Blues" and "Happily Ever After?"
So what exactly went down in the two-part season finale of Season 19 of "Grey's Anatomy?" Proceedings kick off in "Wedding Bell Blues" ahead of Simone's wedding — which, in true "Grey's" fashion, doesn't go according to plan. She ends up running off with Lucas, but that might be the least dramatic thing to happen in these two hours. 
Meredith Grey ends up reappearing as promised when Miranda Bailey (Chandra Wilson), Richard Webber (James Pickens Jr.), Nick Marsh (Scott Speedman), and others head to Boston for the Catherine Fox Awards (their namesake, played by Debbie Allen, is there as well). The major awards, previously called the Harper Avery Awards, are the highest possible honor in this fictional medical world — and amidst Meredith's realizations that the field of medicine has been taking the wrong approach to studying Alzheimer's all along, she presents the award to Miranda for her tireless work making sure that women still have access to reproductive care.
The season ends in a precarious place, though. Even though Meredith and Nick — as well as Jo and Link — finally get their happy endings, Meredith's career may be in jeopardy and Teddy collapses while performing surgery. Fans will have to wait until Season 20, though, to see how things shake out.