Fast X: John Cena Drops Attitude Adjustment On Franchise Naysayers
The "Fast & Furious" franchise currently consists of 11 movies, a TV show, and a theme park ride. The franchise kicked off in 2001 as a riff on "Point Break." Since then, the Vin Diesel-led series has evolved into a cross-cultural juggernaut that shows little to no signs of stopping. As such, some people believe that the saga has overstayed its welcome and think it should end as a result. However, John Cena — who plays Jakob Toretto in "F9" and "Fast X" — isn't one of those critics.
Cena recently sat down with Extra and discussed the longevity of the "Fast & Furious" franchise. He compared its ongoing success to one of WWE's longest-running annual events, noting that people are fine with ongoing brand events if the quality is strong. "Having just performed at the 39th installment of WrestleMania, my philosophy is as long as it's good, that's all that matters," he said. "Fast continuously — and you've got box office data that backs it up — continuously entertains the world, installation after installation."
The "Fast & Furious" movies always deliver at the box office, indicating that plenty of moviegoers want to keep living life a quarter-mile at a time. To date, the franchise has grossed over $6 billion for Universal Pictures. With such steady box office receipts, especially in international markets, it's no surprise that the Fast Fam and studio want to continue their cash cow to the very end. That being said, Cena believes that people who want to see the franchise run out of gas are quite misinformed about what goes on behind the scenes.
John Cena believes Fast critics are similar to wrestling naysayers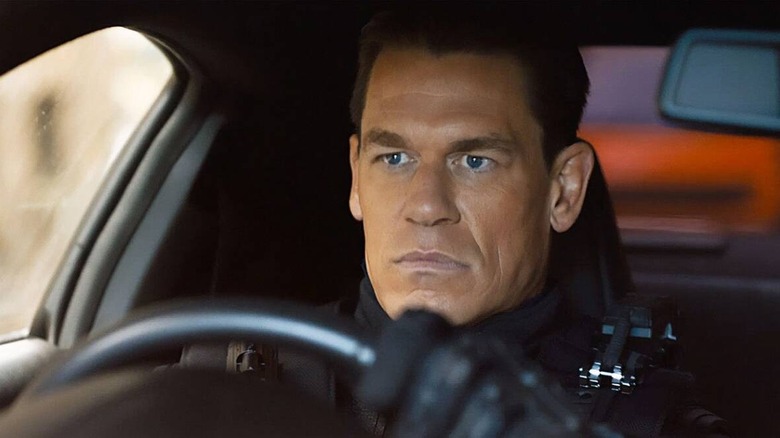 Universal Pictures
John Cena is used to lending his talents to misunderstood art forms. With "Fast & Furious," he's part of an over-the-top action franchise that some people have grown tired of. Meanwhile, as a wrestler, he's been criticized for participating in a sport that has pre-determined outcomes and soap opera-esque storylines. At the end of the day, the car chase saga and WWE are vastly different entities, but Cena has noticed some similarities between their respective critics.
"I think anyone who says, 'Do we really need another one?' I compare it to a fan who says, 'Isn't wrestling fake?' They just don't understand what we do," Cena told Extra. "And they just don't understand what this is about." The "Fast X" star went on to say that these films deserve to keep being made as long as the quality remains "exceptional" and fans keep demanding more installments.
Cena concluded by saying that the naysayers of the "Fast & Furious" franchise and WWE have the right to express their views. However, he reiterated that their criticisms don't consider the perspective of the fans and performers. "If someone makes that comment, which they're absolutely entitled to, I just don't think they understand what it is that we do."
How far can the Fast and Furious franchise go?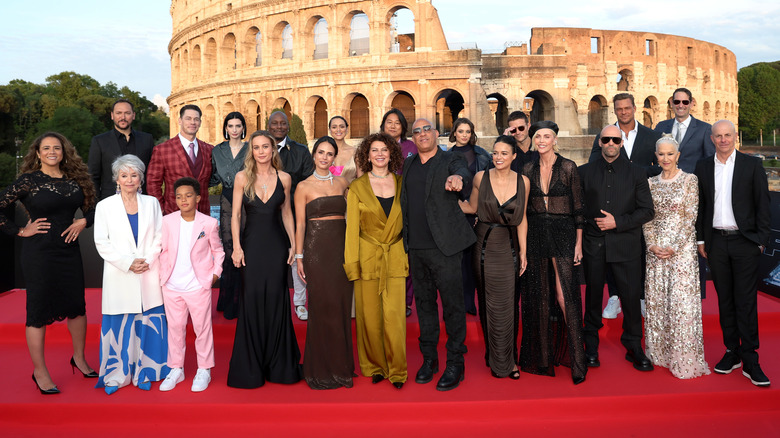 Vittorio Zunino Celotto/Getty Images
Despite what the franchise naysayers and haters say, "Fast and Furious" has more than enough gas left in its tank to continue on for several more years. A sequel to "Fast X" with director Louis Leterrier will race into cinemas in 2025, with a script co-penned by "The Flash" writer Christina Hodson. According to franchise steward Vin Diesel, "Fast 11" isn't the end of the road for Dominic Toretto and his ever-expanding family. Should Diesel's wishes manifest, audiences will also receive a "Fast 12," which should close out the trilogy set up by "Fast X." 
Could there be even more "Fast and Furious" in the 2030s? That's anyone's guess but Cena is right: box office receipts do dictate the future of the franchise. If audiences continue to show up for more of the Toretto clan's shenanigans, the franchise will live on. Does the future include John Cena? "Man, I hope so," Cena told Extra when asked if he'll return for "Fast 11." "That's way above my pay grade but I hope so."