New Morbius Movie Character Details Revealed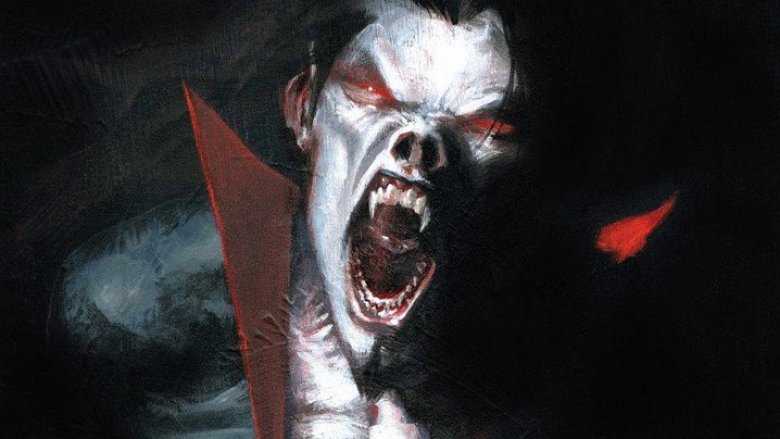 Morbius the Living Vampire is making headlines a little earlier than anticipated. 
Sony Pictures isn't slated to hit the Hall H stage at San Diego Comic-Con until Friday evening, when the studio is expected to make announcements about its impending film Morbius, which stars Jared Leto as the eponymous blood-sucker. Thanks to a new report by That Hashtag Show, we have juicy Morbius-related information ahead of time. 
The outlet shared a batch of character breakdowns detailing additional characters of the Daniel Espinosa-directed film.
According to THS, Sony is looking to cast two more lead roles: one, a villain who was close to Dr. Michael Morbius in his early days but "turns on him" after he transforms into the vicious vampire; the other, an "intelligent, cutthroat businesswoman."
The studio is auditioning actors between 30 and 40 years of age for the former gig, reportedly aiming for someone similar to Venom star Riz Ahmed and Bohemian Rhapsody lead Rami Malek to bring the character to life. 
As the source notes, it's assumed that this role is actually Emil Nikos, who, in the original comics, was Morbius' best friend and lab partner who dedicated a great deal of time trying to find a cure for Morbius' rare blood disease. When Emil failed in his endeavor, Morbius became a vampire and unfortunately killed his good pal in a moment of extreme bloodlust. 
If Morbius truly does position Emil as the central baddie, director Espinosa and screenwriters Burk Sharpless and Matt Sazama will probably have to deviate from the established lore quite a bit to make his inclusion worthwhile. It wouldn't be all that satisfying for the main villain to die in the first half hour, would it? Then again, perhaps Morbius will mostly center around Michael Morbius battling his blood disease and will see him succumb to it not in the opening act but at the climax of the story. In that instance, having Emil on board checks out. 
It's more difficult to hypothesize who the second new lead is, but rumor has it that she's Morbius' fiancée Martine Bancroft, who discovers Emil's body after her betrothed murdered him. Ever the loyal lady, Martine stuck by Morbius and accepted his new stance as a blood-thirsty creature — and eventually turned into a vampire herself. Unlike with Emil, there aren't any obvious drawbacks to including Martine in the film, so this speculation seems fairly likely to become a reality.  
Sony may or may not touch on all this information during its SDCC panel on Friday at 9:15pm ET, considering that the main focus will be on the Tom Hardy-starring Venom, which is due out this October. We're already a bit worried about the Leto-led film as it is, so with any luck, we'll get some solid confirmation from Sony on certain things soon.
Per this new report, Morbius is tentatively aiming to start production in November.