Whatever Happened To Bethany Stout From My 600-Lb Life?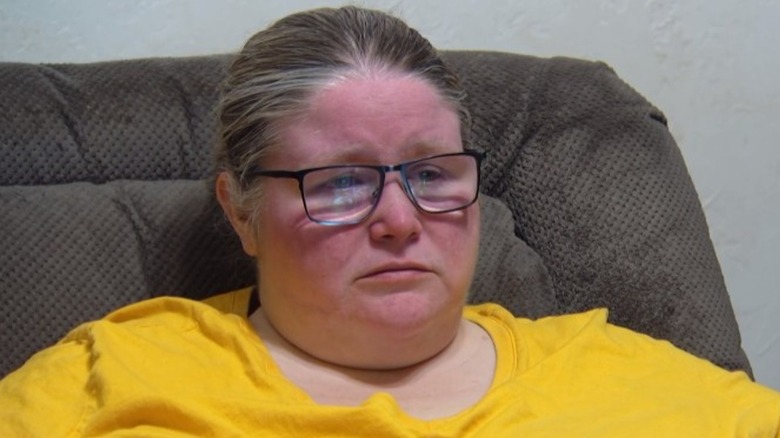 TLC
When we first meet Bethany Stout in Season 8, Episode 3 of "My 600-Lb Life," the former addiction counselor is in a bad place. No longer able to walk more than 15 steps before she gets winded, she admitted to the cameras that food is her "happy place." Her husband, who comes home from work on his lunch break to give her more food, said that she stays in the recliner chair most of the day, and we see her oldest daughter, Isabella, making breakfast for her and taking her younger sister, Zowie, to school.
Fast forward two years, and Bethany's last Facebook post from March 25, 2022, shows her with a much more narrow face along with the caption, "Haven't updated in [a while]! Loving life May God bless you all." A year before that, she posted a slimmed-down photo with the caption, "Ready for work in my size 18 jeans down from size 38, wearing my man's size medium white tee under my XL work shirt." Not everyone may be a fan of Dr. Now's tough love balance, but going down 20 pants sizes is the equivalent of losing about 200 pounds, so he obviously helped her get started on her journey.
She got healthy without Dr. Now's program
When Bethany Stout's episode ended, she became the second "My 600-Lb Life" cast member since Season 7's Jeanne Covey to decide to end treatment with Dr. Now. She got a lot of criticism for voluntarily leaving the program, which she addressed on her Facebook page Bariatric Mama, writing "I am truly sorry if my episode made you angry. I had no control over what they [chose] to show. I had a positive experience with Dr. Now and up until this moment enjoyed the process. I lost weight and I feel good about where I am now."
Despite quitting Dr. Now's program, Bethany never gave up on her goals and continued posting photos showing her weight loss until her last post in 2022. While she shut down her website, bariatricmama.com, in 2020, her Facebook and Instagram posts have signified that she's happier and healthier than ever, and taking up crocheting as a way to keep herself busy when she wanted to eat, and then selling her crochet items to raise money for skin removal surgery. We do hope that "My 600-Lb Life" airs her "Where Are They Now" episode soon, so the world can see the changes Bethany made.