Arsema Thomas Missed Her Queen Charlotte Callback Because Her Hands Were Covered In Blood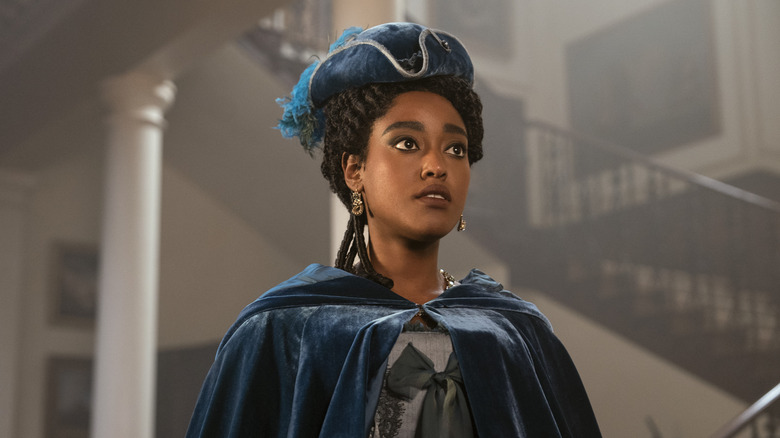 Nick Wall/Netflix
Since its premiere, "Queen Charlotte: A Bridgerton Story" has dominated Netflix, clocking in a staggering number of hours. The spin-off brought in a new, young cast to play some of the most iconic "Bridgerton" characters, and to no one's surprise, the roles have become career-making ones for the up-and-coming actors. However, Arsema Thomas' agent found her in a precarious situation when they called to tell her she got the role of Young Agatha.
"I was at a butcher's, finishing my shift, and I missed the call initially because I had blood on my hands," Thomas told Stream Wars. "And then I called my agent back, and he told me I got the part, and then I had to go back to work." Thankfully, the actress reassured her "Queen Charlotte" cast members that it wasn't human blood, but she did have animal blood all over her hands, preventing her from answering the phone.
She shouldn't feel too bad about missing the initial call, as her story puts her in a group of actors who have missed calls for career-defining roles, like Henry Cavill for Superman in "Man of Steel." On a happier note, everything worked out for Thomas, who became a fan-favorite character in "Queen Charlotte."
Starring in Queen Charlotte meant so much to Aresema Thomas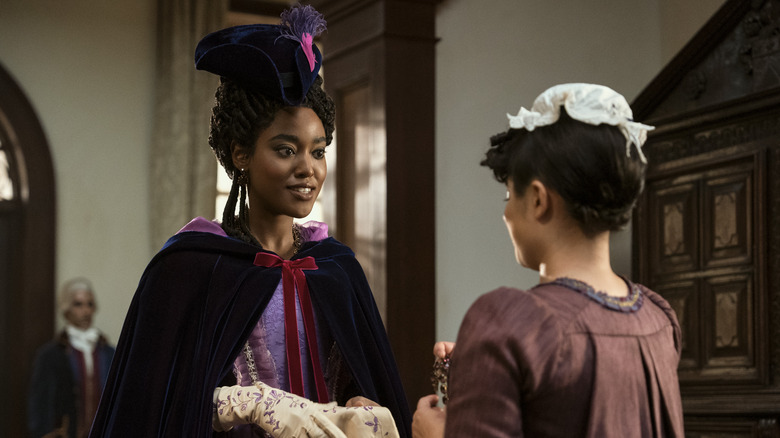 Nick Wall/Netflix
It didn't take long for Lady Danbury to become a fan-favorite character, with Adjoa Andoh delivering a powerful performance on "Bridgerton." With "Queen Charlotte," Arsema Thomas explored a younger version of Lady Danbury, which she hopes inspired people, especially Black women.
"Black women and their relationship to the world around them is so different," she told Today. "One, because of anti-blackness. But also... It's the sexism of it all. To be able to play this character, who essentially voluntarily wants to be alone, turns down men, turns down the 'stability and security' that a relationship would give during that time, and says, 'I would rather be alone and take that risk,' is something so liberating and hopefully encouraging to people."
Thomas praised her and Andoh's character for fighting against the many oppressive systems standing in her way. When Lord Danbury dies, Agatha rejects a marriage proposal from Adolphus IV (Tunji Kasim), betting on herself by remaining independent in a world where women are carted off for marriage. She also reaffirms the young Charlotte (India Amarteifio) of what her marriage to King George (Corey MyIchreest) means for Black women in this world, proving that even in this race-swapped fictional world, race and gender inequalities are still an issue. Thomas thinks it's beautiful that "Queen Charlotte" weaves in different aspects of the narrative surrounding Black women, and hopes to inspire and empower generations of women.