Queen Charlotte: A Bridgerton Story's Debut Clocked A Staggering Number Of Hours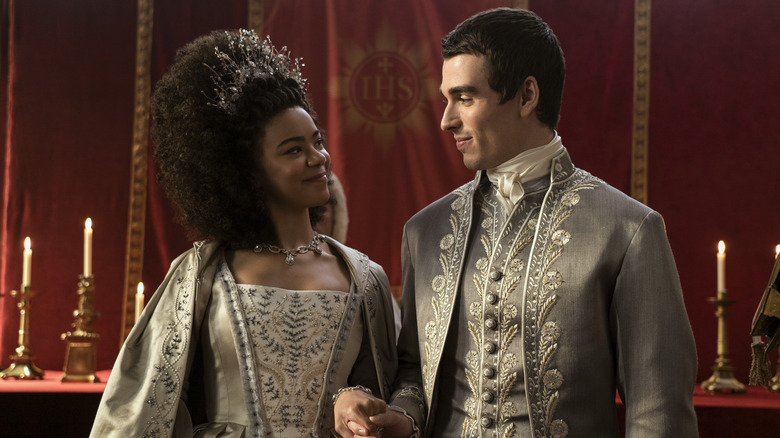 Liam Daniel/Netflix
Shondaland's "Bridgerton" made waves when it premiered on Netflix, becoming the steamy series everyone was binging. While it continues to be one of the streamer's most popular shows ever, it has to give up its crown, at least for the time being. This is thanks to the prequel spin-off, "Queen Charlotte: A Bridgerton Story," which is taking audiences by storm.
In its first week alone, "Queen Charlotte" skyrocketed to the top of Netflix's Global Top 10, becoming the most-watched English-language show on the platform. Audiences have already watched the prequel for over 148 million hours combined. To put those numbers into perspective, "Sweet Tooth" Season 2, which premiered the week before the spin-off, brought in 48 million hours in its first week. "Queen Charlotte" nearly tripled those hours, proving that without a doubt, fans will show up for all things "Bridgerton."
To make fans of the historical fiction series even happier, "Bridgerton" Season 3 is still on the way. As of this writing, the next set of episodes has no release date, but Shonda Rhimes revealed that filming and editing wrapped up last month. Netflix likely doubles down on the content, giving fans Season 3 this year, so don't expect the "Bridgerton" train to end with "Queen Charlotte."
Shonda Rhimes and Julia Quinn collaborated to bring Queen Charlotte to life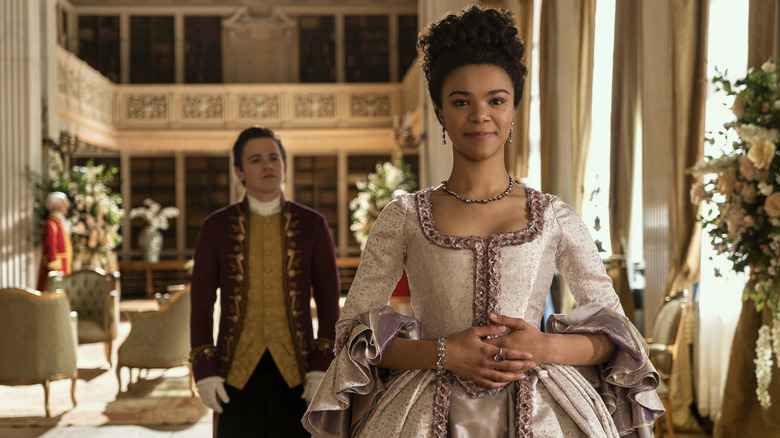 Liam Daniel/Netflix
As most fans may know, "Bridgerton" was a series of novels before Shonda Rhimes brought the show to life on Netflix. However, "Queen Charlotte: A Bridgerton Story" went the opposite direction, with the spin-off show coming before the prequel novel.
"Bridgerton" author Julia Quinn recently sat down with WGBH, discussing how the "Queen Charlotte" series came to be. "The powers that be over at Netflix pitched it and said, 'We love this character. We should do a spin-off.' Shonda let me know. I thought it was amazing," she said. However, when she told her husband, he suggested she make the story into a novel, with Rhimes as her co-author. "It was great," Quinn said, reflecting on the creative process between the two. "It was so smooth and easy, in part, because it was really more like taking turns. She did her thing and then I did my thing."
Although both versions tell the same story of Queen Charlotte's rise to power, Quinn is happy with the level of depth she could go into with the novel. Each medium lends itself to a certain way of storytelling, so she could explore the characters' inner thoughts in the book, whereas that method doesn't translate to the screen.