Where To Stream The Woman King At Home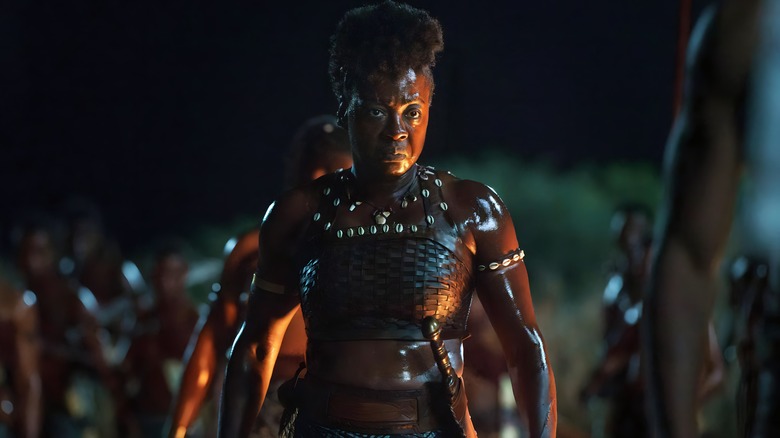 TriStar Pictures
Every year, there's a movie or two that, despite receiving overwhelmingly positive reviews from critics and equally glowing notes from viewers, somehow manages to not quite find its audience. And in 2022, movie lovers in the know can attest "The Woman King" was very much one of them. Some might even argue "The Woman King" ranks among the more egregiously overlooked films in the history of cinema.
Hyperbole, you say? Perhaps. But the film's 94% fresh Rotten Tomatoes critical score surely goes a long way to bolstering that position. And its near-perfect 99% audience score confirms that people who have actually seen "The Woman King" have been soundly bowled over by it. If you are among the tragically long list of folks who've yet to experience Gina Prince-Bythewood's action-packed historical drama, it tells of a powerful 18th-century African nation defending itself from would-be occupying forces. And they do so with the aid of a fierce army of female warriors led by the great Nanisca (Viola Davis).
Equal parts soul-stirring historical document and ass-kicking actioner, "The Woman King" hit theaters on a wave of positive energy in the fall of 2022. Though it netted close to $100 million at the global box office, it still feels like far too few people saw it. There's still time to fix that glaring oversight, however, as Just Watch is reporting that "The Woman King" is currently streaming on Netflix. 
You can also buy or rent The Woman King from several VOD platforms
Yes, if you have a current Netflix subscription, you can stream one of 2022's best dramas right this very moment. As the Rotten Tomatoes scores for "The Woman King" would seem to allude, you'll likely be quite happy you did. And for anyone cringing at the film's epic 2-hour and 14-minute runtime, know "The Woman King" is so gracefully-paced and packed with eye-popping action that it feels considerably shorter.
Of course, if you're among the many who've already opted to part ways with Netflix for one reason or another, you'll need to find another avenue if you're looking to stream "The Woman King" at home. The good news on that front is that you can indeed rent the historical epic from any number of video-on-demand platforms. As noted by Just Watch, the rental price for "The Woman King" through Amazon, Vudu, Google Play, and several other VOD streamers is about $3.99. But if you rent the film through iTunes or the AMC Theaters On Demand app, it'll cost you $5.99.
If you're building a little digital movie library at home, you can buy a 4K version of the film from virtually any on-demand vendor for about $19.99. And if you'd prefer your home movie library to be comprised of physical media, you can always track down such a copy on Amazon. Those prices can range anywhere from $3.99 (traditional DVD) to $23.99 (4k Ultra HD Blu-ray).